Who Made Indian Art Modern? Part 4 | Postmodern Trends in Indian Art
Written by Prapti Mittal
The story of modernism in Indian art would be incomplete without referring to the postmodern trends that emerged along with and as a result of Modern Art. Beyond the multitude of artists and groups other than the Bengal school, Shantiniketan and Bombay Progressives, this article will talk about those who are often left unnoticed in that narrow term defining 'Indian Modern Art'.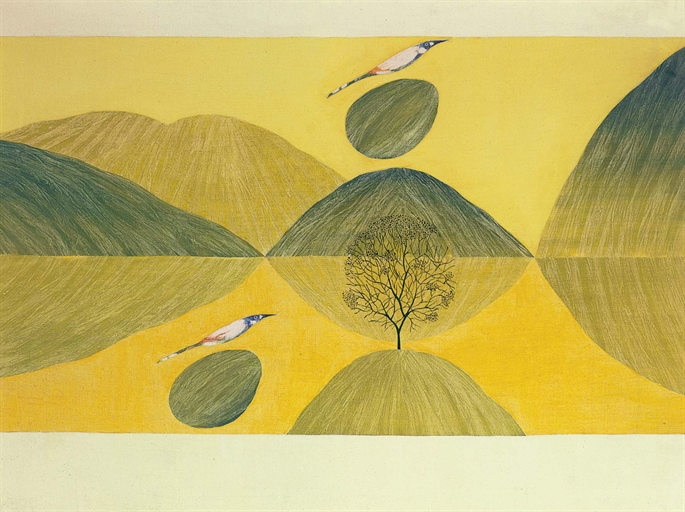 The Group 1890 is often referred to as the antidote to The Progressives. They emerged in the 1960s, right after the era of Indian art where they felt that Indian identity was being compared and imported from the point of view of the West. In response, they worked on a more indigenous but contemporary form of art.
Exuberant forms of abstraction now came to be witnessed in the art of S.H. Raza, Ram Kumar, Akbar Padamsee and V.S. Gaitonde. Raza introduced a new trend in abstraction with Tantrism which is being followed by many others even today, while artists like Nasreen Mohmedi tried to capture the grace and consonance of Indian musical notes and symmetrical precision of Islamic architecture in her ink and line drawings. Women like Arpita Singh explored the sights of India through a woman's eyes, often portraying her nudity as her vulnerability than sexuality, while Anjolie Ela Menon was a voyeur of the urban landscape.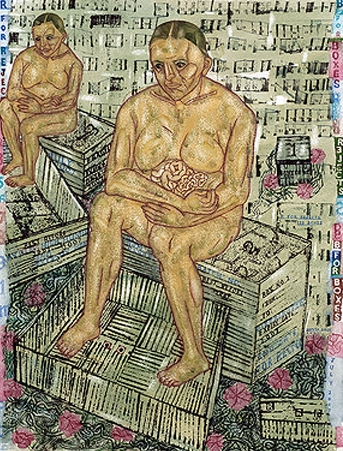 K.G. Subramanyam is an important link between the changing centres of art in India and talks about the "Living Traditions" of the Indian peoples by juxtaposing contemporary art with popular culture, and folk art with urban trends. Having studied at Shantiniketan in close association with Nandalal Bose and other Bengal School artists, he imparted art education and awareness at the next big art center, teaching at Maharaja Sayajirao University in Baroda.
This was the period of increasing globalization of a nation just formed, and Paris was the hot destination for anyone aspiring to be an artist. The clash between the Parisian modernist trends and American school of pop culture seems the natural course taken. During the 1970s the political fervent and the multiple wars being fought in a closed economy in India employed the use of allegorical documentation of nationalism. Artists like Krishen Khanna and Gieve Patel explored other forms of international art that India had missed in last few decades like Mexican mural painting, German objectivity and American regionalism. Krishna Reddy was perhaps one of the earliest Indian artists to popularize printmaking in his abstract landscape prints.
The introduction of photography as a form of visual art swept across India like a wave, especially as Bollywood escalated to be the most productive film industry in the world around 1990s. Ebrahim Alkazi is one of the most renowned Indian theatre directors, known for his instinct to recognize the relationship between art and theatre. Raghubir Singh made Indian people and cities stand out in the world market with his photography and capture both the history and present of the country.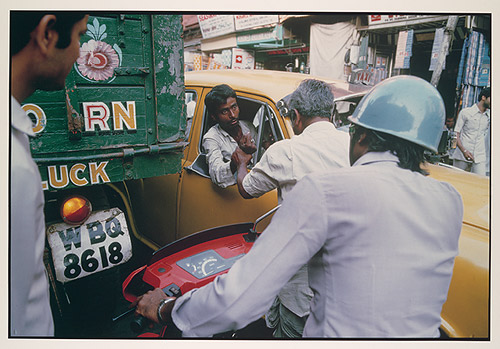 At the dawn of postmodernism in India lies the backdrop of political polarization and the active role of the right-wing Bhartiya Janata Party (BJP) and Rashtriya Swayamsewak Sangha (RSS) in moderating the cultural lives of people. Rummana Hussain's art is highly suggestive and allegorical with regard to the Hindu-Muslim conflict over the demolition of Babri Masjid in 1992. Similarly, Nalini Malani also focuses on bombarding the viewer with emotions about Hindu-Muslim relations and nuclear war. Nilima Sheikh and Vivan Sundaram similarly present their views of the sectarian politics and war politics that deserved discussion during this period.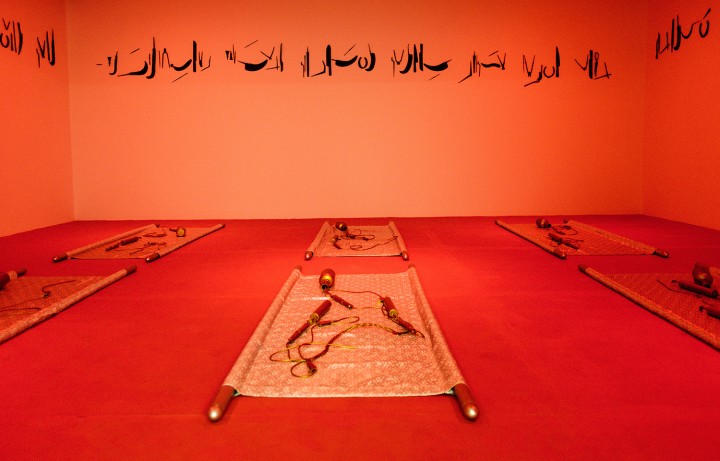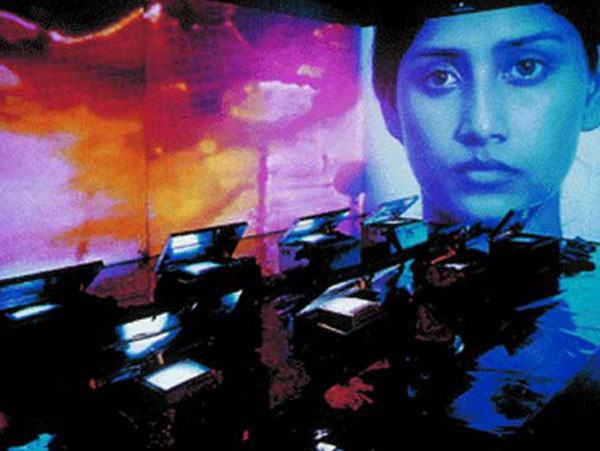 It can also be argued that the Indian anti-aesthetic characteristic of this period only suits the international political atmosphere only too well. This period witnesses the growth of black ideologues, feminist literature and third world outbursts. Therefore, this period moves away from the obsession with ancient cultural heritage and begins their critique and deconstruction. The "Pop" takes on a very important garb and Indi-Pop music and Indian kitsch art become the center of attraction, commercializing and popularizing the cultural symbols in a very ironic manner, moving away from an avant-garde to a mass culture. The auto-rickshaw, chai-kettle, 'Horn-Ok-Please' trucks and kaali-peeli taxi therefore become symbolic in art because of their non-affiliation with the avant-garde.
BIBLIOGRAPHY
Sambrani, Chaitanya Edge of Desire: Recent Art in India. Exhibition catalogue.. London: Philip Wilson Publishers, 2005.
Ali, Atteqa. "Postmodernism: Recent Developments in Art in India". In Heilbrunn Timeline of Art History. New York: The Metropolitan Museum of Art, 2000–. http://www.metmuseum.org/toah/hd/pmin/hd_pmin.htm (October 2004)
Kapur, Geeta When Was Modernism: Essays on Contemporary Cultural Practice in India. New Delhi: Tulika, 2000.
Ali, Atteqa. "Modern Art in India". In Heilbrunn Timeline of Art History. New York: The Metropolitan Museum of Art, 2000–. http://www.metmuseum.org/toah/hd/mind/hd_mind.htm (October 2004)