Walls with voices: Protest Art on the Streets
For centuries Art has been a useful tool for people to rebel against the establishment and target glaring socio-political and economic injustices. The 21st century is rich with various known and unknown street artists splashing the streets with their shared criticism of culture, capitalism and war. 'Controversial', 'illegal' and 'defacement' are some of the words associated with Protest Art, but at the end of the day, if voices remain unheard then the walls start speaking.
Artsome selects some thought-provoking Street Art from around the world.
Unknown street art in the United States ( photo courtesy - visittheusa.com)
This is a work by UK's most famous politically motivated Street Artist Banksy which shows a Girl frisking an armed soldier with his hands against the wall. Banksy selected Bethlehem for the exhibit to allude to the birthplace of Jesus and also because it is at the center of allegations of human rights abuses.
Banksy, Girl frisking a Soldier, 2007, one of many stenciled images on the wall of West Bank in Bethlehem.
A javelin thrower operates with slightly heavier 'artillery' in Banksy's witty retort against the authorities as they brought down restrictions on graffiti artists in London, prior to the 2012 Olympic Games.
Have you ever seen Mona Lisa with a Bazooka? Here's a stenciled image of Da Vinci's serene smiling beauty holding a rocket launcher, courtesy Banksy.
Mona Lisa with a Rocket Launcher (Photo courtesy - Pinterest)
Work of an unknown Street Artist on a wall in Guelph, Ontario in California, USA.
This next one is called 'Explosive Birth' accompanied by an inspiring quote by writer Vitaly Friedman – "Just popped out of my head and onto the wall…like a new born baby it just happens everyday"
Obama-inspired Street Art
A lot of artists were influenced by Obama's historic election campaign and made graffiti in support or even in mockery of the US President.
Barrack Obama by Koolhats in the Santa Fe Art District, USA
Shepard Fairey, a prior skateboarder is now an established graffiti artist and illustrator who works under the iconic tagname 'OBEY'.
Shepard Fairey, OBEY Art, Guns and Roses, Cargo Bar in London
Vote For Nobody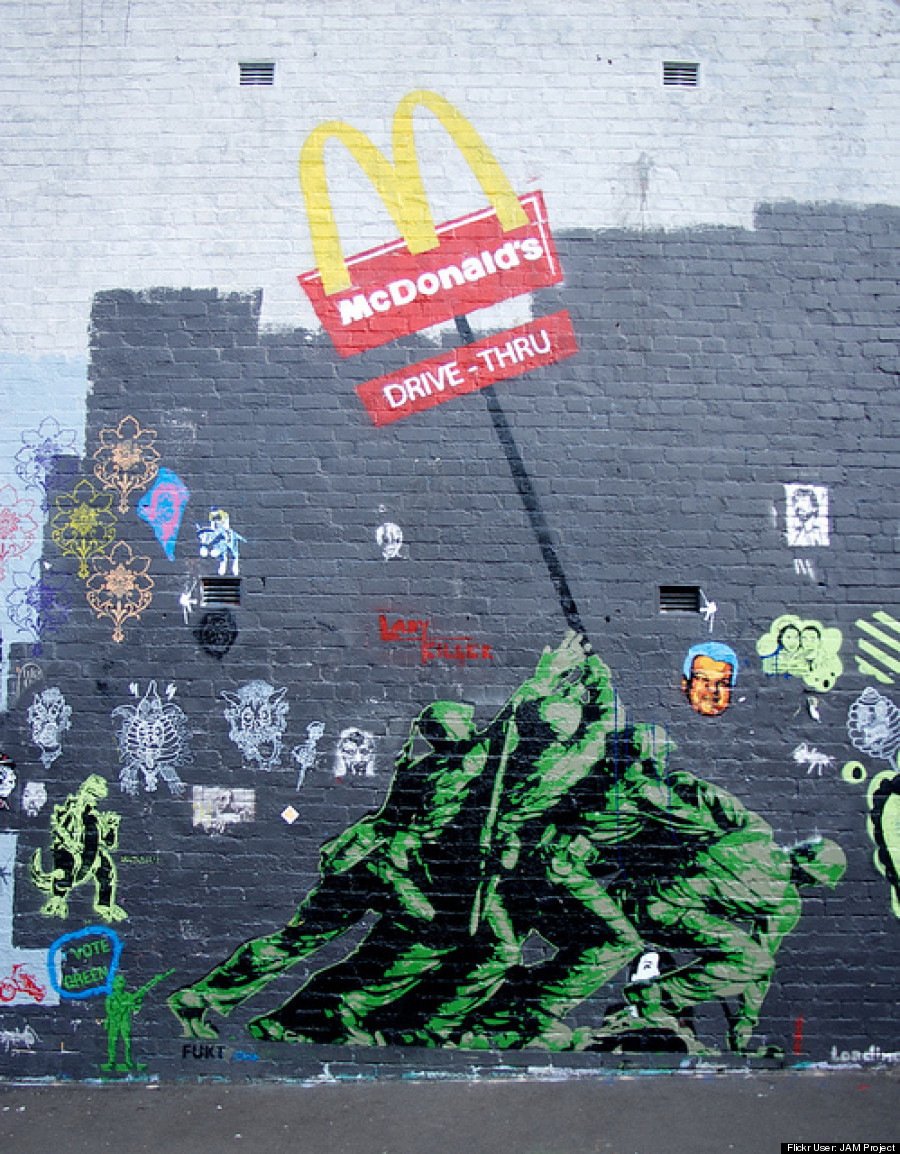 Soldiers hoisting a Mcdonald' s ' Drive-Thru' Flag