Spencer Tunick reveals the "naked truth"
Written by Monica Arora
Naked volunteers participate in Spencer Tunick's Sea of Hull installation. 'To be part of a diverse group of thousands, gathering together to cooperate in the production of art was inspiring, life-affirming and liberating', wrote a fan, Richard Claxton in a letter. Photograph: Jon Super/AFP/Getty Images
Imagine a setting with thousands of unclothed men and women painted in a surreal Krishna-like blue skin colour posing together at a common space. Well, this was the theme for controversial photographer Spencer Tunick's latest installation 'Sea of Hull' wherein naked volunteers, all painted in blue in order to reflect the colours of marine paintings in Hull's Ferens Art Gallery, participated in the installation on the Scale Lane swing bridge in Hull in Yorkshire, England on 9 July 2016.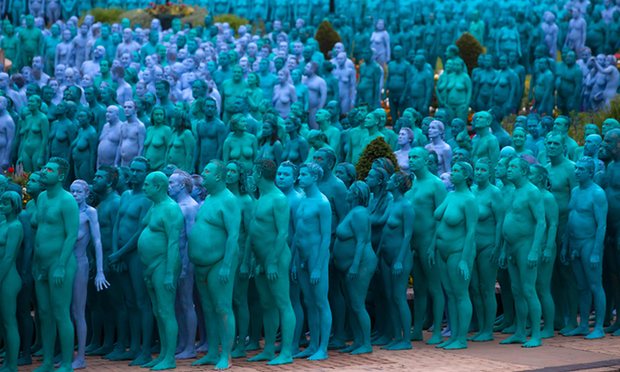 Tunick is famous for his large-scale photoshoots involving crowds of nude people all around the world. In all there were more than 3,000 volunteers "stripped totally naked" who had painted themselves blue for this unusual photoshoot experience. The artist believes, "For me, the nude body is like a raw material.. another artist might use oil or clay. I love the fact that, en masse, it can be turned into an infinite number of shapes or abstractions, while the setting I choose.. rural, urban, indoors or out.. is like a canvas."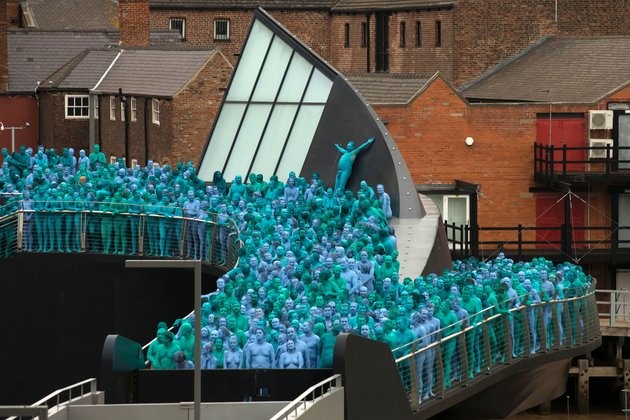 Naked volunteers have their bodies painted in blue to reflect the colors found in Marine paintings in Hull's Ferens Art Gallery. Jon Super via Getty Images
The 'Sea of Hull' project, conceptualized by New York-based photographer Spencer Tunick was a celebration of Hull's relationship with the sea, as well as meaning to create awareness about climate change and flag the global issue. The artist stated, "It's the idea that the bodies and humanity is flooding the streets," he said. "So there are many ways you can think about it."
Some models opted to cover up on their way home from the shoot
This installation was followed by over a hundred nude women gathered together and holding large circular mirrors posing in the buff for a photoshoot on 17 July as a mark of protest against Republican presidential nominee Donald Trump's alleged discriminatory remarks against women and minority communities during his election campaign.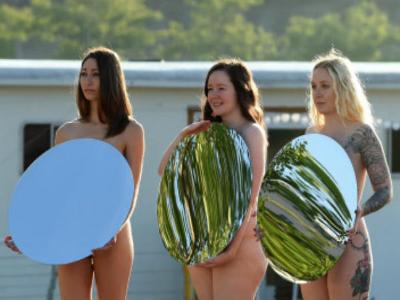 On the eve of the Republican National Committee's convention where his name would be officially nominated as the party's nominee for President, these women wanted to convey a strong message to the politicians demanding the Republicans to modify their rhetoric on women and their bodies.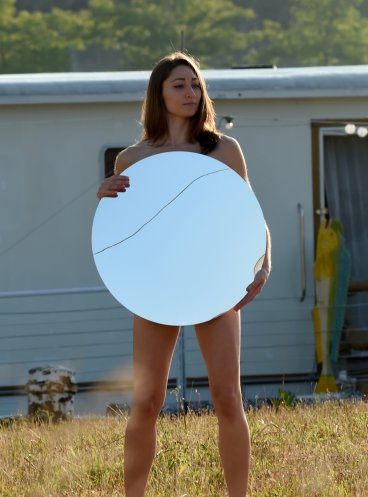 And, the photographer for capturing this momentous gathering was none other than Spencer Tunick, who had called for the photoshoot as soon as Cleveland had been announced as the site of this year's Republican National Convention. The artist opined, "Women's rights are very important to me. Equal pay and equal representation in the House and the Senate … Women will change the world."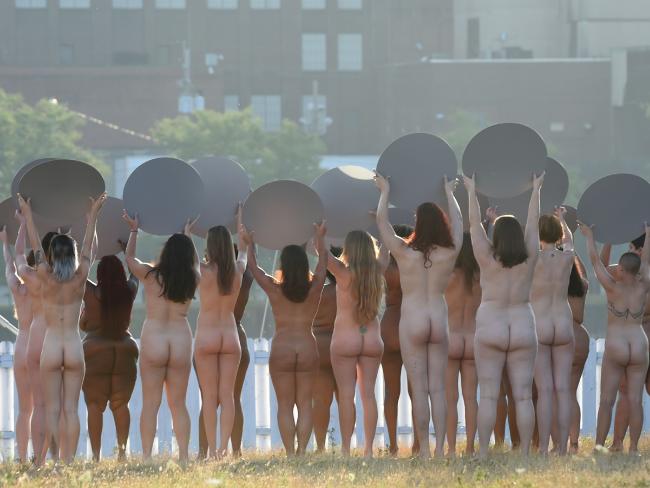 The 100 women, aged from 18 to 74 years of age were all of "different shapes, sizes, skin tonalities and ethnicities", and offered a variety of reasons for participating. Each one held a circular mirror over her heads to reflect light at the city to expose what they perceived as the naked truth about the Republicans.
One of Tunick's models stated, "Since the 2012 election, the Republican Party has moved so far extreme right I cannot stand by idly without doing my part to educate and stand up to their racist, misogynistic, patriarchal, xenophobic ways."
Tunick concluded, "It is not a protest, it is more of an artistic action that is not aggressive." Hence, shoot was planned at a private property at dawn to avoid confrontation with police or anyone else that would detract from the art's message." Someone rightly said, "Art is indeed a mirror to society!"
In Spencer's words, "It never ceases to amaze me when ordinary people get into the spirit of what I'm doing. It's pivotal to my art."
Reference Links
https://www.theguardian.com/artanddesign/2016/jul/12/spencer-tunick-artwork-put-hull-on-the-world-stage
http://www.business-standard.com/article/news-ians/100-us-women-pose-nude-in-anti-trump-protest-116071801208_1.html
http://www.artquotes.net/masters/spencer-tunick/quotes.htm