Review | Impulses in Drawing
Written by Monica Arora
Just imagine a huge space where several artists specializing in different forms of drawing and sketching are all working together. The compulsion of that moment, which holds the potential of creating a masterpiece once the artist paints a stroke with his pen or pencil on the barren piece of paper, is full of anticipation, waiting with bated breath for the final flourish or outcome of that particular creation.
Those were my exact sentiments when I stepped into the display area of the Vadehra Art Gallery in the late afternoon of a breezy day in July, with a clear blue sky dotted with flaky, cotton clouds. Curated by Shivangi Singh and featuring eminent artists including Aami Atmaja, Arpita Singh, Aruna Rao, Bhupen Khakhar, Chameli Ramachandran, Gipin Varghese, Jagannath Panda, Juul Kraijer, Mahesh G, Rajnish Kaur, Rakhi Peswani, Ram Kumar, Somnath Hore, Shilpa Gupta and Zakkir Hussain, "Impulses in Drawing" is a very personal experience for onlookers.
The English poet and artist John Ruskin in his work The Elements of Drawing has observed that "All art is but dirtying the paper delicately." The thought is indeed a delightful piece of imagination because the basic premise behind displaying the artworks as part of a collective ideation in "Impulses of Drawing" is inspired by this very thought. How a single blot of ink or a single stroke of graphite captures a unit of time and the manner in which an artist attempts to trace, perceive, record or encapsulate his inner being through his art is indeed immensely moving. And juxtaposed with the work of other artists, what one piece seeks to derive or extract or 'draw' from the other art work is what is displayed here at the exhibition.
Interpreted in co-relation with the creations of other artists, each one with a unique style of expression and fresh semantics, "Impulses in Drawing" is an interesting experiment of perceiving art of different artists in co-relation to that of other artists and then studying these collectively from a fresh perspective. In the process, one discovers that these pieces speak and communicate with each other and sometimes appear as if they themselves can be re-interpreted in a fashion completely at a tangent from how they appeared as an individual piece.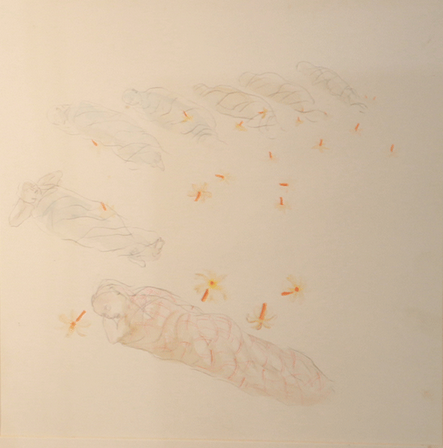 It is this communication and interplay between the myriad pieces of art that has perhaps inspired their collective curation. So one discovers Jagannath Panda's untitled collection of watercolours on paper depicting the many moods of common men and women alongside Shilpa Gupta's 100 Hand Drawn Maps of My Country as carbon tracing on paper, portraying the contours of the country against the outline of human figures.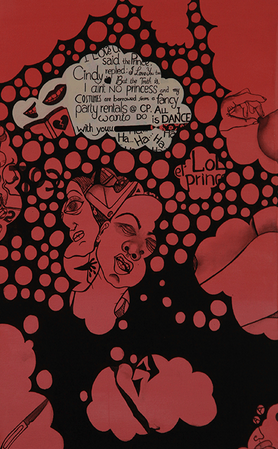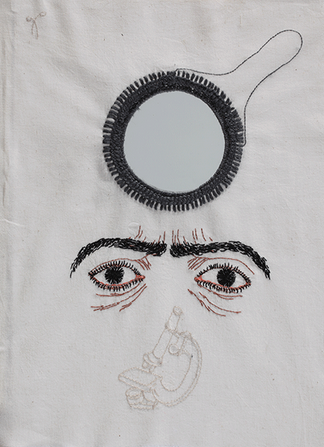 Aami Atmaja's Like an Ugly Unromantic Happy Friend series of acrylic on canvas has a dark, moody and somber air around them with unpleasant thoughts acquiring unsavory and unpleasant forms. Rakhi Peswani's series entitled Envisioning the Seer (Studies on Seeing) featuring hand embroidery and mirrors on calico cotton offer different angles of examining and viewing through the eye, through the mind's eye, through telescopes and microscopes and so on, as a metaphor for how a viewer super-imposes his or her thoughts on a work of art depending upon his or her mood and circumstances.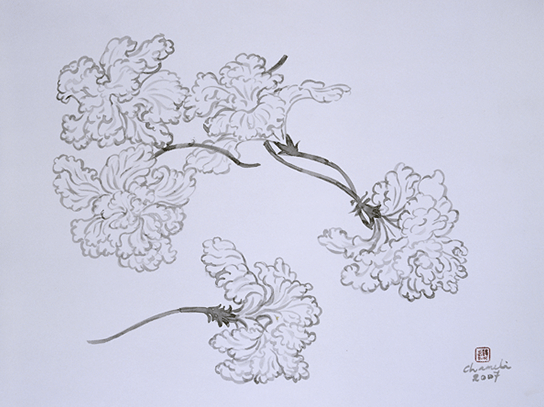 Chameli Ramachandran's evocative watercolours on paper and some installations of human figurines in various states of being are extremely soothing and peaceful interpretations of flora, fauna and human beings and are easy on the eye. They almost represent a 'process of becoming'. Aruna Rao's Say, Trace and Write! series of digital prints and graphite on paper are a fascinating collection of the English alphabets along with their semantics and drawing of object they depict. For example 'Q' for queen has a printed alphabet and is followed by a pencil-written set of alphabets, most likely attempted by a child on a ruled page akin to a school's ruled notebook.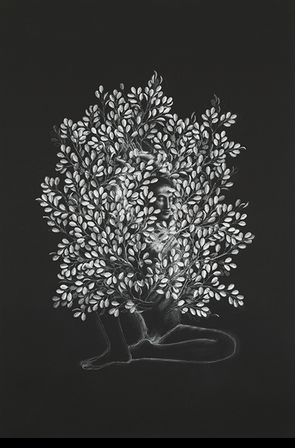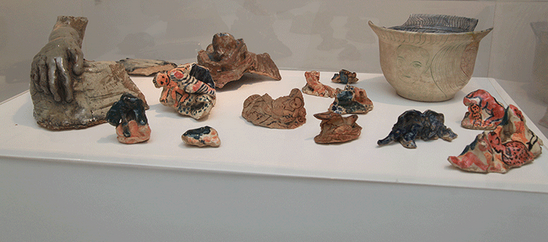 Juul Kraijer uses the body as a fluid entity whilst Bhupen Khakhar's preliminary drawing and some early ceramic structures that he used as props for the set of a play also convey the impression of 'work-in-progress'.
The play of identities and forms as seen individually and then placed in close proximity to the creations or pieces of the others imbues these drawings with a sense of fun and pleasure as after coming in vicinity of each other, they seem to undergo almost a chemical reaction akin to the act of lovemaking wherein bodies react to each other's touch, smell, feel and sight and derive pleasure for the sake of it. Similarly, the impulse to draw is for the sheer pleasure of drawing and creating a fresh piece and unleashing it for the world to interpret it as they see it.
Working on multiple levels, this intelligently and yet sensitively curated exhibition is not only a visual delight but also an immensely intriguing and thought-provoking exercise that draws the audience into its core and leaves them to ponder the implications of these works, nearly flanking each other. I was completely mesmerized and realized that "Drawing makes you see things clearer, and clearer, and clearer still. The image is passing through you in a physiological way, into your brain, into your memory – where it stays – it's transmitted by your hands" as stated by the art critic Martin Gayford. Drawing is incessant, growing and restless and all this and more has been captured in "Impulses in Drawing".
"Impulses in Drawing" is running from 17 July 2015 – 25 August 2015 at the Vadehra Art Gallery, D-53 Defence Colony, New Delhi 110024.
Photo Courtesy: Vadehra Art Gallery