Ramakrishna Behera: New Paintings; LN Tallur: New Stone Sculptures – exhibition review
Written by Monica Arora
Visiting Nature Morte Gallery, housed in the pristine, white-painted building tucked away behind verdant foliage on the Neeti Bagh crossing is akin to entering another dimension the minute one walks in through the main entrance. Quiet, peaceful and host to some of the most interesting collections of contemporary art, their latest exhibition features two artists, Ramakrishna Behera – the painter and LN Tallur – the sculptor.
Considering the fact that both artists are inspired and influenced by the elements of nature in all their glory, Ramakrishna by landscapes and Tallur by the natural process of decay, it is a fascinating idea for the curator to enable them to display their works in tandem, which are different in terms of medium, content and scope and yet have a basic line of thought connecting them to each other.
Ramakrishna Behera: New Paintings
A Chemical Engineer by profession, Ramakrishna Behera is a self-taught artist and accordingly his work acquires outworldly dimensions, literally! Ostensibly the artist depicts landscapes in all his paintings, a visual delight with bold strokes and striking colours. Capturing real places, perhaps, from his myriad travels, Ramakrishna's paintings depict several geographical features right from the mountains and monasteries of Ladakh to the temples of Angkor Wat; Orissa's countryside, or even the dizzying depths of the deep blue sea of the South Pacific.
However, on closer inspection, the onlooker discovers elements of scientific origin and outer space interspersed in the main narrative. Dishing out a mélange of technicality and science encompassing complex concepts such as quantum physics, cosmology, surrealism, phenomenology, and psychedelia and so on, the artworks draw the audience into their mysterious designs and are much deeper than the obvious landscapes that they purport to depict.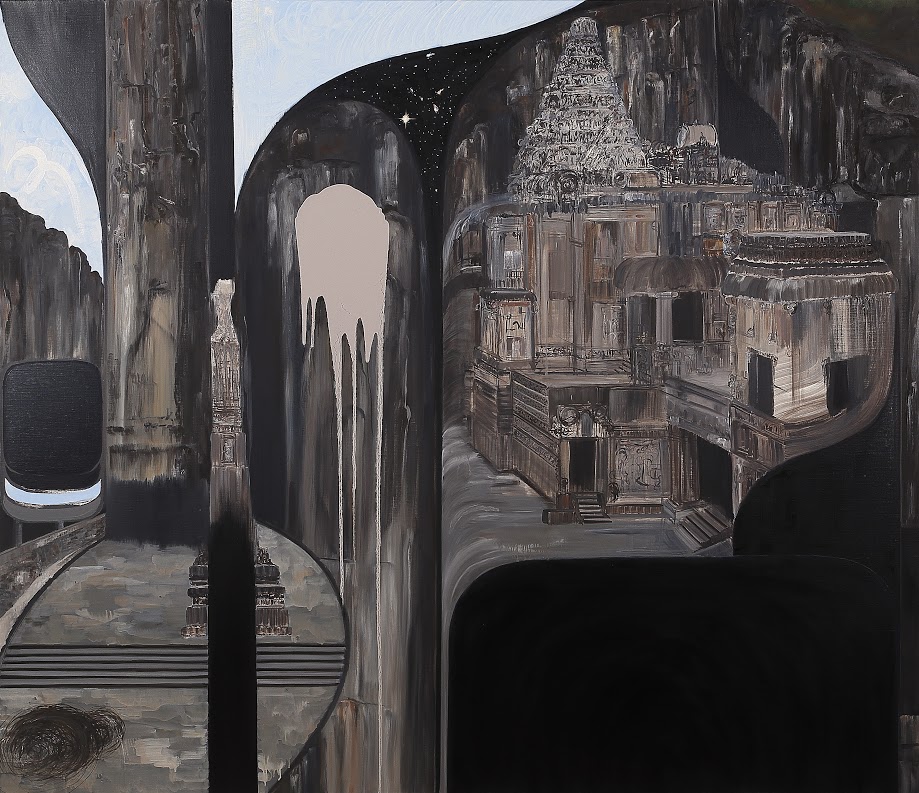 '#K' Diptych, 2015, Oil on linen
In his diptych '#K' the artists has used one image and then created a sort of 90 degree reverse version of the image that appears upside down and it imparts a very sci-fi feel to the painting almost implying the duplicity of events in the universe and time travel.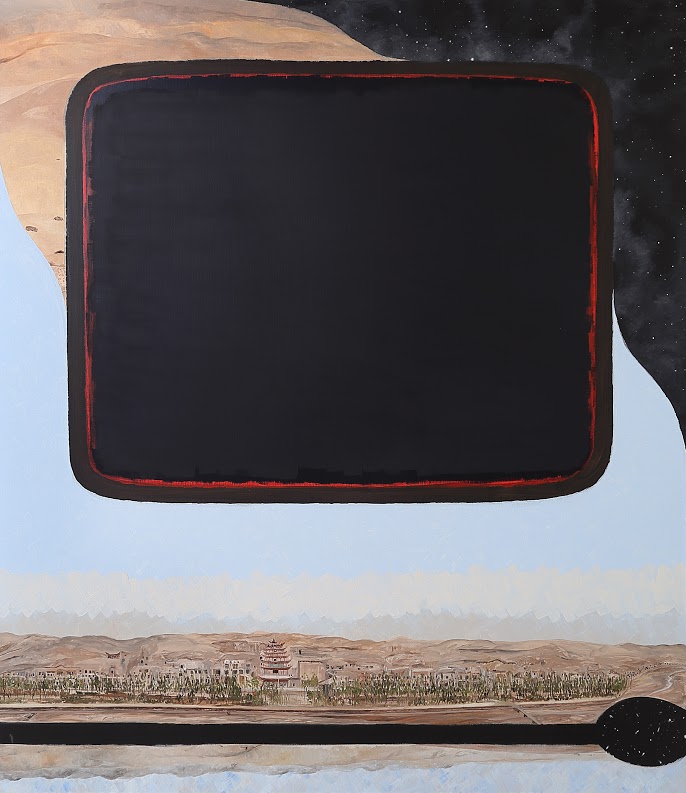 'Dunhuang', 2014, Oil on linen
'Dunhuang' is almost akin to viewing a cityscape from a higher space vehicle wherein the city appears to have been mired in time whilst civilization may have ceased to exist on the planet. 'Window in Leh' too conveys a sweeping view of a city situated in the beauteous environs of the Himalayas in Leh-Ladakh whilst offering a close look at the room from where the artist is sitting and viewing the entire city, perhaps in a very advanced prototype of a futuristic aircraft?
'Window in Leh', 2012, Oil on Linen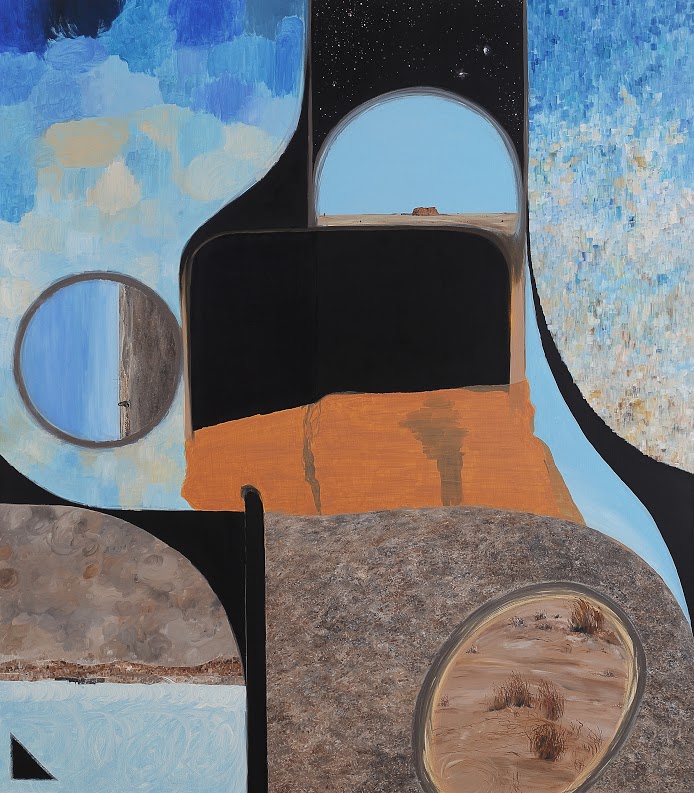 'Jade Gate', 2014, Oil on Linen
'Borobudur' appears to be a stairway to heaven in the middle of a series of juxtaposed landscapes, monuments and sculptures that appears eerie and gorgeous all at once, whilst the psychedelic colours and effects in 'Jade Gate' are indeed very mesmerizing and have a haunting quality to them.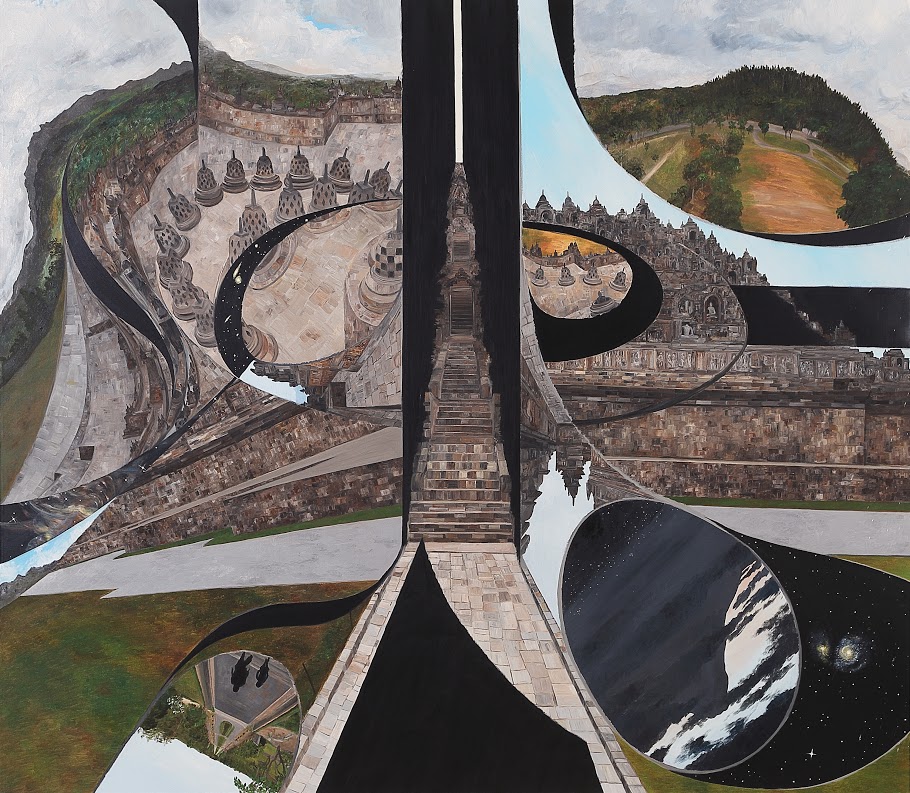 'Borobudur', 2012-13, Oil on Linen
 LN Tallur: New Stone Sculptures
LN Tallur's vision and perspective enable his sculptures to dwell upon religion, spirituality, philosophy, science and even industry. By deploying common representative figures or representations such as the meditative Buddhas or the Tirthankaras; the mythological symbol of the cow in his stone sculpture "How …Cow…Wow… !" 2016, and other such commonly used motives, the artist imparts them a sort of non-representative or anti-symbolic structure through his sculptures, thereby turning the common denotation or connotation associated with them on its head.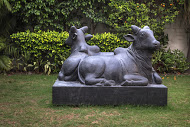 "How …Cow…Wow… !" 2016 Medium: Stone, water Size: 42 X 60 X 60 inches (107 x 152 x 152 cms)
Basically, this awe-inspiring sculpture features twin heads of a cow on one common body and a place to hold water within the sculpture. The artists attribute it as 'Trigger: Story of Ghandaberunda'. The story goes, 'The first head yelled, "Please don't eat this poisonous fruit. If you eat it, both of us will die, because we've a common stomach to digest it. The other head replied, "Shut up! As I have found this fruit, I have every right to eat it." The first head started crying, but the other head didn't bother and ate the poisonous fruit.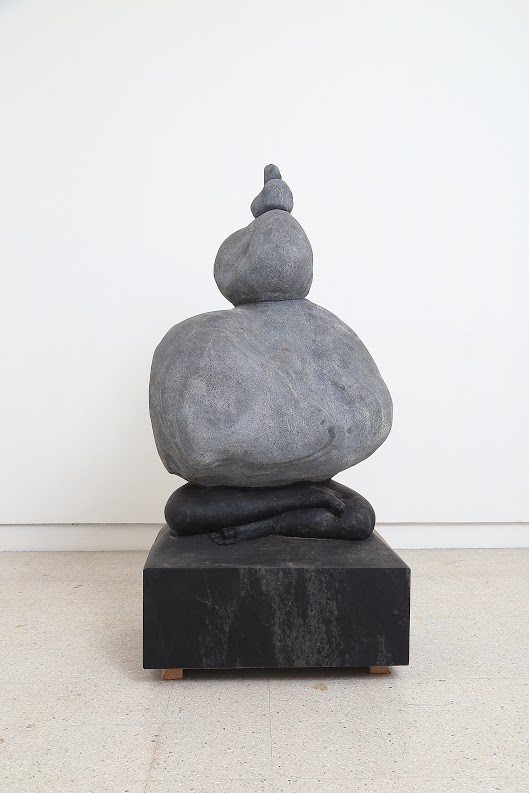 'Intolerance', 2016, Stone, (142 x 71 x 53 cm)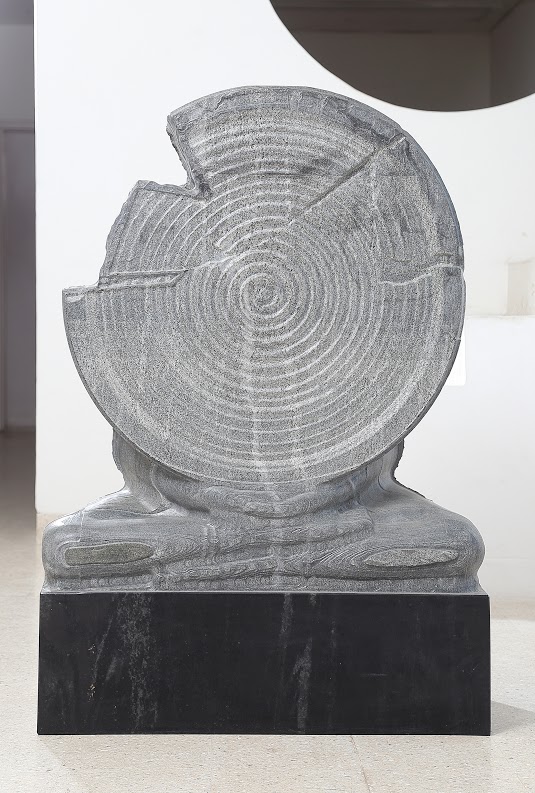 'Tolerance', 2016 Stone, (175 x 82 x 36 cm)
The two sculpture entitled 'Tolerance' and 'Intolerance' are depicted with the commonly associated representation of the Buddha sitting cross-legged in meditation whilst the upper half of his body has been manipulated. In 'Tolerance' a circular pattern contained within a structure is shown whilst in 'Intolerance' there is a mere juxtaposition of randomly shaped, disproportionate pieces kept on top of each other.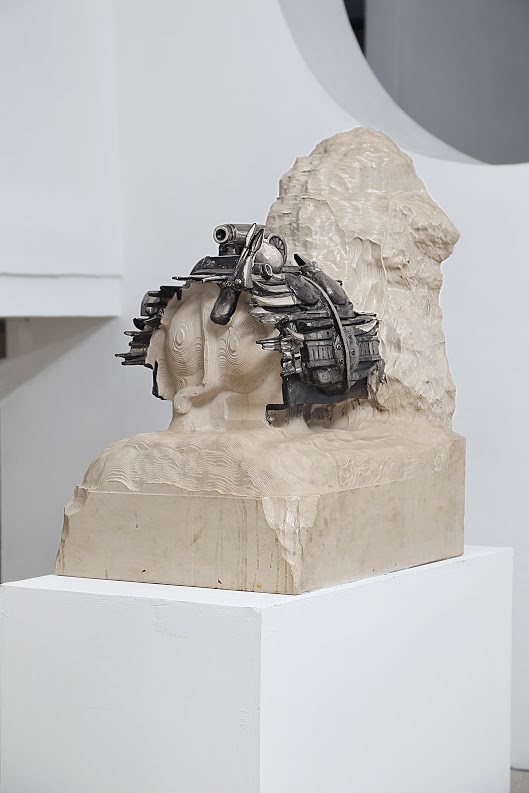 Carrying capacity 2015 stone 37X 35X 23 cm I = P ∙ A ∙ T I is the impact on the environment resulting from consumption P is the population number A is the consumption per capita (affluence) T is the technology factor
Again in 'Carrying Capacity', LN Tallur turns a common mythological figurine with an animal head into a sort of base for carrying the burden of human impact on natural resources and their insatiable capacity to ruin the original environment through technology.
Milled History (mirror) 2015 Sand stone Size 72X49X15 inch ( 183X124X38 cm)
According to the press release issued by the gallery, 'the sculptures are faux-antique pieces carved in wood.' Buried under the ground for many months, a process of natural decay is deliberately set upon these creations and the aggressions of insects further "carves" away at their original form. 'The rescued "relics" are then scanned by a computer and carved by lasers from blocks of stone the artist chooses specifically because they resemble wood.' The final structure that has been put on view is a perfectly preserved specimen of what may be termed as completely distorted substitute of the original sculpture.
As American thinker and philosopher Terence McKenna stated, "The creative act is a letting down of the net of human imagination into the ocean of chaos on which we are suspended, and the attempt to bring out of it ideas." In fact, both these contemporary artists achieve several feats in ideation and unconventional thinking through their expressive art.
It is indeed impressive and uncanny how both artists through different medium and varied perspective end up re-interpreting the set structures, be it landscapes or common symbolic representations and creating their own language and dialogue with the audience.
Exhibition continues till Saturday, May 28th.
Reference Links
http://www.naturemorte.com/exhibitions/press_release/delhi/current/524
http://www.goodreads.com/quotes/161861-the-creative-act-is-a-letting-down-of-the-net