Part 2 | Aesthetics of Performing live and life: Introduction to performance Art
Written by Shreya Garg
The stage is set and curtains rolled up, viewers are drowned into a medley of emotions as artists unfurl a performance usually backed by a strong message. The performance is as baffling as it is fascinating. Such was the nature of performance art in the previous years, but contemporary forms appear to have broken away from the boundaries of place and time and have embraced modern notions of space. Fusion of art and architecture, technology and art and more such contemporary mediums are being seen in performance art which has shifted widely from the concept of a static stage and audience. For example, artists perform in heritage monuments, making architecture of the place as an important element of their story, engaging the audience as the audience walks with them as they perform in the entire monument space. This makes the audience feel like a part of the performance, leaving them in complete awe of the performance, artist, concept and the space itself, which was given a new life by the act.
Over the years, performance art focused on different themes, significantly influenced by art movements of that period. Here we have a look at 10 works of performance art and the artist's intention behind them:
4'33" is John Cage's work which was performed in August 1922 at the Maverick Concert Hall in New York, with pianist David Tudor sitting before a piano. It is a musical composition with no music or sound at all. The artist not only shocked the listeners with his completely silent performance but wanted them to appreciate silence as a necessary element within musical notations.
Yukio Mishima was a Japanese writer turned political activist who committed suicide on November 25, 1970 in front of a thousand servicemen at the Eastern Headquarters of the Ground Self-Defense Forces in Tokyo. He performed seppuku, (a ritual suicide mostly done by samurais) after expressing his disappointment with Japanese government in a speech before his final performance.
I Like America and America Likes Me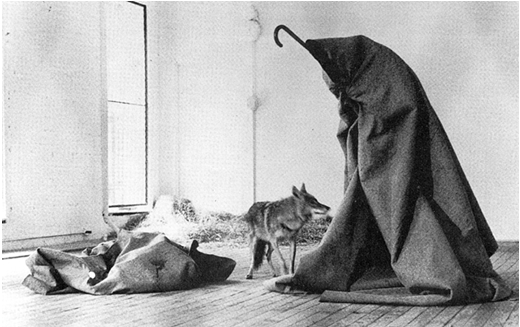 Joseph Beuys, in 1974, landed at the Kennedy Airport in New York, where he was covered in a blanket and led straight to the René Block Gallery. He spent three days in a room there with a coyote because he wanted to isolate himself and see nothing of America other than a Coyote. He was transported back to the airport in a similar way.  Having mixed feelings about United States and its role in global war, the artist hoped in some way to communicate with the spirit of America, the coyote.
Maria Abramović, one of the most famous performance artist, performed Rhythm 0 in 1974.She stood still in front of a table which had 72 objects like rose, honey, grooming tools, food and weapons placed on it and invited viewers to use the objects on her however they liked. During this dialogue of energy between her and the audience, Maria had tears in her eyes, suffered cuts on her and ended up being stripped naked. The performance was a powerful comment on human submission and traditions of self-flagellation and catharsis.
One Year Performance (1980-81)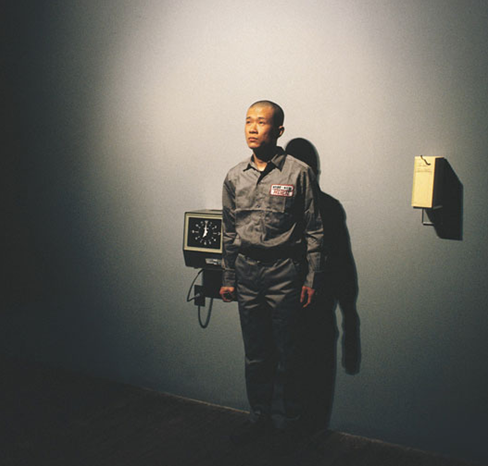 Tehching Hsieh arrived in U.S. as an illegal immigrant in 1974 and lived on the streets of New York in self-imposed homelessness. His performances test his physical and mental endurance as he places himself in extreme conditions. In his Time Clock Piece which was a one year performance from 1980 through 1981, the artist punched a time clock every hour for one year, growing his hair to show time. This resulted in a series of pictures showing a year passing by in 6 minutes. His works aim at collapsing the distance between art and life, meanwhile questioning the relationship of presence and surveillance, labour and production, and body and the machine.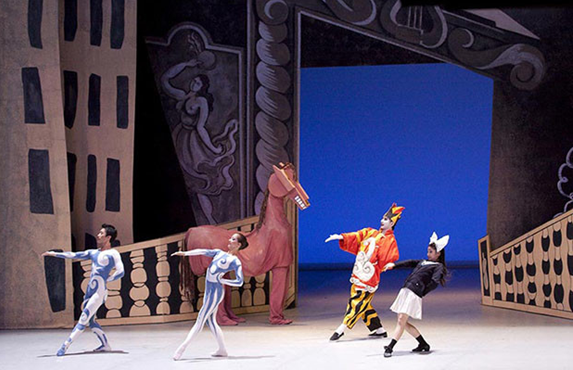 Early 20th century saw a shift from traditional forms of ballet and opera influenced by revolutions in the art world. Picasso and Satie worked on a spectacular ballet together making use of unconventional musical instruments and costumes inspired by cubist paintings. It was one of the times in history when the audience rose to a riot after the performance, unable to process what they had seen.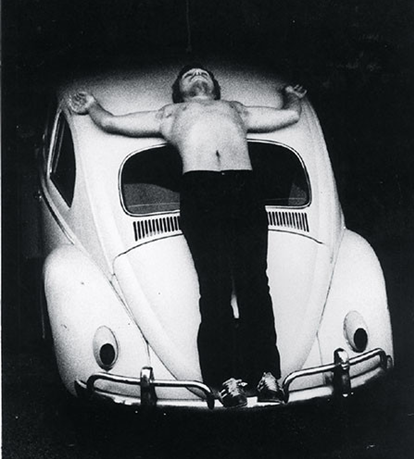 Chris Burden for his performance art piece Trans-fixed, was crucified to the back of a Volkswagen Beetle, which was pushed out of the garage for two minutes with the engine revved and pushed back in after that. His performance was suggestive of Jesus Christ's crucifixion.
Tushar Joag claims to be an interventionist artist, as he sets out to politicise art and contribute to the struggle of activists like Medha Patkar and movements like Narmada Bachao Andolen through his art. He says that there is no point in being bitter and angry and believes that even though he cannot effect change singularly he can always spark debates through the medium of art. He does something similar in his performance Right to Dissent. The artist during the length of this performance that lasted for 6 days stayed cocooned in a small enclosure made by weaving thread. For this time period Joag feverishly wrote "I will not lose faith in the Indian Democracy and Judiciary " to effect a repeal of outdated draconian sedition laws bringing into focus public health activist Binayak Sen.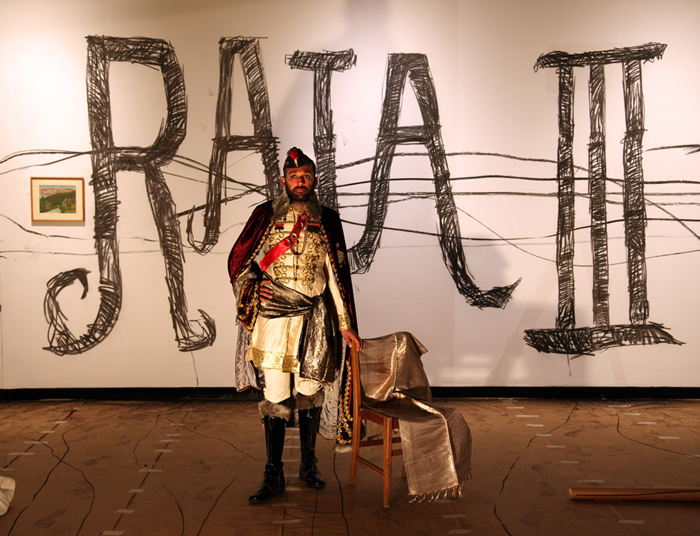 Nikhil Chopra's art defies being strictly categorised. His practice involves elements of theatre with him assuming different roles and characters with elaborate sets and costumes, changes done in full public view, enacting everyday activities like washing, sleeping, shaving and dressing, while drawing and sketching. These props, set design, and the costumes, left as remnants of the performance, resemble still life paintings. Again photography is used as a medium of documenting the memorable transformations in his performance art.
The character of Yog Raj Chitrakar is loosely based on the artist's grandfather, Yog Raj Chopra, who was a plein-air painter of Kashmir. Chitrakar, meaning picture maker, has many faces— explorer, draughtsman, cartographer, valiant conqueror, soldier, prisoner of war, painter, artist, romantic, dandy and queen.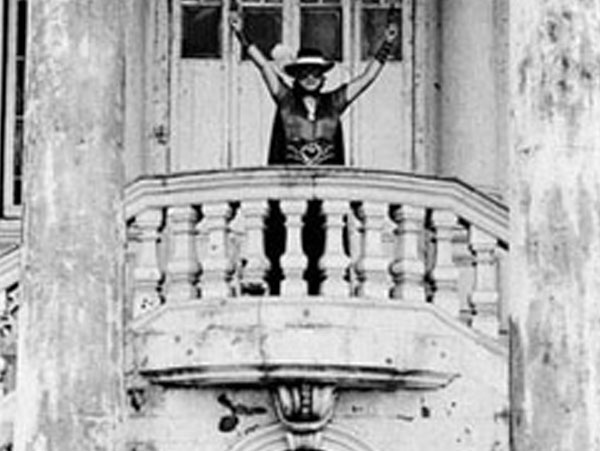 Pushpamala transitioned from a sculptor to working on photo and video performance art. Her work is based largely on a re-imagination of popular images of art and of images from the silent cinema era. She works with fictional imagery, rather than documental works, which surface more in the archives of Indian photography.
In the photo performance series of Phantom Lady or Kismet, 1996-98, the artist recreates pivotal scenes of the stunt woman Fearless Nadia from Hindi Cinema in the 30s. She uses public memory as an important tool to recreate performance and use its popular affect in photographic imagery. Using popular culture, particularly Hindi cinema she revaluates, gestures, acts and costumes from another era lost in popular fiction.