Martand Khosla's 'MesoDomain': A Review
Written by Monica Arora
"It (modernisation) is just another jungle closing in." This observation made by British author Evelyn Waugh, many decades ago, somewhat reflects how the widening chasm between so-called urban growth and development and the backwardness of rural centres affects the populace settled in the latter and their movement towards the former for 'greener pastures'. It is indeed pertinent to point out how artists, particularly in the Indian sub-continent, a region in the spotlight at the recently concluded edition of the India Art Fair 2016, are deploying their art as a medium to bring to fore issues and concerns afflicting contemporary society. Martand Khosla's 'MesoDomain' is a vital link in the chain.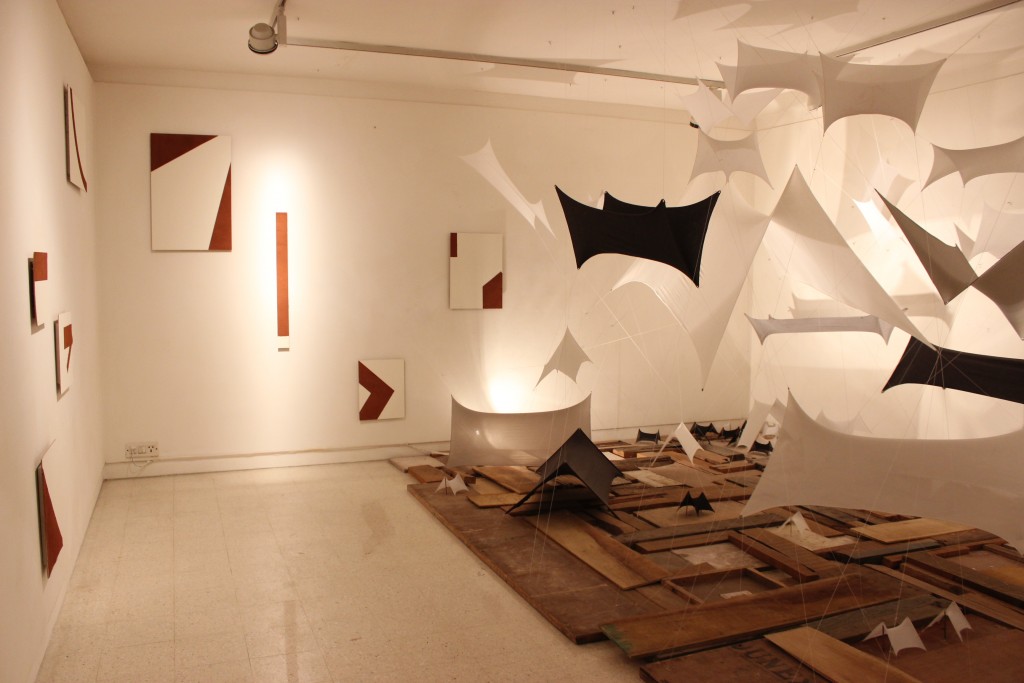 A trained architect by profession, Martand Khosla explores the ambiguity and irony of life in metropolises. Wherein at one side, we have daily wage workers hailing from the nooks and crannies, hamlets and villages, mofussil towns and districts of rural India migrating to the 'big city' for better employment opportunities, they continue to dwell in makeshift tents, slums and temporary sheds whilst high rises, magnificent concrete giants of glass, iron and cement continue to rear their heads under their toil and sweat. And just like that, as soon as their project reaches culmination, they are displaced in search for another project, another home, another office, another dream…
Deploying architectural material such as wood, metal, glass, brick dust, paper, coal ash, brass, stainless steel, fabric and paints, besides others, the artist very effectively paints a realistic portrait of contemporary urban dwellings with filthy slums and swanky buildings vying for space and attention all at once. His background as an architect reflects strongly in the straight lines, clean structures and neat installations.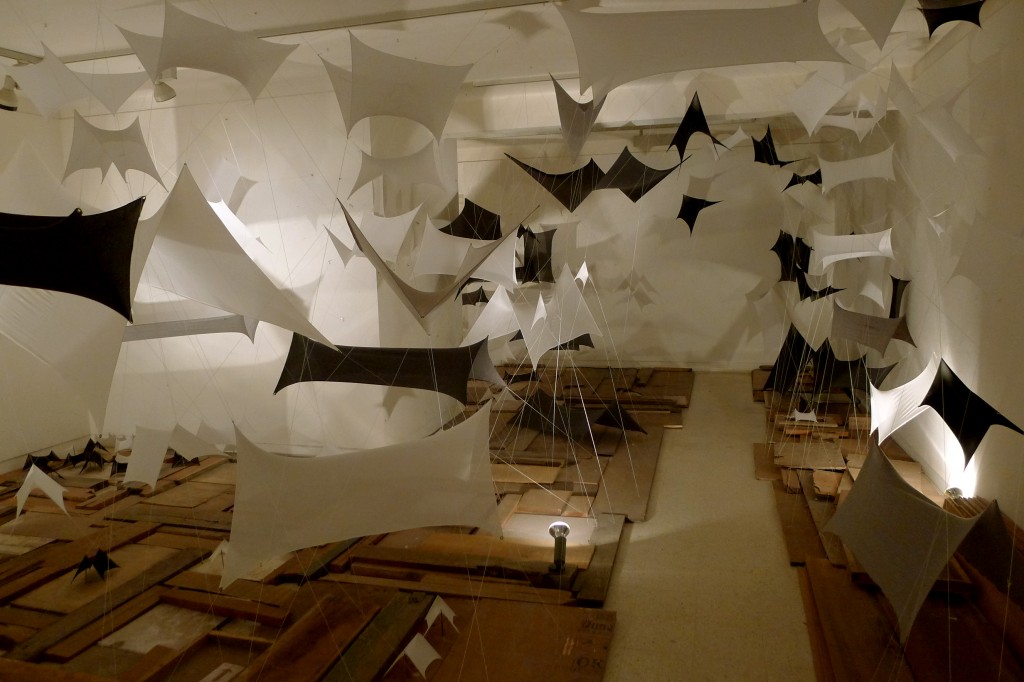 Integument
The most interesting aspect of these varied works is the exploration of the distance and the gap between reality and portrayal of industrialization and progress in speeches made by government officials and figures to support these claims. Eventually, the displaced tribes, peoples or refugees and migrants have to deal with these tall claims on a day-to-day basis and are caught. A case in point is 'Intugment' a huge installation of wood, brick dust, fabric and more that addresses the issue of displacement and temporariness of a tented accommodation. At a micro-level, it displays the mundane and everyday travails of sanitation, hygiene and lack of space say at a temporary shelter for workers at a construction site, and at a macro level it reflects the refugee crises in Syria wherein it represents the camps of migrant asylum seekers, an issue prevalent worldwide.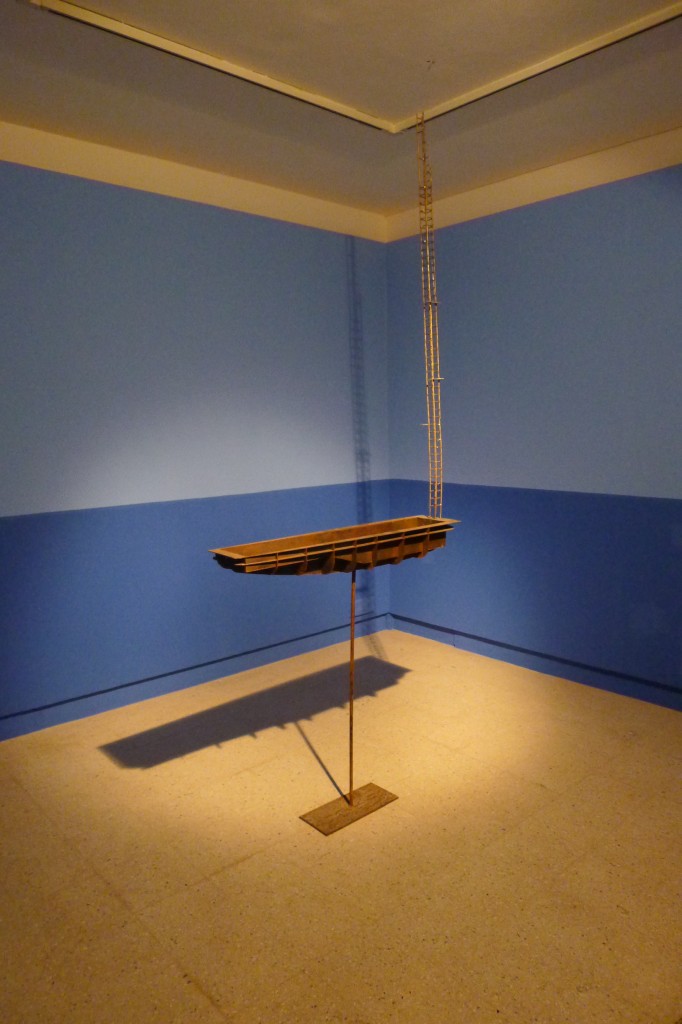 Sign, Symbol, Stop
'Sign, Symbol, Stop' a neat yet incomplete structure suspended from a scaffolding-like ladder represents the facts, figures and statistics circulated by the government tom-tomming augmented GDP, income levels and other economical parametres. Are these figures for real or are they plumped up to portray a rosy picture instead of exposing the thorns?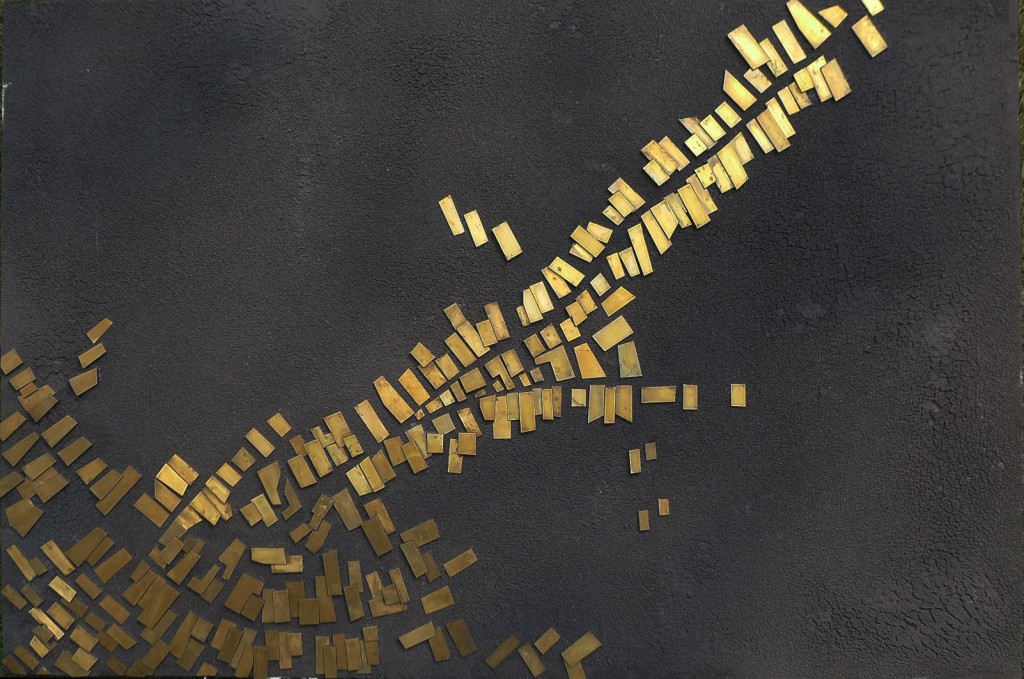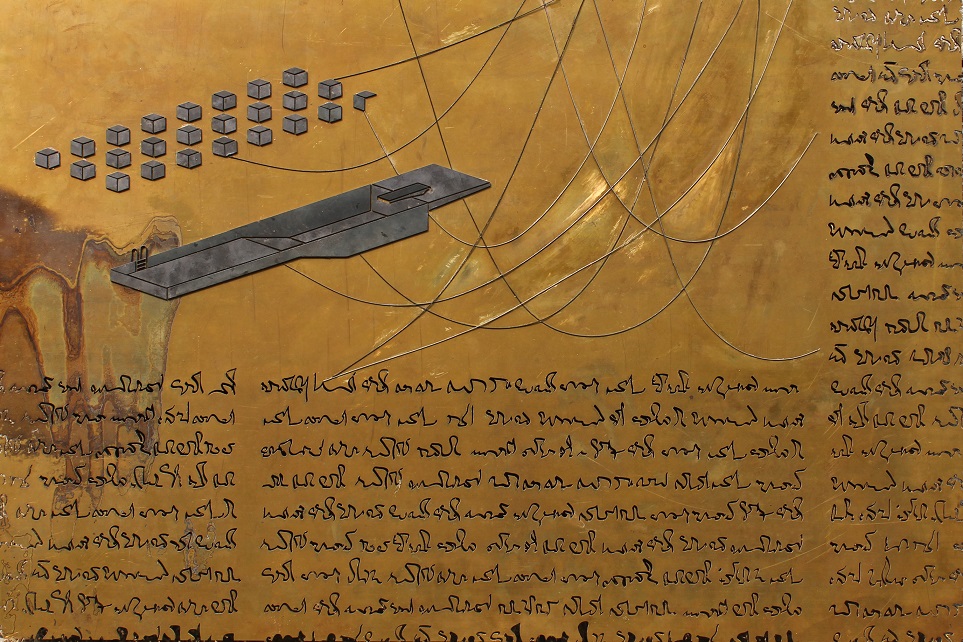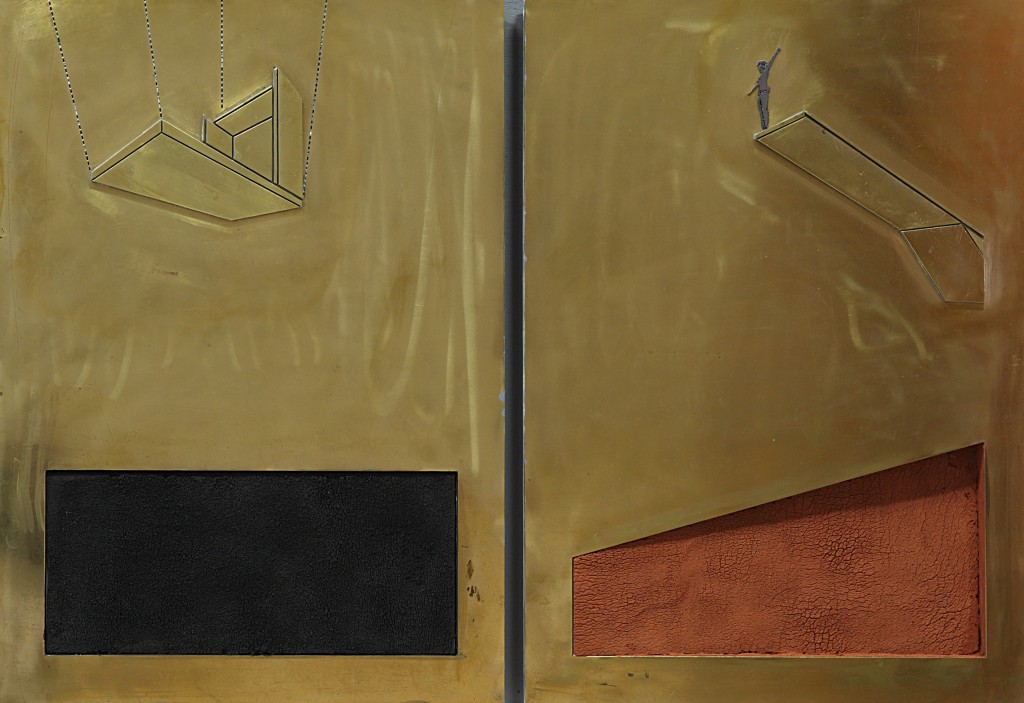 Some selected images from 'Inflection Point 1-15'
The highlight of the show are 'Inflection Point 1-15', a series of artwork displayed on a wall that trace the path of an actual villager from his land as an agriculturist in the village to a temporary worker in the big, bad city. Right from the construction sites and mining fields depicted effectively by use of coal ash and brass depicting their means of employment to letters penned down on brass plates sent to family back in the village, to unfulfilled dreams and promises made by rotating governments only on paper but with no ground beneath their feet, this series is a potent statement on the agony and pain that these souls undergo far away from hearth and home.
 How they find solace in broken dreams and dictated fervent notes sent back home is full of pathos and agony and beautifully depicted by the artist through a unique juxtaposition of unconventional media and most importantly a very creative mind. These stay with the onlooker long after one leaves them behind on the gallery wall…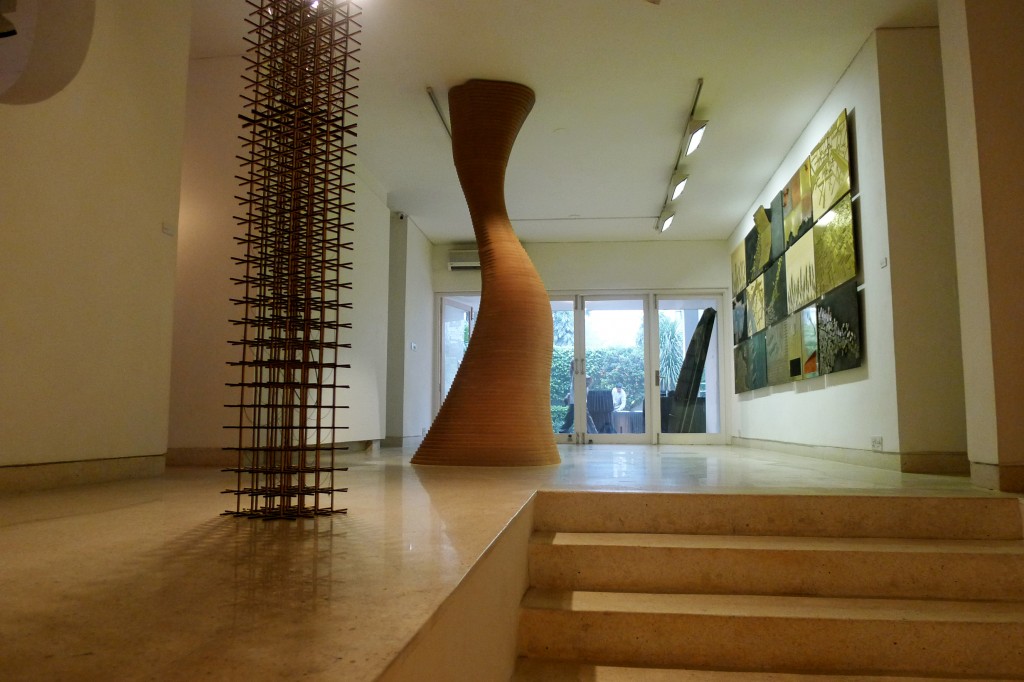 Untitled and Overpower (on left)
'Overpower' depicts how rigid and proper the laws of the land are interpreted, but the clever use of strings like loose wires in a scaffolded building show how strings can be pulled and the system bent to suits one's means.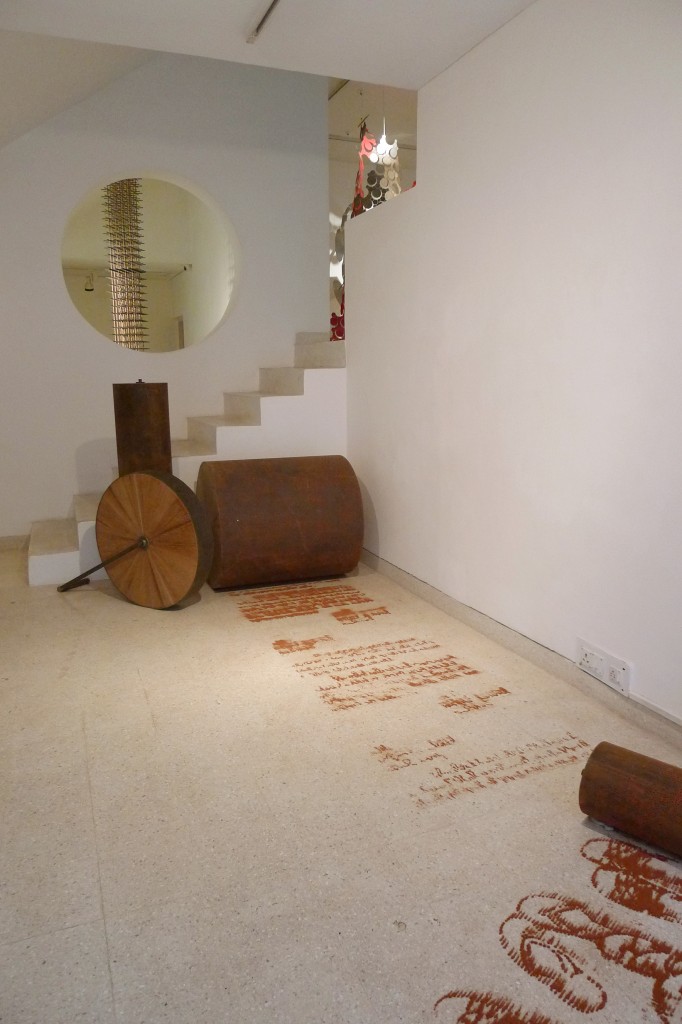 Continuum
'Continuum 1-5' is an other remarkable look at how history bears the burden of these unsung heroes, the common men and women who grow crops, build houses, clean and wash, build and create, even fight wars as ordinary soldiers, who have been carrying the burden of civilisations and kingdoms and empires on their backs whilst the glory is reserved only for rulers and never for the suffering masses. It traces their footprints in history through the awe-inspiring brick dust, brass wood and mild steel installations.
'MesoDomain' 1-4 are a very powerful use of mild steel, stainless steel and paint to depict how systems tend to be so firm and final and yet on close examination, the gaps or the fragility to mould and "adjust" them are so easily visible. So whilst the entire structure appears large and intimidating, the gaps between the cells or individual units display the fragility of so-called "norms" as set up by government dictats.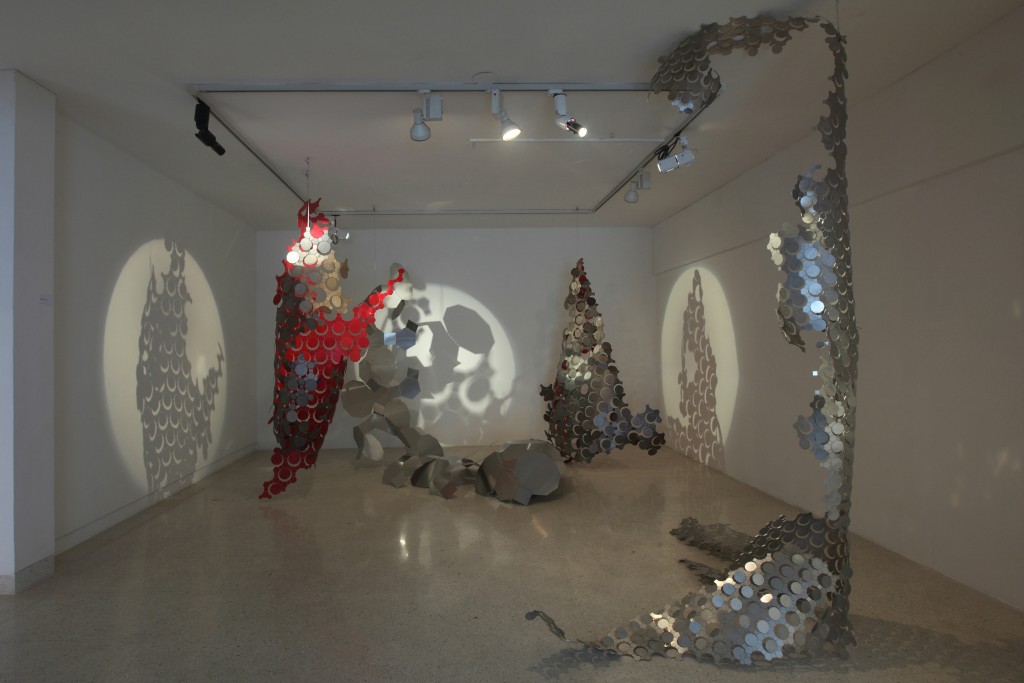 MesoDomain
Martand's work compels the viewer to ponder and brood over these many issues and afflictions overwhelming society and widening the gaps between the haves and the have-nots; the privileged and the marginalized. Newspapers, social media platforms, television and other media channels are bloated with reports of growing unrest and intolerance trickling in from all parts of India and this is true even worldwide. As the American author Libba Bray urges, "And that is how change happens. One gesture. One person. One moment at a time."
Martand Khosla's 'MesoDomain'  can be viewed at Nature Morte Gallery, at A-1, Neeti Bagh, New Delhi, from January 19 – February 27, 2016
References:
http://www.goodreads.com/quotes/tag/modernization http://www.goodreads.com/quotes/tag/change