'Khoju… Ya Kho Jaaun' : A show by Vineet Kacker
Review by Prapti Mittal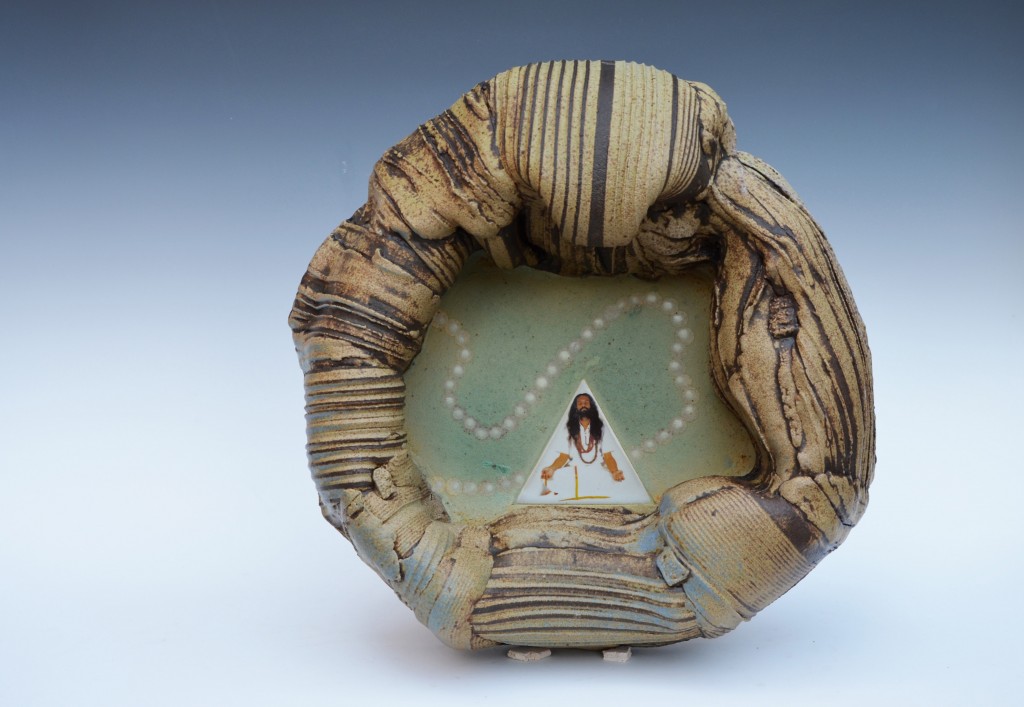 "Should I look for you, Should I lose myself…" in ceramic and video
As if pre-empting the theme of this unusual show, it feels that a cool Himalayan breeze ruffles my hair as I entered Gallery Art Positive with its abundance of mountain allegories brought to us by Vineet Kacker straight from the peaks of the Himalayas. His experiences become ours, and it asks us a very crucial question of finding and losing. The title "Khoju,,, yak ho jaaun", literally "Should I look for you, Should I lose myself…"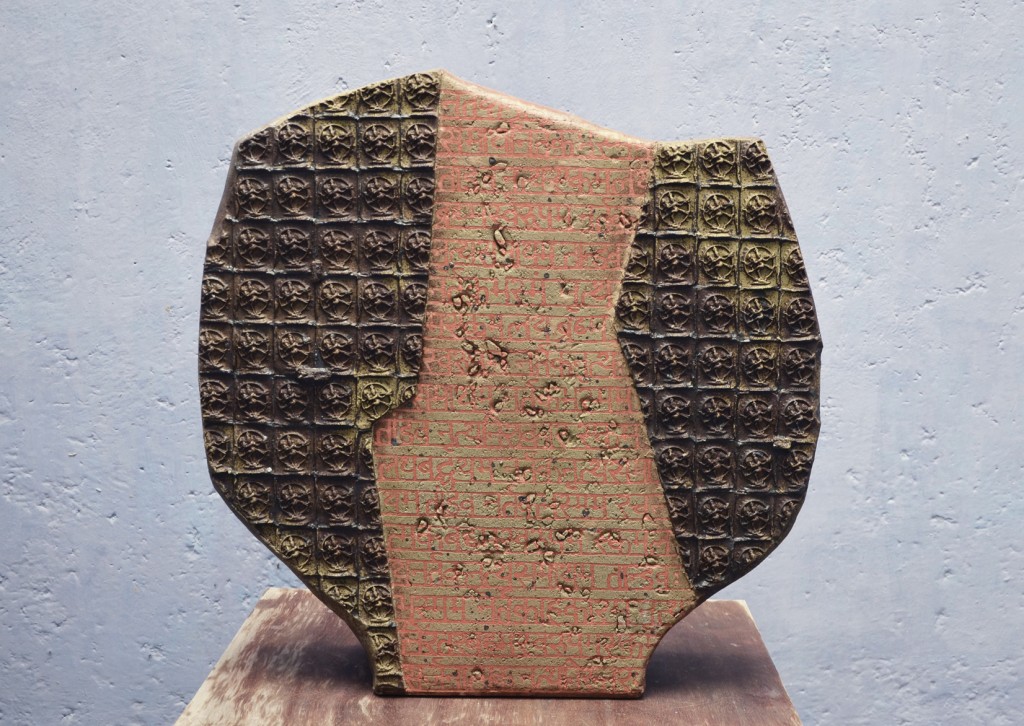 Sacred Geology
The Architecture of Dissolution
Time-Timeless-Landscape-I-ceramic
One of the few things that stand out in the exhibition is the placement of the artist quite literally in the centre of the scheme of things. In the series "Self Portrait: Caveman Chronicles", he is shown as a yogi, meditating inside a cave. He shows the dichotomy between the symbolism of caves and other lithographic structures from the prehistoric times to present. He explains how caves were the first sites of recorded human expression and it is from there we have any knowledge of life in the prehistoric times. However, they have transformed now to locations of extreme peace and quiet, as sites of meditating yogis who have renounced material life to attain salvation.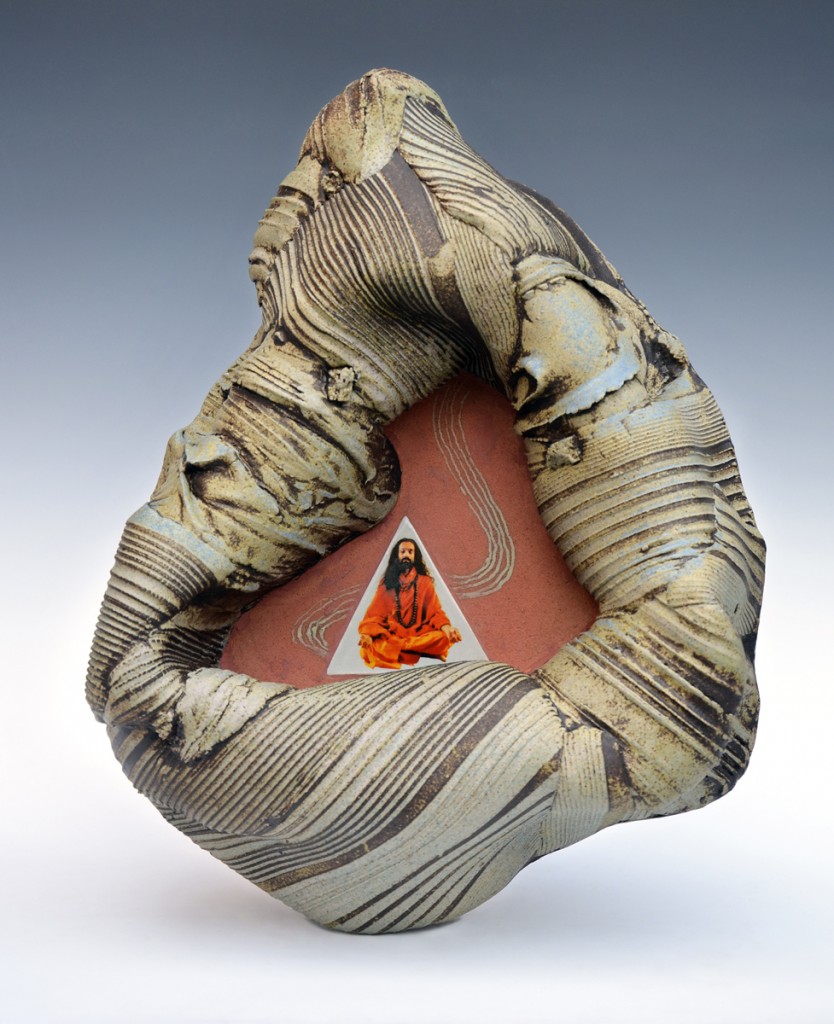 Self Portrait series, Caveman Chronicles
A second key feature here is the level of expertise and skill that he shows in ceramics and pottery. Kacker is one of the contemporary artists who are redefining the medium from a folk style to something more contemporary. He prints photographs that he clicked on his voyages on the uneven ceramics to recreate his memories, while successfully transmitting the philosophies.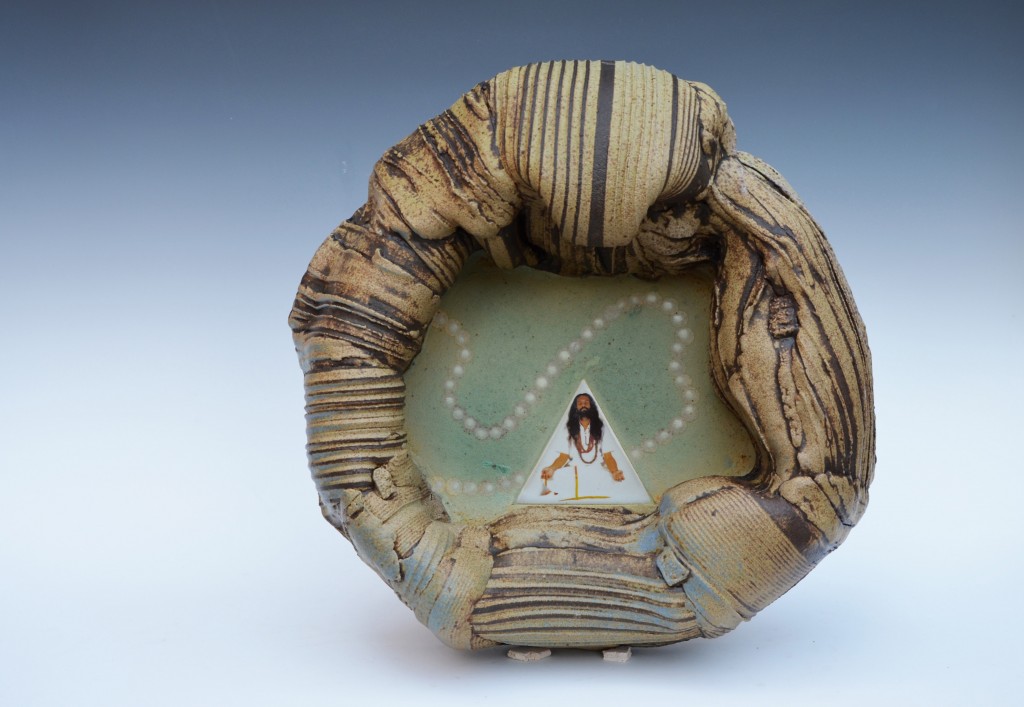 Self Portrait series, Caveman Chronicles
Even though he does not adhere to any particular religion actively, he believes in the philosophies and tries to find the deeper meaning in their teachings. The rotating structures which he calls "Topographies of the Formless World" are an example in point. While the rotating structures remind us of the Buddhist prayer wheel, the images and iconography range from Hindu erotic sculpture to Japanese Zen Tao. Thus, he claims that to really understand the formless world, one needs to change perspective and look at all manifestations of it. 
'Silence/Violence IV' in Ceramics and Mixed Media
One of my favourite works from the show is the series was named 'Silence/Violence', wherein the artist depicts seated Buddha figures holding burning hot red weapons. On a philosophical level, it is an exegesis of all Eastern philosophy, where one needs to quench the inner violence that is characteristic of human predicament. But on a more critical level, it also explains the tribulations of this quest for unknown, immaterial truths that the artist personally faces when he ventures into the lands of Ladakh, Lahaul and Spiti.
Topographies of a Formless World, Metal and Ceramic
While Oriental art forms have been known for their fluid brushwork made with bright colours that give a delicate, dream-like appearance, Vineet Kacker's work is able to express the same values with the help of a material as hard as stone and colours that are subtle organics. All in all, the exhibition presents a fresh outlook to Eastern philosophies and symbolism of rock and is a must-visit for those who enjoy spirituality, as well as those who like to see things from a new point of view.
The show was held at Gallery Art Positive, New Delhi, from January 30 – February 29th 2016