An Exhibition that Brought the World to Kochi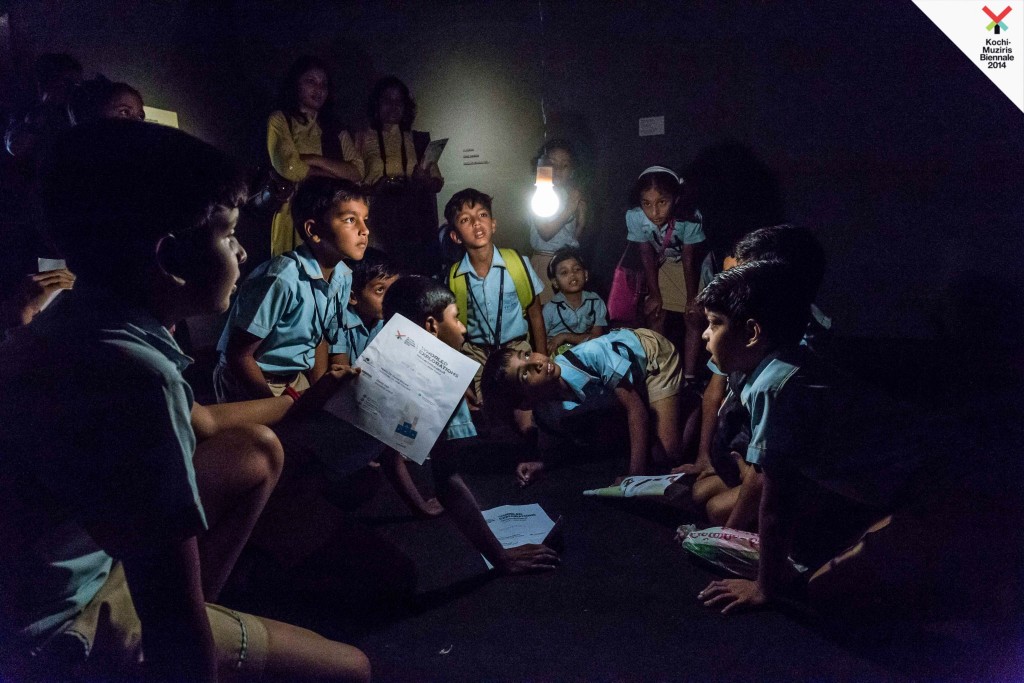 The curtains are coming down on the 108-day art extravaganza that became a talking and meeting point for the cultural and artistic community, and an event that the Malayali could talk of with pride.
The second edition of the Kochi-Muziris Biennale (KMB) saw a marked increase in the quantity and quality of guests, receiving nearly 5 lakh visitors, including political leaders, diplomats, administrators, museum directors, curators, artists and scholars from around the world.
Catherine Carlton, the mayor of California's Menlo Park noted that the KMB '14 exhibition was "comparable to London's Tate gallery" and offered support on several fronts, which included organising a fund-raiser in the heart of the start-up region of Silicon Valley.
Influential curators from upcoming prestigious exhibitions made exclusive stopovers to see the event. On visits here, Okwui Enwezor Malayali artist Madhusudhanan for the Venice Biennale, which he is curating; while curator Eungie Joo chose youngest KMB '14 artist C Unnikrishnan for the Sharjah biennale. "It is a matter of pride for us that established and a young generation of Indian artists are going international and that KMB '14 has been a platform for them," said director of programmes Riyas Komu.
Curator Jitish Kallat chose a Whorled Explorations theme for the 100 works by 94 exhibiting artists—42 from India and 52 international—which looked at Kochi's maritime trading history and human existence within the wider cosmos. "The biennale is conceived as an observation deck hoisted in Kochi," he said. "Kochi is the viewing device."
The works and exhibitions were sponsored by international cultural organisations, foreign embassies, artists, galleries and the state government. "This exhibition runs on the shared responsibility of the artistic and cultural community," said biennale president Bose Krishnamachari. "Many key people consider the success of this biennale as a coming to fruition of their own dream project."
Parallel to its main exhibition, KMB'14 hosted a Student's Biennale, Children's Biennale, and a residency exhibition, besides a performing arts segment that featured classical performing art forms, including Nangiarkoothu, Chavittu Natakam and Yakshagana.
The main Aspinwall venue was a hub of activity with a string of programmes including Artists' Cinema, a 100-day film festival, lectures (under History Now and Let's Talk series) and study, research and exchange programmes with schools and colleges, guided by the Tate London among others.
The debut Student's Biennale featured art from 36 government art colleges around the country and aimed to study and report on the state of pedagogy in art education.
Actress and entrepreneur Rima Kallingal is an ardent supporter of the biennale and according to her, Biennale is a platform where the young generation is exposed to brilliant art from around the world. "During our younger days, we never had such an art event where we were exposed to international art. Schools should bring students; it's right at our doorstep and there is so much to learn and take back from her," said the actress, when she launched the mobile app in mid-February.
The whole of the region seemed caught up in biennale mood. There were 23 Collateral art exhibitions running in various venues around Fort Kochi during the time of the biennale. Former finance minister Thomas Isaac probably summed it up best when he said "We have to raise Kochi, which is our metro to global standards with recreational and cultural facilities which are available in major cities and KMB fits the requirement," said the CPM legislator.
"It also offers good returns in terms of tourism and with the financial investment that the government puts into it."