10 Artworks that define the Swadeshi Movement
Written by Ruchi Bhalla
Mughal dynasty's interest in traditional art is widely acknowledged. However, their decline also led to the decline of traditional arts. The British Rule led to a slower but inevitable end of traditional art. The Indian art resurfaced in a different form, as a mix of western thoughts combined with eastern thoughts, but mostly on account of self expression and also as a supplement to the nationalistic movement to help realise political goals in an over suppressed India and majorly Bengal. Swadeshi Movement was triggered with the Imperial decision of partitioning Bengal. Following artworks can be considered as major highlights of the Swadeshi Art Movement during that period.
Saraswati by Raja Ravi Verma
Raja Ravi Verma is known to be the pioneer to help restore the national heritage. However, his style was termed as a hybrid, a fusion rather than authentic. His art had influences from Romanticism and hence was naively construed to be tainted by British Raj and was thus rejected by Abandrinath's generation. Ravi Verma painted several beautiful works like Jatayu a bird devotee of Lord Rama is mauled by Ravana, Shakuntala, Arjuna and Subhadra, Draupadi dreading to meet Kichaka, and many more.
Bharat Mata by Abanindranath Tagore
Abanindranath Tagore is accepted as the first painter who helped revitalise the national heritage in the form of art. This painting depicts India as a Hindu goddess, with four arms holding Vedas, Rice, Mala and a white cloth, implying that it is not just for religious reasons that all must unite for their country but also for the nationalistic purposes. This painting was earlier named as Bangamata (Mother Bengal) but was later renamed as Bharat Mata (Mother India). It helped create a nationalistic feeling among the citizens during the struggle for Independence.   The painting became so relatable that it encouraged Indians to participate in the Swadeshi Movement.
Medieval Saints by Benode Behari Mukherjee
Shantiniketan was founded in 1901 in rural area of Bengal by the Tagore family. Benode Behari joined it in 1925 under well know Indian artist Nandalal Bose and Rabindranath Tagore. He was not just a painter but also a celebrated Muralist. His style was a fusion of western art and traditional spirituality. He experimented with Murals, Collages, woodcuts, watercolours, Calligraphy, ink, oil paints, crayons, etc. Medieval Saints is one of his most recognised works, it is a Mural located on a wall within Shantiniketan. Going back to mythological Hindu stories was something that artists during the nationalist struggle constantly did.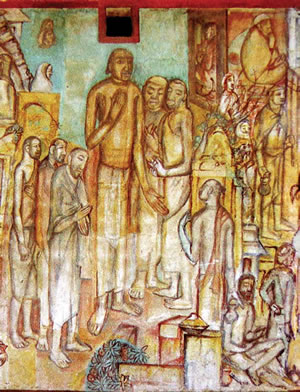 Dandi March (Bapuji) by Nandalal Bose
Nandalal is considered as the father of Modern Indian Art who amalgamated patriotic emotions to his art. Patriotic sentiments and civil disobedience movement led him to create Mahatma Gandhi on his salt march. However, Haripura Posters are his biggest contribution to the world of Indian art.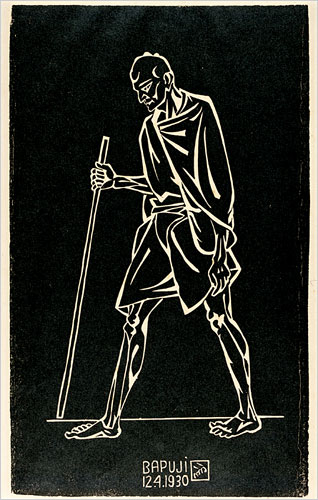 Three Girls by Amrita Shergill
Amrita was a painter of Indian and Hungarian descent. Her style reflected the painting skills she had acquired during her time in Paris. She blamed the Bengal School along with contemporaries like Abanindranath Tagore and Nandalal Bose for the stagnation of art in India. She is one of the most famous Indian female artists. She is known for her works on South Indian Trilogy, which play with bold and vibrant colors unlike the style prevalent in India at that time. Her main purpose in her words was "I realized my real artistic mission, to interpret the life of Indians and particularly the poor Indians pictorially; to paint those silent images of infinite submission and patience…to reproduce on canvas the impression those sad eyes created on me."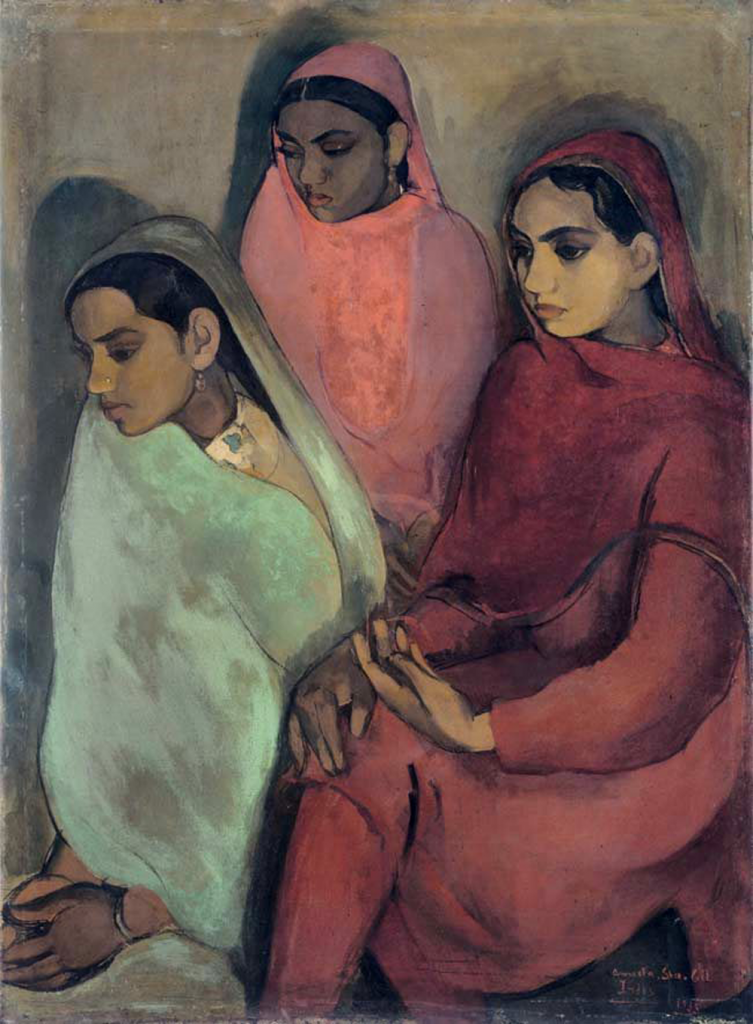 Bengal Famine Paintings by Zainul Abedin
Zainul Abedin's sketches on the great famine of Bengal in 1943 show the starving people dying just for a little bit of food and how the British Raj did not come to the rescue of these people. The inhumane story of misery of people has been depicted in his art works with deepest of emotions.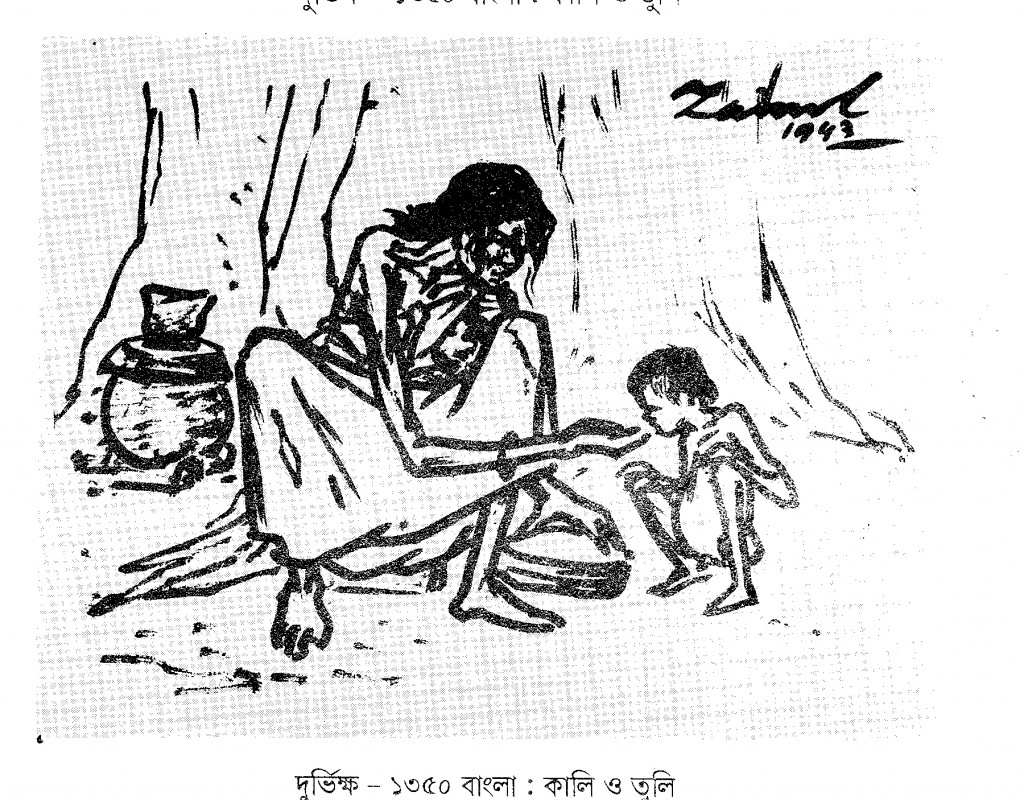 Mill Call (Sculpture) by Ram Kinker Baij
Ramkinkar Baij can be said to be the pioneer on the Indian sculpture front. He sculpted using cheap materials like cement and pebbles. Various famous sculptures by him include the Santhal Family, Sacrifice, Mill Call, Bust of Rabindranath Tagore, Yaksha Yakshi, and paintings like Tea Shop, Binodini, Girl with a dog etc. Another famous sculpture with the name Dandi March is rather misleading as this sculpture actually depicts Gandhi at Noahkali rather than Dandi. The skull at the foot can be interpreted with the vast amount of violence that Gandhi had to walk into. While sculpting Mill Call, Baij used to throw concrete inside the armature. Mill Call shows a working class family with children running after their parents as their parents rush to works as an answer the mill siren.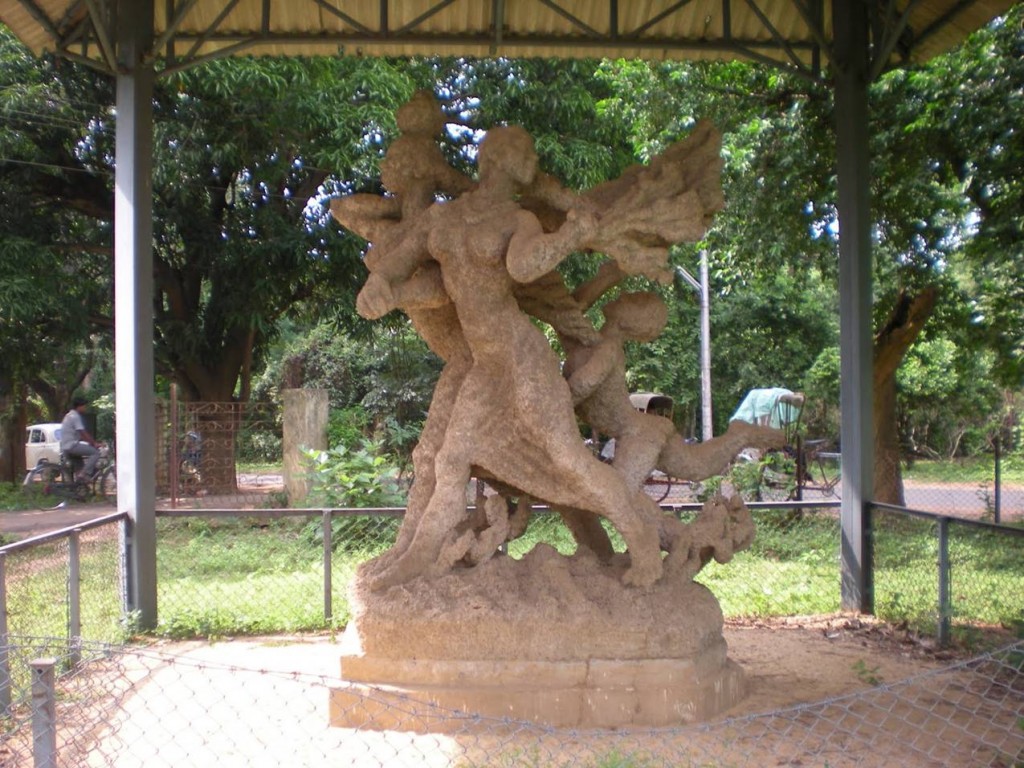 Krishna by Asit Kumar Haldar
Asit Kumar Haldar was one of the major artists of Bengal Renaissance. Some of his prominent works include Krishna and Yashoda, Awakening of Mother India, The flame of Music, Pronam, Raslila, etc. Majority of the mediums used by him included lacquer, watercolours, oil and tempera. Drawing from the mythological past of India, artists of this period created a new idiom of expression redefining India's pre-colonial history.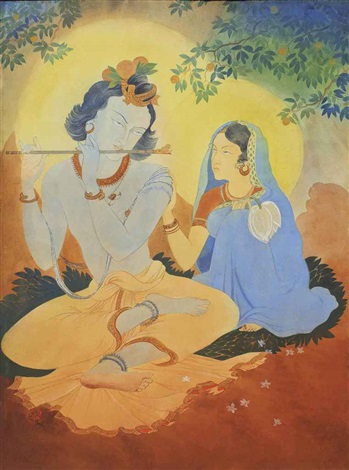 Dancing Woman by Rabindranath Tagore
Rabindranath Tagore had always been an art connoisseur but he started to take art seriously in his sixties. His works can sometimes be viewed as having a childlike self-expression and sometimes they show how freely and with wild abandon he used his creativity to give birth to paintings that cannot be explained and are strange and evocative. He frequently painted with brushes, cotton wool and sometimes even with his own fingers. Some of his beautiful works are Head study, Dancing Woman, Lady with flowers. Tagore created in paintings as in writing a language and form of self-expression that was completely unique. This was his attempt to break away from western technique and create a completely modern yet indigenous method of expression.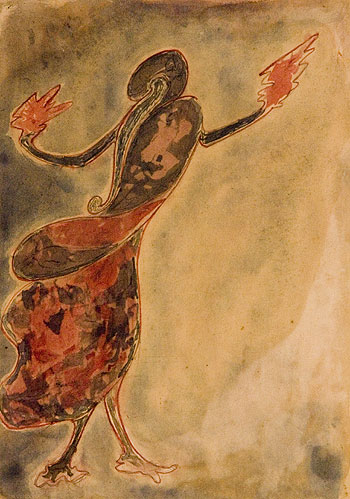 King Dushamanta and Shakuntala by Kalipada Ghosh
He was the last successor of Abanindranath Tagore. His prominent art works are Shakuntala, Persian night, Hara Parvati, Budha and Rahul, Series on Krishna, Series on Budha etc. His work was so impressive that he was invited for fresco work in the newly constructed London India House UK. However, due to unfortunate circumstances and unexpected death of his parents his trip got delayed and he lost the opportunity of fresco work. The painters of the nationalist struggle attempted to transform the content and form of expression by rejecting western modernist aesthetics. They went back to mythological tales to re-write a pre-colonial history of India and to Pahari miniatures and Rajput style of paintings. This paralleled the socio-political Swadeshi movement in art as finding and creating a purely indigenous form became the foremost concern of artists from this period.