'THE SURFACE OF MEMORY': Recent works by Sudipta Das
Written by Vidhi Sharma
In these times that are potentially turbulent, efforts are being made by the intellectual fraternity to look back at existing archives of popular histories and mainstream accounts that are not inclusive of multiple voices and rethink such modes of history making. There is thus a need felt for challenging the linearity and verticality of such narrative-making, while attempting the telling of strong alternative histories that are inclusive of the voices of the dispossessed.
In this context, 'The Surface of Memory' an ongoing art exhibition at Latitude 28, Lado Sarai, New Delhi showcases the recent works by Sudipta Das and presents us a moving recapitulation of a confused and fragmented past by the artist through her very sensitive works. Born in Assam in 1985, Sudipta completed her BFA and MFA degrees from Kala Bhawan, Viswa-Bharti, Santiniketan in 2009 and 2011 respectively. The artist currently works from Baroda and has had many solo and group shows in and outside India.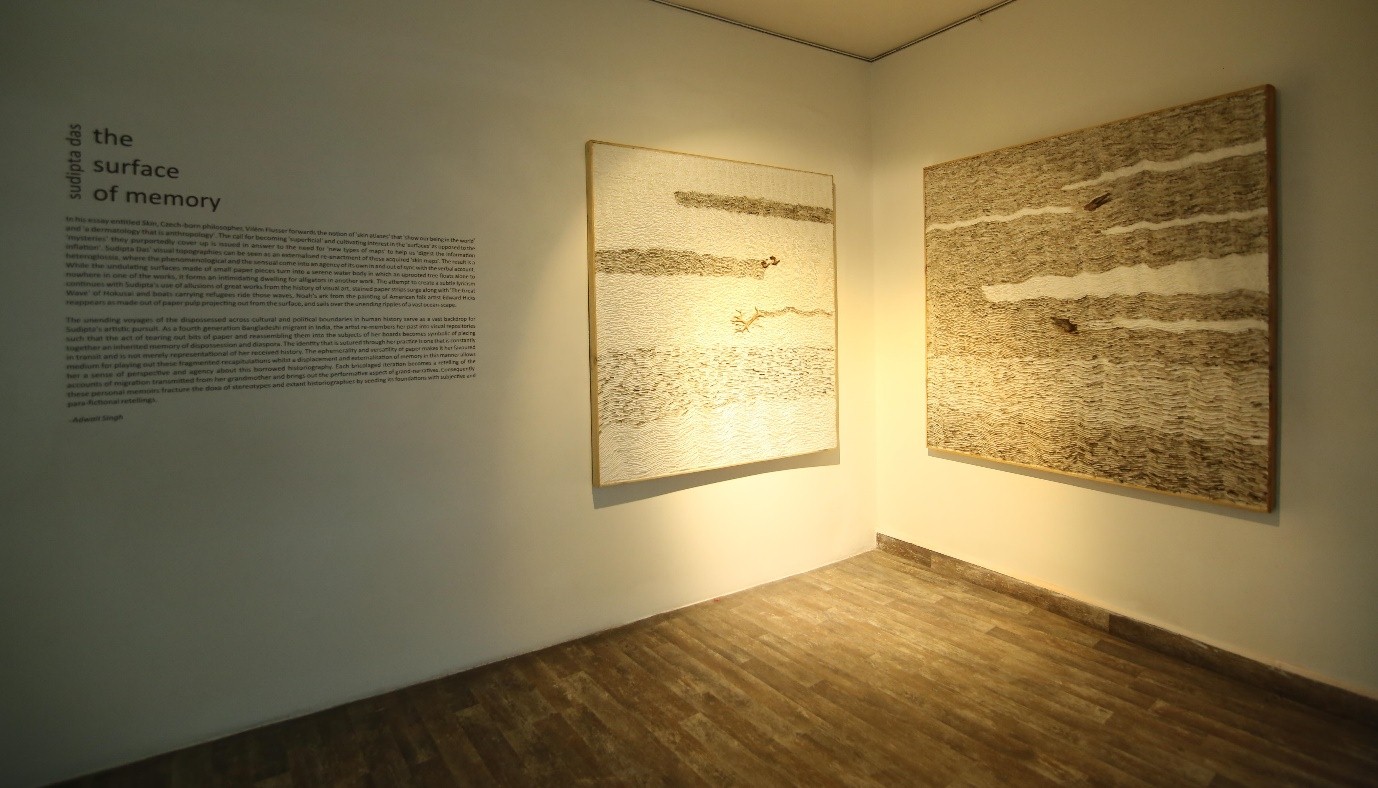 Sudipta's parents and grandparents had their roots in Pre-partition East Bengal and Sudipta's years in Assam had instilled in her curiosities about the food, culture and language as a child. The estrangement lingers till date as many confusions surround her in practical situations, mostly in the shape of unanswered questions of home and belonging. "When people ask me are you Bengali? I'm a little confused am I Bangladeshi or Bengali? "says Sudipta.
Sudipta Das, 2016
My Land – III; Coffee, Pen and ink, Water Colour on acid free paper; 48X60 inches
Sudipta Das, 2016
To Whom It May Concern – IV; Water colour, coffee wash, pulp, acid free paper on board; 31.5X23 inches
Right at the first look, these works through their very material character, invite the viewer to look close, to very gently balance their feet on the soft yet violent topography of a land that subtly declares its parameters for belonging, belonging of a person to their earth, thus defining the edges of their cultural capital, setting the limits for their possessions and explorations of most kinds in a socio-political space. Sudipta, in her practice finds herself in this context voyaging around the various possibilities of using images from the discoursed, popular sources to attempt constructing an organic pictorial space with a more dynamic approach. With an approach of telling a different tale, or shall we say, 'a different telling' of the tale, her works attempt towards making personal chronicles of the present and of the past.
The artist talks through her work of her various selves located in a particular time and space carrying multiple baggages. Her Bengali speaking self, one amongst the many. She takes images from old masters that strike her and challenges the monumentality of those images by recreating those entering from a perspective of a collecting of her own memories. The monumental images thus now become about land, shifting, an accounting of the personal and emotions of a woman with multiple belongings. Like 'The Great Wave' of Hokusai, Sudipta takes photographic and other references from history and prepares for herself a playground for transgression and expression. She revisits her old memories and redraws her identity as a fourth generation Bangladeshi migrant in India by selectively erasing and accentuating icons through various degrees of pixilation in images picked from popular histories cleverly controlling their monolithic telling  by personalising them and thus, transgressing many political boundaries all the way.
Sudipta Das, 2016
The Great Shifting; Water colour, coffee wash, pulp, acid free paper on board; 107X47 inches
Paper for Sudipta has a quality that can evoke nostalgia, memory and history. She first felt drawn towards paper as a medium when she used to visit her college library and browse through old books. She then shifted from Oil on canvas to paper collage on wooden board in her practice. Delicately died and torn paper bits in a rhythmic pattern express in more pronounced ways by magnifying tendencies of remembering the past into visual mines. The act of tearing out paper and then reassembling them into collaged subjects in her works become representative of mending together an inherited memory of denial and displacement. She plays with the fluttery colour gradation quality of paper bits by pixelating in various degrees the different elements of her composition. The ephemerality of paper makes it her ideal medium to recollect these memories keeping their fragmented nature intact. The value of this material speaks to her, and so speaks to us as well!
Sudipta Das, 2016
Untitled-I; Water colour, coffee wash, pulp, acid free paper on board; 56X55 inches
Sudipta Das, 2016
Memory – III; Water colour, coffee wash, pulp, acid free paper on board; 39X23 inches
The very act of tearing every bit of paper, is a process that is also suggestive of the many aspects of a woman's life within the domain of the domestic. At some points it can be felt that the transformative potential of the very mundane continuum of everyday is brought out in Sudipta's works. "Sometimes when I am tearing paper, I feel like I am cutting vegetables", says Sudipta. This, thus becomes the most intriguing point of entering her works for us as there is a strong reminiscent power in her works in the repetitive aspect of her very bodily engagement with the utensils of her kitchen.  Thus, her intimate phenomenology with the taken for granted aspect of a woman's life gives Sudipta's works a special quality. Her work exploits the texturally rich surface as a space of release from the entrapment of the multiple belongings and the unending juggle within them in a struggle to be able to belong. This can be seen as a potent space for thought to flourish and newer meanings to be produced in her works.
The exhibition was situated at Gallery Latitude 28, F 208 Lado Sarai, New Delhi, and is on till the 10th September, 2016.