The Barefooted Explorer: Life and journey of M.F. Husain
Written by Aranya Bhowmik
Walking barefooted to carry a long brush as a walking stick, getting commissioned for 100 paintings for 100 crore, Maqbul Fida Husain has done things which people can only think of. The legendary figure of Indian art turns 100 this year, though not present to celebrate it, but ARTSOME celebrates it through a trip in his illustrious life in this article.
From the streets of Bombay (Mumbai) to Sao Paolo Biennale (showcased along with Pablo Picasso,1971), the  'Indian Picasso' aka M.F Husain has never failed to imprint his ageless image in the minds of people. Achieving such a status in India for an artist is very rare and difficult where art is still seen as a rich man's fancy and isolated from the life of common people. Husain was  able to sense that gap for his deep connection to the grass root from his early days till the end. His experience of painting large cinema hoardings within a night enhanced him for his future endeavours with large scale paintings and sculpture where film cut outs and episodic narrative played an important role. His engagement with the society and its people is what enriched Husain throughout his life.
The humble beginning of Husain who was primarily a self-taught,  except for a short period of training  in J.J Art college in  Mumbai, which eventually lead him towards befriending F.N Souza and S.H. Raza and forming the Bombay Progressive  Artist group. But unlike Souza and Raza Husain was more embedded in his surrounding time and space and exploring it through the idioms of the west like cubism and expressionism. Husain didn't go to the west when Souza and Raza had left the country to busk in the warmth of Modern art in the west, he stayed back except for a short visit to Paris and London.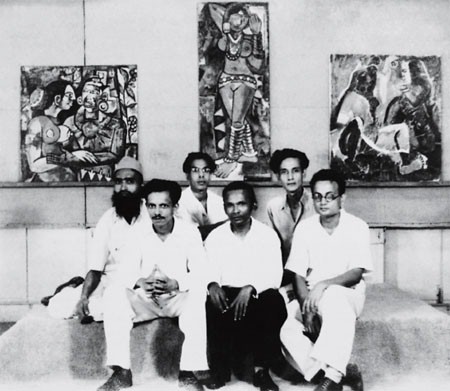 Bombay Progressive Artist Group, 1948
The responsive and adaptive attitude towards one's own time and space is vividly evident in Husain's  choice of subject, idiom and exploration of different forms, language and mediums in different point of time. The cubistic and expressionistic idiom that he chose as a response to the sentimental style of Bengal School helped him being a partisan and contemporaneous to the west. Though it was not like the avant-garde movement of the west but it was definitely a strong impetus to the stagnating situation of Indian modern art in the 1940s.
 A young M.F Husain with his painting
In his works there is a trajectory of signs and symbols that appear as the signification of certain events, stories, myths and figures in history and his surrounding time and space. The series of works on Mother Teresa, Mahatma Gandhi, British Raj, Mahabharata, Ramayana, Horses, and Indian civilization have these iconographical ensemble embedded in them. The search for the love of mother can be traced in the paintings of Mother Teresa devoid of any portrait, yet she is recognized by her iconic blue bordered white saree. "I am searching my mother in every woman I see in every corner of the world," said Husain about his endless search for the motherly love which he longed for throughout his life due to losing his mother at an infant age. The image of Mother Teresa brings out that search for the motherly love along with her dedication and love towards children. Alike Mother Teresa in the paintings on 'Gandhiji', he projects an image of a leader whose significance is beyond the limits of time. The portrait is often replaced with symbols of unity and peace and greatness like the Charkha (Spinning Wheel) representing Gandhiji's 'Satyagraha' and  the white dove representing peace. Then the loin cloth and the stick becomes the signifier of Gandhi in Husain's image. The 'Husain's Horse' as it is popularly known epitomizes spirit and energy for which his horses can never be seen static. One of his last painting 'The Three Dynasties' brilliantly captures the history of India through its depiction of the Mauryans, Mughals and the British Raj divided in three panels of the large painting. The rule of these three rulers have impacted the history and culture of Indian civilization at different point of time.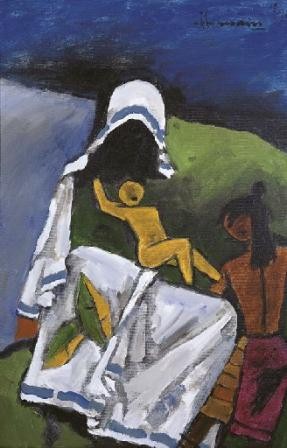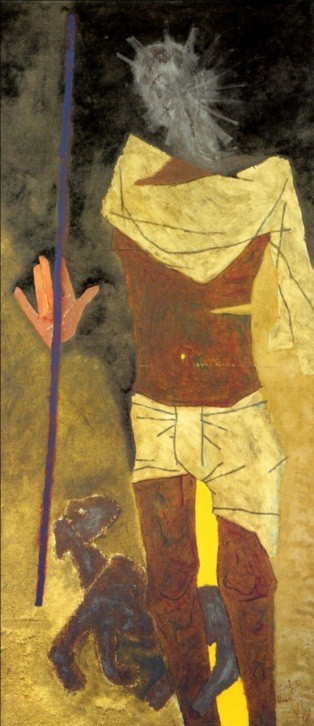 '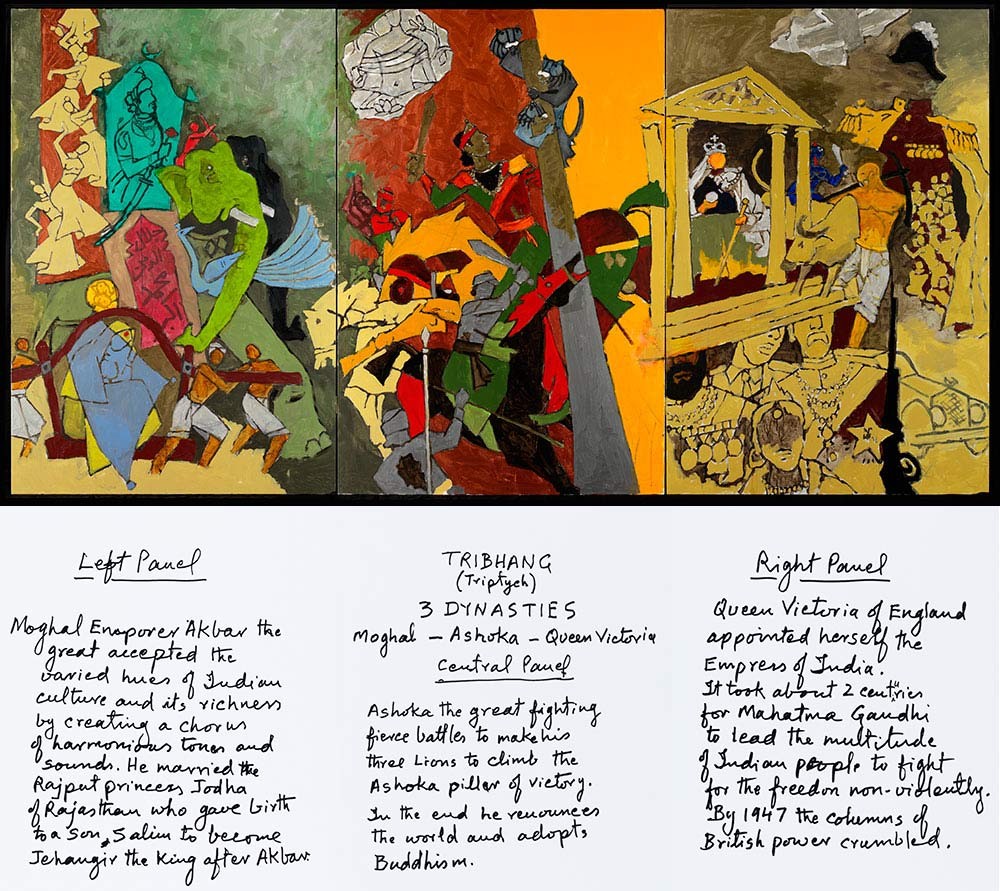 Husain was an explorer, his search lead him explore different language of art be it film, poem, sculpture, tapestry and many other mediums. His perennial love for films lead him make his first film 'Through the Eyes of a Painter' (1967) which won Golden Bear Short Film Award  in Berlin Film Festival. His other movies 'Gaja Gamini' (2000) and  'Meenaxi: A tale of three Cities'(2004) won applaud in the critic circuit. His poems often replete his painting. His exploration with sculpture and wall paintings can be  found in 'Amdavad ni Gufa' or Gufa (cave) of Ahmedabad created collaboratively with B.V.Doshi.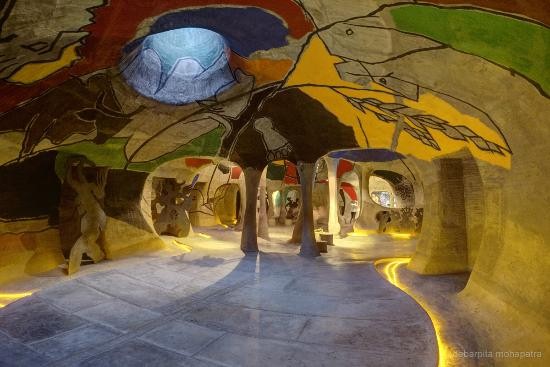 Though a celebrated public figure Husain was not away from controversy. The major controversy that let him take an exile in Qatar and London was due to his depiction of Hindu deities as nude figure. His depiction of Bharat Mata and other Hindu deities in though non-realistic nude figure triggered strong uproar and after several lawsuits Husain finally took a citizenship in Qatar and left India in 2006. Though deeply rooted in the Indian soil Husain was not able to blend himself in that soil after he died in 2011 in London.
The exuberant colours that replete the oeuvre of M.F. Husain's paintings were woven out of his own soul which was ageless and always enthusiastic to explore the life from its core. The eccentric character of Husain was his strength that helped him understand the mind of a common man which is why his works can appeal to the mass. His large body of work myriad range of themes offers an endless journey of Indian history and culture and a vigorous world of imagination.
Reference links and sources
http://archive.indianexpress.com/news/mother-died-when-i-was-oneandahalf-years-old…if-you-miss-the-lap-of-the-mother-there-is-no-place-(called-home)/801650/1
http://archive.indianexpress.com/news/mother-died-when-i-was-oneandahalf-years-old…if-you-miss-the-lap-of-the-mother-there-is-no-place-(called-home)/801650/1
http://www.vam.ac.uk/content/exhibitions/mfhusain/about-the-exhibition/
http://www.artsome.co/M.F._Husain
2003,"When was Modernism  Essays on  Contemporary  Cultural Practice  in India", Geeta Kapur, Manohar Publisher and Distributors
2002, 'Contemporary Indian Art Other Realities', Yashodhara Dalmia, Marg.