ST+ART DELHI 2016 – MORE PUBLIC THAN STREET
Written by Prapti Mittal
The first ever Public Art District in India is on its way, as over 25 street artists from India and around the world have been working to re-invigorate the iconic Lodhi Colony area of Delhi since December 2015. Organizers of the fourth edition of the "St+art" event in Delhi want to make Lodhi colony into a contemporary open air, public art gallery.
Delhi has attracted attention from all over the world recently with its latest buzz of Public Art taking over the city an inch at a time. The WIP exhibition (an acronym for Work In Progress), which features the work of artists from around the globe officially launched on Sunday, 31 January in an invite only event but opened to the public for the rest of the month.
St+art Delhi 2016 focuses this year between the walls of Khanna Market and Meherchand Market to inject life and colour into Delhi's emblematic Lodhi colony. This is one of the most successful art initiatives to come out of the country in the last couple of years and has in previous years transformed spaces like Shahpur Jat and Hauz Khas Village.
There are however, reasons for debate with regard to whether the path followed by St+Art 2016 really is the most legitimate one. The difference between Street Art and Public Art lies in the fact that one is unsanctioned and the other emerges and moulds itself according to the political gains of the person who commissions it, in this case the long list of government, international and capitalist organizations.
Public art is art in any media that has been planned and executed with the intention of being staged in the physical public domain, usually outside and accessible to all. Street Art, on the other hand, emerged as a form of anti-art or anti-avant garde art to protest against social issues, or just create chaos in society. Street Art is based on of vandalism, wherein artists feeling the pressure of mainstream oppression decided to use public spaces as their canvas. The ideas that were supposed to be propagated through Street Art/Graffiti Art were those that went beyond parliamentary forms of protest, thus the very act of vandalism, as shown in painting on bus stops, public walls, signboards, advertisements showed their autonomy above the law, therein protesting for wages, freedoms, rights, censorship, equality and many other issues. Street Art, by definition is the form of art that is unsanctioned and deals with the public directly to start a discourse that will never be allowed to take place by the dominant governmental and capitalist forces.
However, it has in the recent times become very part of the culture that it was trying to escape. A lot of street art has been sanctioned by the local councils themselves, especially after 1999 but debate still ensues about their ideological utility. St+Art India no doubt brings art to the open space from inside galleries and museums.  But the foundation has taken previous permissions from the government and is sponsored by Google Cultural institute, Japan Foundation, Goethe Institute, Ministry of Urban Development among many others, thus celebrating Public Art and not Street Art. It takes permissions from the very people that it is should be against (if they really are anti- High Art).
Beyond a speckle of doubt, St+Art Delhi has beautified the city and brought a much needed colorful brightness to it, but calling it anti-elitist when it is based in Meherchand Market and Lodhi Colony, one of the most elitist parts of the city, makes the purpose self-defeating.
"Art has been a novelty of the elite for far too long and with the festival we aim to change exactly that. With the Lodhi Art District project we hope to create an opportunity for a larger number of people to not only experience art, but also have conversations around it – leading to ideas of reimagining public spaces and the effects art can have on building community pride." says Akshat Nauriyal, Co-Founder & Content Director.
The subjects of artworks, similarly, like Japanese Artists painting their national flower in a cubist style to painting an avatar of Vishnu, as well as documentation of the city's chhotu chai stall do not talk about anything that a person inside the art gallery wouldn't talk about. The concept of Street Art works not with a specific medium, or a specific art style, but it does work with an idea – and that idea is to create art outside structures of law, in terms of the location of the work or the anti-establishment subject of its work. Thus, it's really laudable that you're having an exhibit of internationally renowned artists, but please give us an Exit through the Gift Shop.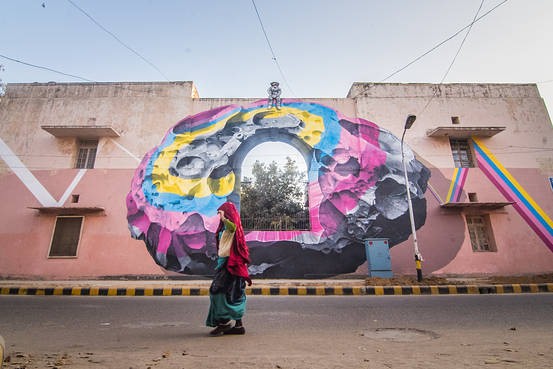 Swiss artists Pablo Togni and Christian Rebecchi call themselves "NEVERCREW." And here is their bright-colored meteorite on a wall in the neighborhood with an astronaut perched on top and multi-colored rays shooting toward the ground. "The astronaut atop the wall is a metaphor for someone who can see things from a different perspective, as a silent viewer of a larger picture," the artists explained.
The trio painted the wall of a garbage-collection center in Lajpat Nagar, a neighborhood in south Delhi. The piece, they say, is inspired by "several elements, characteristics and people they found interesting in the city." They painted the words "This cart belongs to Chote Lal" ('Chote' is a hindi word for 'little') in Hindi script on the cart in their mural in tribute to the owner of the tea stall in front of the wall they painted.

The region of Shekhawati in the desert Indian state of Rajasthan is known for its tumble-down townhouses that are decorated with magnificent frescoes. Indian artist Mahendra Pawar and his team from Rajasthan have painted this ornate mural on one of the walls in Lodhi colony. In the photo above, a member of Mr. Pawar's team can be seen painting the mural in the classic Shekhawati style.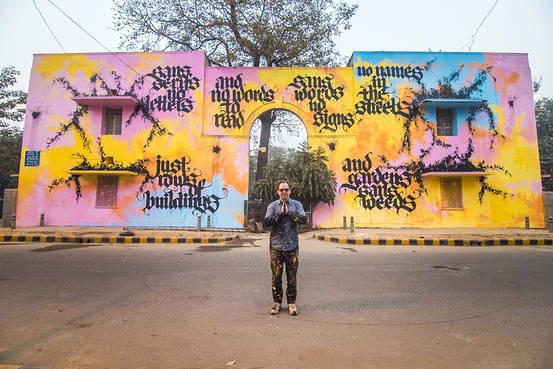 Niels Shoe Meulman from Amsterdam began tagging his art "Shoe" in 1979. Mr. Meulman calls his mashup of calligraphy and graffiti "Calligraffiti" and this is the first time he has used the script to display one of his poems in a mural.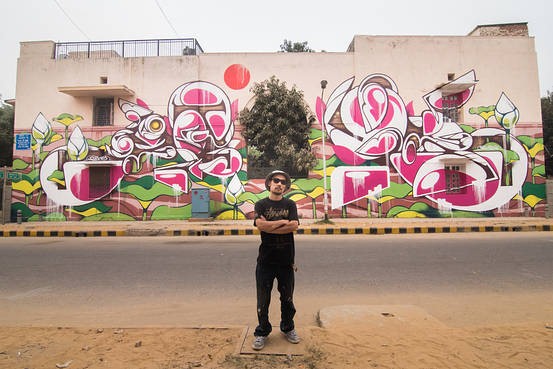 Japanese artist Suiko, seen in front of his work in the photo above, is one of the leading graffiti artists in his country. In his art, Suiko focuses on circular shapes, bold lines and vibrant color schemes. He called this one "The Lotus." Suiko has riffed on India's national flower with his signature curved lines and also integrated some Japanese characters.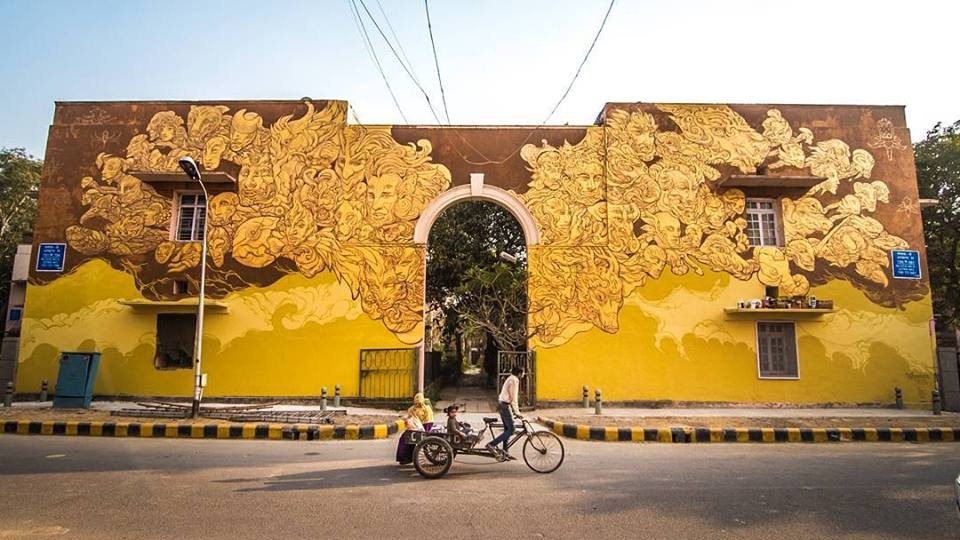 Vishvaroopa by Inkbrushnme: "Vishvaroopa is an all-encompassing omniform of Vishnu and marks the beginning of 18 day battle of Mahabharata. Vishnu manifests in his cosmic grandeur hypnotising Arjuna, the supreme warrior, and shows him that all universal matter, animate and inanimate, is him."
Again, this beautification drive in the city makes it an especially amazing place to live and travel in and India would benefit from having access to art from all over the world, as it increases people's interest in art and helps bring India on the global scale in the art scene. But from someone who breathes and eats Art History, calling it Street Art does not do justice to the genre and an art movement with its certain common ideas.
http://www.graffitistreet.com/start-delhi-street-art-festival-2016/