South Asian Artists to Explore
South Asian modern and contemporary art has seen remarkable sustenance in its prodigious and expansive practice as well as marketability throughout. Artsome will bring you these stories of exciting artists and their works—things you thought you knew and things you didn't know.
Artsome Selects:
1. Chitra Ganesh:
This Indian-American artist explores her Indian roots through the appropriation of Amar Chitra Katha comics into her own myths and sensibilities. She brings together feminist politics, issues of sexuality, science and the supernatural.
Last seen: Leading a set of eager audience around her solo show "A Zebra Among Horses" at Gallery Espace
Chitra Ganesh, 'Splash', 2013, mixed media on paper, 64 x 42".
Gallery Espace
His story is one of inimitable genius in the making of Indian modern art with his "non-objective" art. His monochromes exude a meditative quality showing his firm control over colours and forms. The Guggenheim in New York is set for a retrospective in October 2014 touring till 2016.
Last seen: Untitled, 1979, fetching a record USD 3.7 million at Christie's first auction in India.
Vasudeo S. Gaitonde, 'Untitled', 1979.
Christie's
3. Seher Shah:
Historical and futuristic elements mingle in her clean, geometric marriage of architecture and drawing while exploring power structures and relations between people and landscapes. Her practice spans drawings, prints, photographs and installations.
Last seen: Moving from New York to Mumbai for her simultaneous solo shows.  
Seher Shah, 'The Expansion Complex I', 2009, archival giclee print, 32 x 54".
Nature Morte
4. Imran Qureshi:
Brings back the resplendence of miniature painting tradition from the Mughal period with a contemporary twist. The painstaking rigours of the miniature tradition are replicated in both his paintings and site-specific installations.
Last seen: On the roof of Metropolitan Museum of Art making blood-splattered floral patterns for his installation.
Imran Qureshi, 'Moderate Enlightenment', 2007, gouache on wasli, 9 x 7".
5. Dayanita Singh:
Her tryst with tabla maestro Zakir Hussain turned her into what she is today—"bookmaker working with photography".  Playing with intimate portraits, empty cityscapes and images of dusty file-rooms, her black and white as well as colour photographs explore the transformative aspects of reality.
Last seen: Feeling ecstatic about her show at Hayward Gallery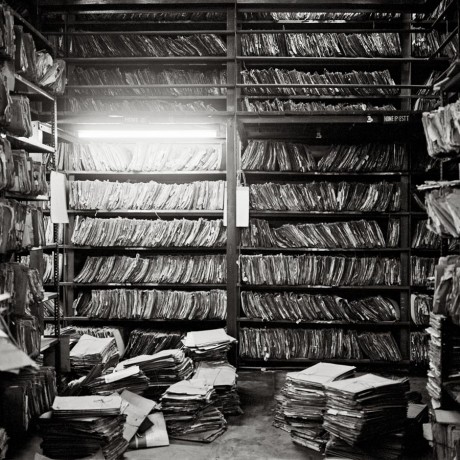 Dayanita Singh, 'File Room' (set of 36), 2011.
Frith Street Gallery
Explore more artists on www.artsome.co