Review of Jyoti Bhatt's 'Photographs from Rural India'
Reviewed by Monica Arora
Jyoti Bhatt's work evokes nostalgia. The minute I stepped into Vadehra Art Gallery to witness his photographic exhibition called 'Photographs from Rural India', I was overcome by a feeling of reminiscence and melancholy of a bygone era. The black and white photographs are mute spectators to the 'good old days' wherein life in rural India was extremely rich in crafts and tradition and culture flowed through the kuccha pathways and muddied tracts of every obscure little hamlet situated in the countryside. The Bangalore-based Tasveer Art Gallery is exhibiting forty-eight of his selected photographs, from the 1960s-1990s, reproduced in silver gelatin prints all across India. And an accompanying coffee-table book chronicling his photographs has also been launched to commemorate this retrospective of his work.
The Baroda-based artist-photographer is too old and frail to travel or click images any longer but through an emailed interview, he offered some glimpses into his life and shared the inspiration behind his evocative imagery. During the summer of 1967, when Bhatt was invited to a seminar organized by Bhartiya Vidya Bhavan in Bombay on the folk arts of Gujarat, the event marked his initiation into the process of documenting India's tribal art and craft traditions in their original space amongst the very people who were creating them. This journey continued till 1994 and during this process, the photographer captured the raw narrative of these declining and dwindling art forms through the lens of his camera across Gujarat, Rajasthan, Haryana, Madhya Pradesh, Bihar, Orissa and West Bengal.
Jyoti Bhatt, Woman drawing a mandana design, Rajasthan, silver gelatin print,12 x 12″.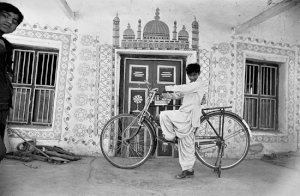 Jyoti Bhatt, A boy with a bicycle in Dhordo, Gujarat.
What strikes most in his photographs is the great attention to background details. For instance, in 'A tribal house from rural India, South Gujarat, 1987', a mother and her child are depicted sitting against a wall in their hutment. Resting next to them are tools and impediments, some household appliances or even weapons used by the tribal folks say for hunting or other activities. Similarly in 'A boy with a bicycle in Dhordo, Gujarat', the little lad is seen riding against an ornamentally handpainted wall, offering a rare insight into the design of houses in Gujarati villages in the late 1970s. Such is his focus on the surroundings that if an onlooker studies a photograph carefully from a holistic perspective, besides the main subject depicted, a lot more about the natives and the area can be easily gauged. Considering that some of the art forms represented through these images are almost extinct, it is in fact a very important slice of history that has been captured by Bhatt's camera and thus its manifold significance, especially in contemporary times.
Three Harijan girls, Kutch, Gujarat, 1979, © Jyoti Bhatt, Courtesy Tasveer & Vacheron Constantin.
Right from tribal musicians, to potter-women to artists to dancers, to weavers and wall painters, and so on, Bhatt's photographs very ably send its viewers to days of yonder when life moved at its own tranquil pace and rustic folk indulged in their creative pursuits, much lost in the pursuance of livelihood and their subsequent migration to urban cities. The intricate floral patterns of a rangoli in the courtyard of a house in a remote Rajasthan village or a mandana being painstakingly created by another woman in the house square are important statements of a rural lifestyle that is hardly seen anymore. As the artist states, "It is quite possible that many of the art forms I could photograph until 1994 are not made anymore. Or, the number of people who practiced making them have reduced. Some traditions have continued but have changed drastically. For instance, people now buy 'Kolam' – the Rangavalli designs – in the form of plastic stickers even in shops within South Indian temples that used to support this art tradition".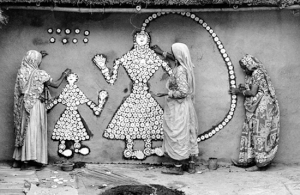 Jyoti Bhatt, Women making a Samha Devi image, Haryana, 1977, modern silver gelatin print.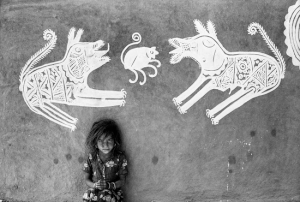 Jyoti Bhatt, A young girl in front of mandana paintings, Rajasthan © Tasveer Gallery.
The main inspiration behind the artist's photographs are the '64 arts' or 'chausath kalas' that a perfect Indian woman is supposed to be adept at in order to prove to be a good wife, mother, daughter, sister and homemaker. Some of these pertain to excelling in various forms of the arts such as singing, panting, conversation, dancing, cosmetics and self-beautification, and interestingly his images capture most of them in myriad forms. Right from tattoo marks on the body of a Rajwar woman from Madhya Pradesh to women creating a Samha Devi image somewhere in a village in Haryana, no nuance and no aesthetic sensibility has escaped Bhatt's discerning eye.
During his varied travails to the interiors of rural India, he had several strange encounters, some hostile whilst interacting with these bucolic folk who would not trust a city-based camera wielding photographer easily amidst their lives and homes. He recalls with a smile how he was once stoned by a group of little children and how he was even physically attacked by an axe! But in the end, he was always able to strike a chord with them and freeze a very real moment from their lives on film. In his own words, he sums up his lifetime of pursuit of art in the following words:
"I think and hope that through my photographic images I have been able to record what may be called an important and beautiful aspect of Indian social fabric that has survived for many ages in spite of all kinds of turmoil".
Indeed these 'Photographs from Rural India' are a very significant statement of recent history!
The exhibition ran through May 14, 2014 at Vadehra Art Gallery in Defence Colony, New Delhi.