Review of 'Experience and Energy' by Viswanadhan
Written by Monica Arora
The latest exhibition at New Delhi's Nature Morte Art Gallery is Experience and Energy by abstract artist Viswanadhan. The show is running from 1-29 October 2016 in the ambient environs of this pristine gallery situated in South Delhi's leafy Neeti Bagh.
What makes the exhibition unique are a couple of things, which add depth and dimension to this extremely seminal show:
First, the artist:  Born in 1940, the Kerala-born artist Viswanadhan seems to have deeply imbued the ambivalent and calm beauty of the Kerala backwaters, gently swaying coconut trees and golden-hued beaches in his craft. All fourteen paintings on display exude that sense of calm and natural beauty.
Second: He deploys a "specially made paint made from proteins derived from milk", which is known as casein. Interestingly, it is casein that adds an inner sheen or an intrinsic glow to his evocative paintings. It has been observed by aficionados and artists, many of whom are great fans of this veteran artists' creations that with passage of time, the colours in his works as well as his compositions have been "continually honed".
This brilliant artist's repertoire spans five decades, wherein he has established a rigorous practice of abstract painting and evolved a style that is his signature. Viswanadhan shifted his base to the art capital of the world, Paris in 1968 after founding the Cholamandal Artists' Village just south of Chennai. Owing to his deep-rooted propensity with Indian Tantric system and his aesthetics akin to renowned abstract greats from India such as Nasreen Mohammedi and SH Raza and international artists like the Korean Lee Ufan, the Swiff Niele Toroni, and the French Daniel Buren, Viswanadhan is a unique juxtaposition of and Indian visionary on a worldly platform.
The fourteen works on display span the period of twenty-five years starting from 1991 to 2016 and explicitly convey a sense of the artist's 'Experience and Energy'…
As the American dancer and choreographer Martha Graham stated on art, 'There is a vitality, a life force, an energy, a quickening that is translated through you into action, and because there is only one of you in all time, this expression is unique. And if you block it, it will never exist through any other medium and will be lost.'
Flush with more than 50 shades of red, each painting has its own energy and can be interpreted by onlookers in their own way.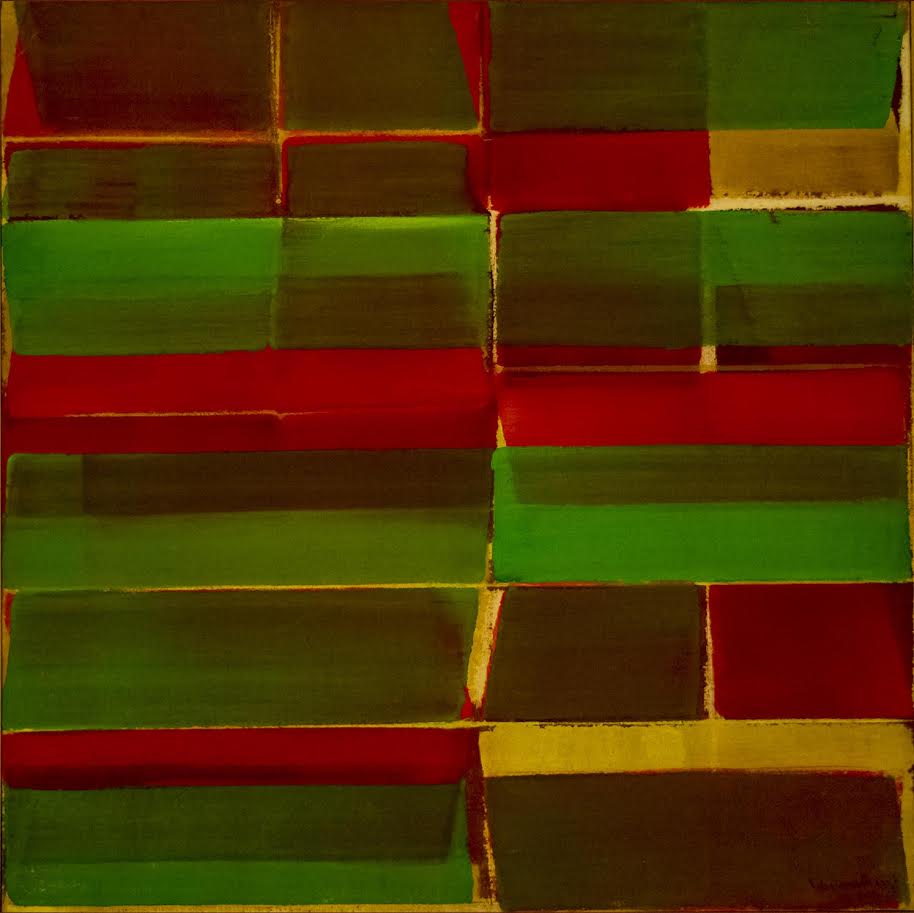 For instance, this image, one of three of the multi-coloured ones amidst the mostly scarlet-coloured collection could be viewed as a description of the artist's life full of different instances and experiences and his vast plethora of various stages of life.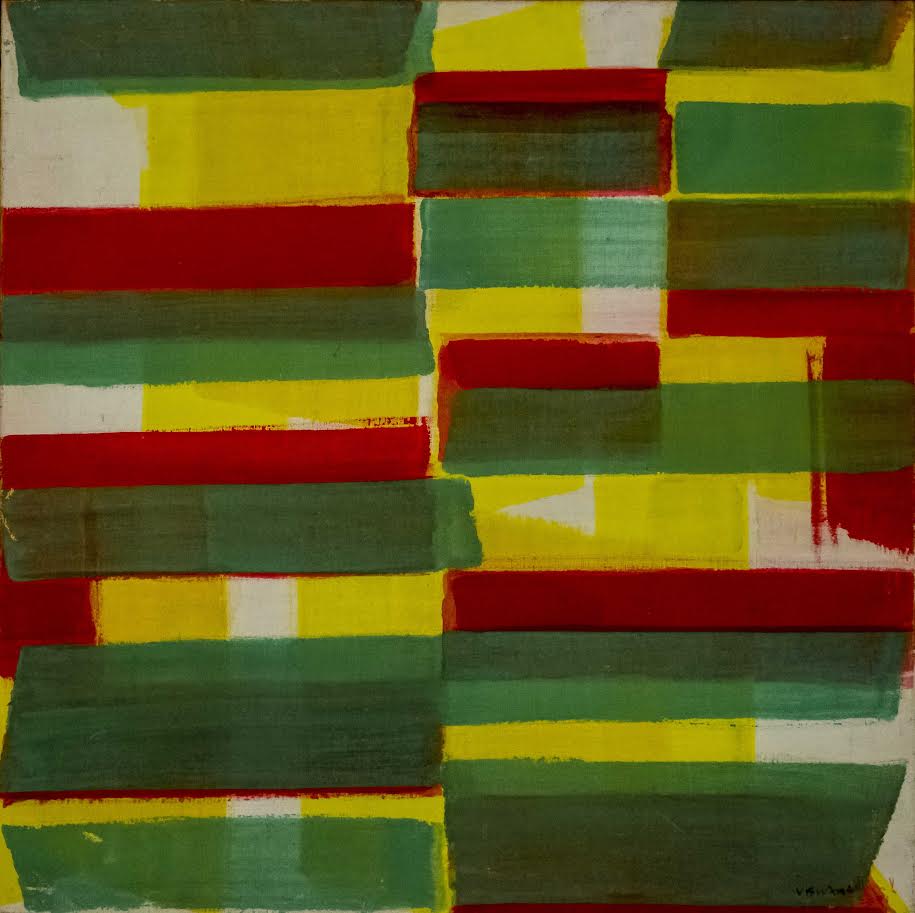 This painting infused with red, green, yellow and an occasional dash of white is another canvas depicting perhaps what may be interpreted as passage of time or myriad hues of changing seasons, each with its distinct colour, flavor and fragrance – green leaves in monsoon; sweltering heat of yellow sands; fiery reds of autumnal leaves; and white snow in winter.
Another awe-inspiring creation in piece in various shades of red brings to fore Viswanadhan's mastery over his special casein medium that seems to impart an inner glow to these shades of red.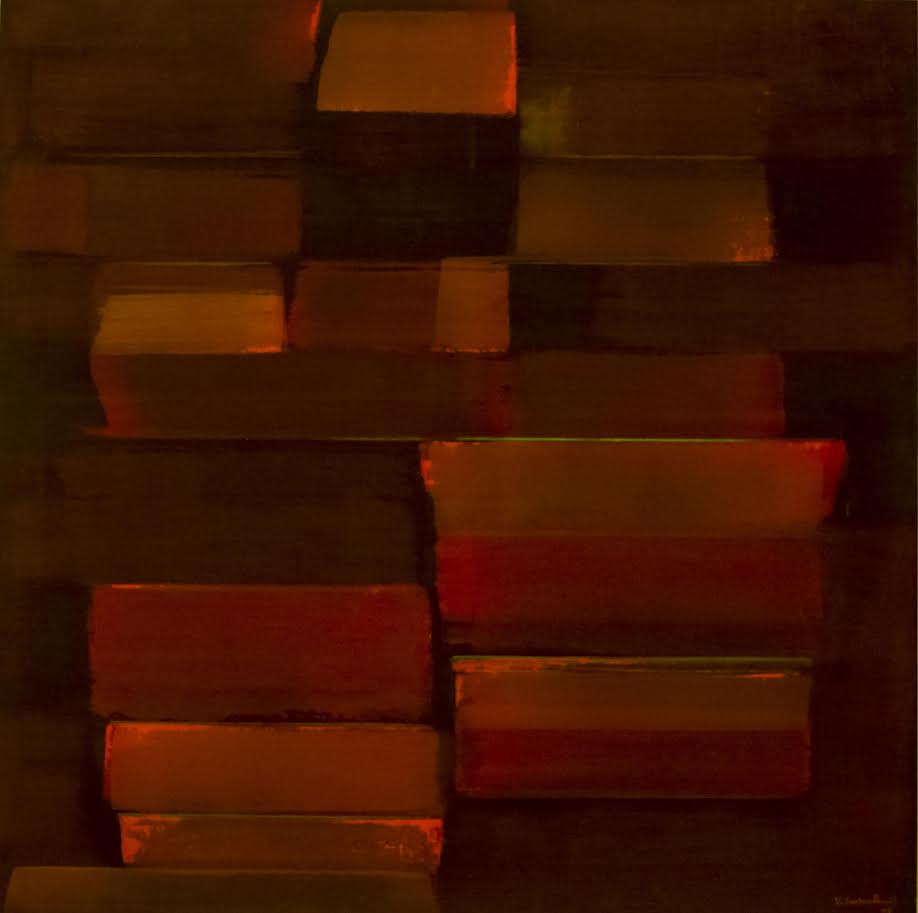 Another painting depicts slightly rustish or deeper shades of red, which I thought could be representative of the anguish or angst of perhaps the quintessential Indian bride on separation from friends and family, who invariably sports red, orange or maroon on her wedding day.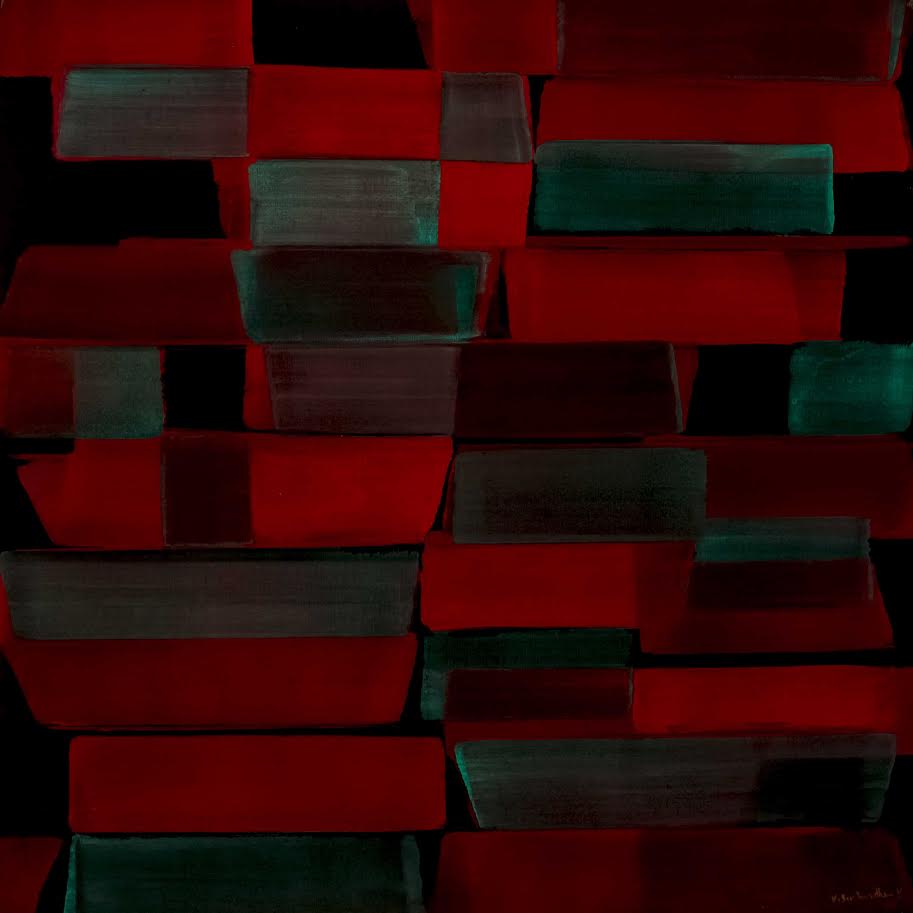 This delightful painting reminded me of a child's fantasy full of different colours, building blocks and a general air of pleasantness around them or as they say: 'the eternal sunshine of the spotless mind.'
One of the canvases in shades of red and a bit of dark brown brought with it a sense of being caught or imprisoned with the walls of one's mind, whilst another stupendous canvas filled with red and crimson could be the colour of love, or that first teenage crush experienced by two young lovers – a very intimate piece indeed! Have you ever wondered how blood would appear whilst flowing through our veins? I'm sure that if a scientist or pathologist were to wield their microscope, it would resemble the various cells presented through this fantastic canvas. Hundreds and thousands of glowing lamps during a festive procession glowing to spread their effervescence amidst the revelry. Such is the magical effect of the mysterious inner glow of this painting reminding us of the use of the special casein. What are the colours of your fantasy? Ever blindfolded your lover with a red silken scarf and teased him into the depths of sensuality? The contours of those moments seem to be reflecting in this sensual and throbbing piece of art.
Sometimes, whilst driving through the countryside, when one is being lulled into a sweet slumber and the views from the window are rushing past, especially at twilight, they appear akin to the soft glow of earthy reds and rusts in another wondrous creation by Viswanadhan.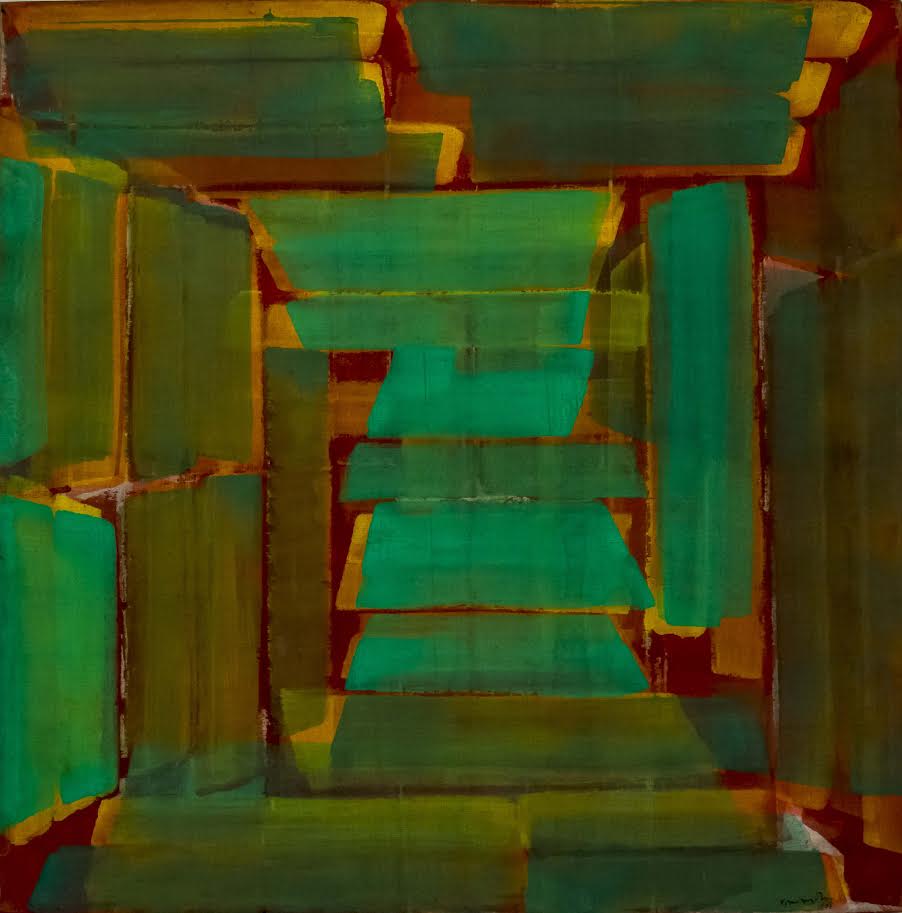 This painting is dominated by verdant emerald hues in all their glory. On closer inspection, it gives the appearance of a three-dimensional effect wherein the onlooker is drawn into this forest of green tree tops, dotted with some red blossoms, signifying the heralding of spring.
As the Sri Lankan-origin poet and author Michael Ondaatje wrote, "We die containing a richness of lovers and tribes, tastes we have swallowed, bodies we have plunged into and swum up as if rivers of wisdom, characters we have climbed into as if trees, fears we have hidden in as if caves. I wish for all this to be marked on by body when I am dead. I believe in such cartography – to be marked by nature, not just to label ourselves on a map like the names of rich men and women on buildings. We are communal histories, communal books. We are not owned or monogamous in our taste or experience."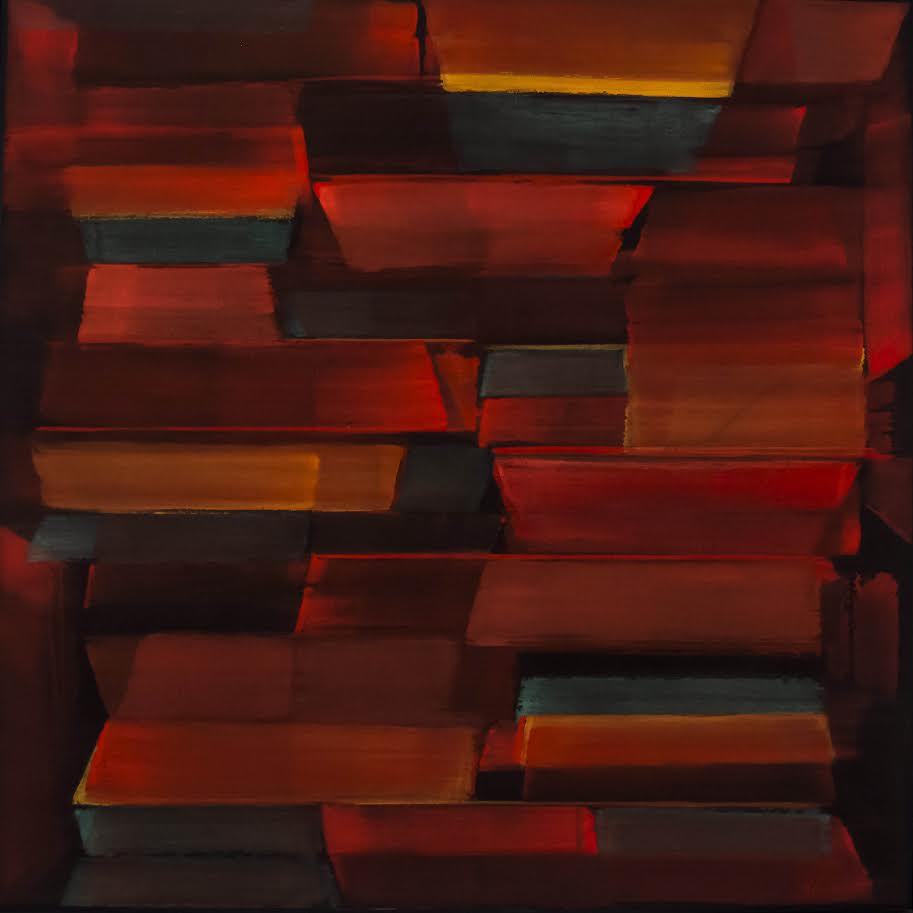 I was simply mesmerized by this one-of-a-kind show and was truly enthralled by a plethora of mixed emotions…
Reference Links
http://www.goodreads.com/quotes/tag/experience