Review: Artsome 101 Decoding Contemporary Photographers Event
On Saturday afternoon we concluded the Artsome 101 course Decoding Contemporary Photographers with a discussion with eminent artists at Gallery Wonderwall. Situated midst the gallery hub of Lado Sarai, Wonderwall proved to be an inspiring location for a discussion on photography. Surrounded by photographs from the current exhibition "Faith", artists Atul Bhalla, Ravi Agarwal and Ajay Rajgarhia discussed their individual artistic practices, displayed their works and even graced us with the narratives behind each work. It was awe inspiring to hear artists speak about their practice, methodology and thought process interspersed with personal stories of struggle and conflict.
The discussion was chaired by the Director of Artsome.co Anubha Jain Gupta, who opened the discussion with the question who is a Photographer when everyone around is taking pictures on their smart phones? Each artist agreed that taking pictures does not make one a photographer because the complex processes of framing, editing and seeing the world in a particular fashion are peculiar only to a photographer which comes through clicking constantly, editing in your mind, framing the world around you in your head and then executing it in that picture.
The discussion revolved around the question is photography art. Many photography cynics from the audience challenged the artists regarding this; what is it that makes photography an art and makes a simple picture sell for millions. Ravi Agarwal argued how the textual and visual narratives of the same incident create very different stories and evoke different emotions and realities. The way portraits and landscapes were used in the 17th century to depict the material reality of the world the same way photographs today aid in archiving the daily world. The aesthetics of it are developed individually by each artist. The way you read to work on your grammar, similarly a photographer clicks the world to develop his own grammar of expression.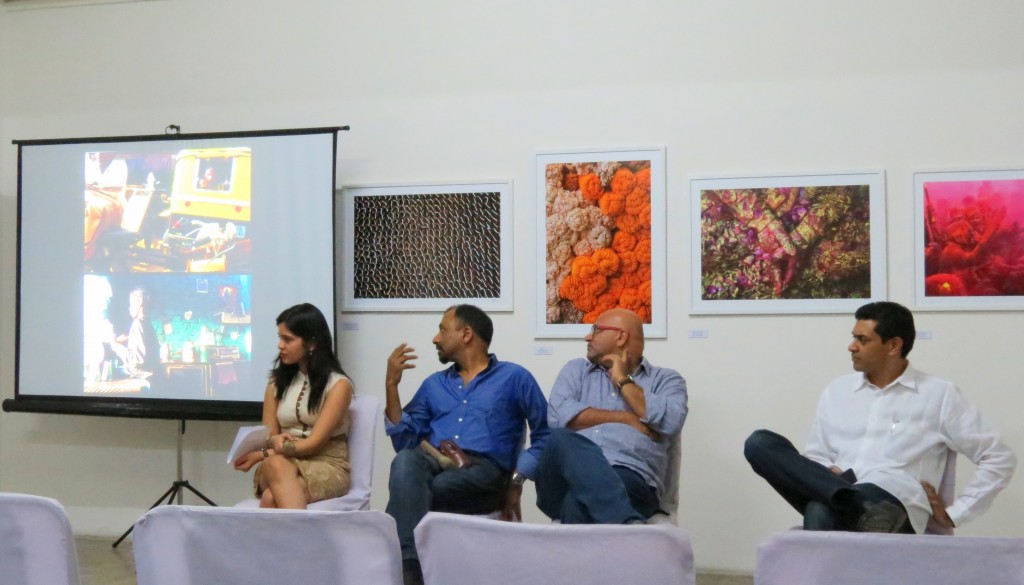 Atul Bhalla like Agarwal rejects the debate as useless one, joking that in our world we glorify the figure of the starving artist. He argued how he does not like singular prints, and instead likes to do diptychs, triptychs and multiple frames within a single image which forms a huge canvas. And just like painters he signs his works. Bhalla too creates a different visual language as he defamiliarises the world around us. A fascinating photograph he spoke about looked like multiple windows in one canvas but revealed them to be actually drains shot from above.
That is thing with photographers. They defamiliarise the world as we know it and also reveal to us things, everyday things that we do not see. Seeing and ways of seeing are so essential to any artistic practice including photographs. Rajgarhia spoke of a particular photograph he took in Goa, a simple click of red McDonald's delivery scooters against a blue and white wall. What we do not see, the photographers discerning eye notices. Rajgarhia saw the colours of the American flag with the McDonald's symbol and his photograph really opens up the sociological question of mcdonaldisation of societies.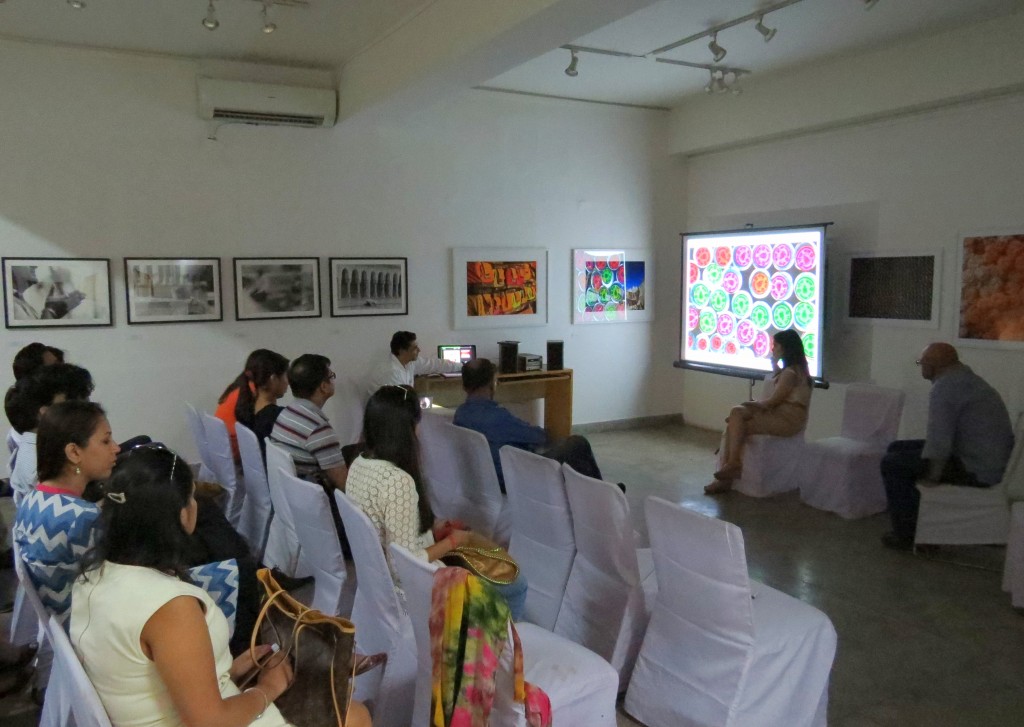 The audience comprised of art students, bloggers, amateur photographers and art lovers. Each had a peculiar concern with regards to photography. Some were keen to understand how to develop and widen their artistic practice and how to get a foothold in the art world. To them Agarwal suggested that more and more clicking will help them establish a visual language of their own which is unique to each individual and Bhalla retold his personal experience wherein he mentioned that when he decided to be an artist he began with the assumption that he is never going to have a show and it is only when even after that realisation do you still want to be artist should you continue to pursue it.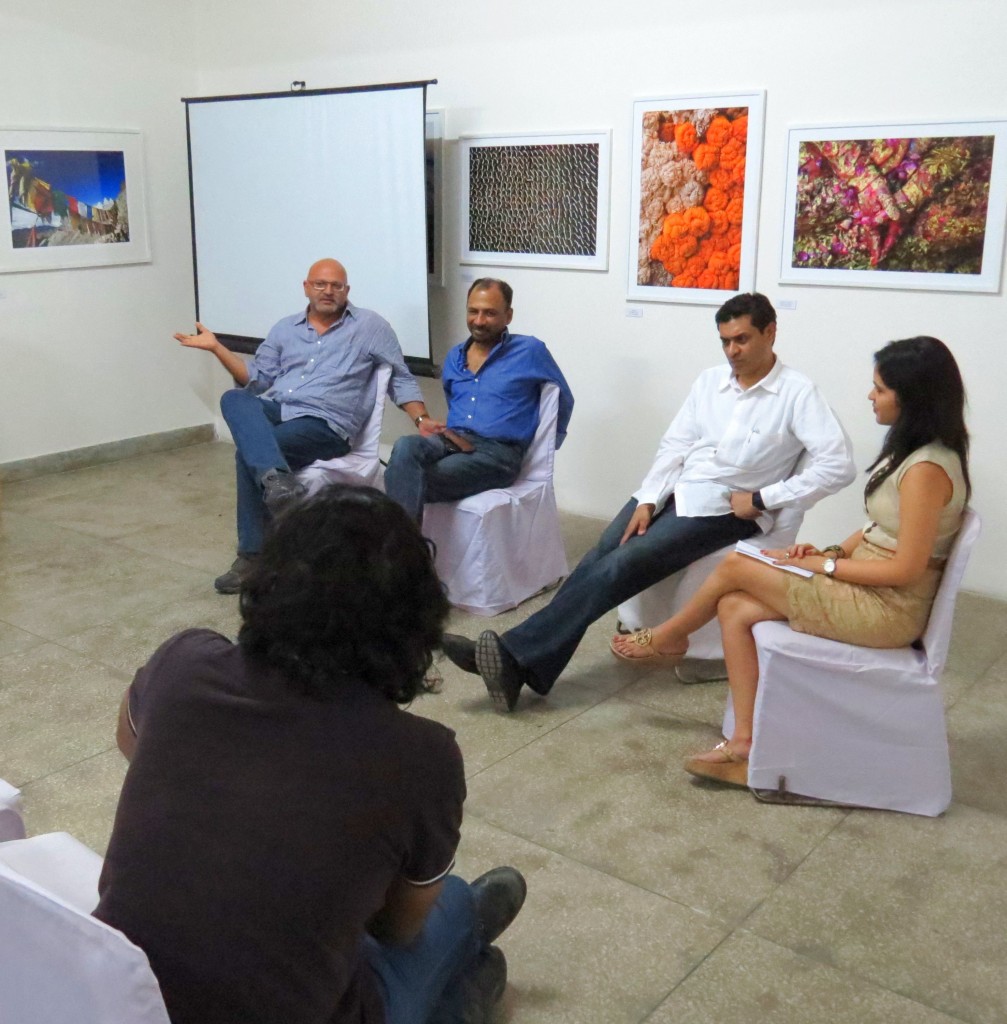 Other issues that were discussed were the voyeurism and violence of the camera. For this reason both Bhalla and Agarwal choose to be the subjects of their performance photography. This form of photography they feel really challenges the notion of photographs being only mimetic and takes the art of expression and politics of representation beyond realism. The event was a successful one as it managed to convert quite a few photography-as-art cynics as these artists discussed the complexity of the art of taking photographs that lies beyond technology and the camera. It was visual delight with the photographs on display and the photographs showed to us by each artist. An evening well spent with friends, art lovers and like-minded and great conversation.