Review | 50 Shades of Red | Imran Qureshi and Aisha Khalid at Nature Morte, New Delhi, India
Written by Monica Arora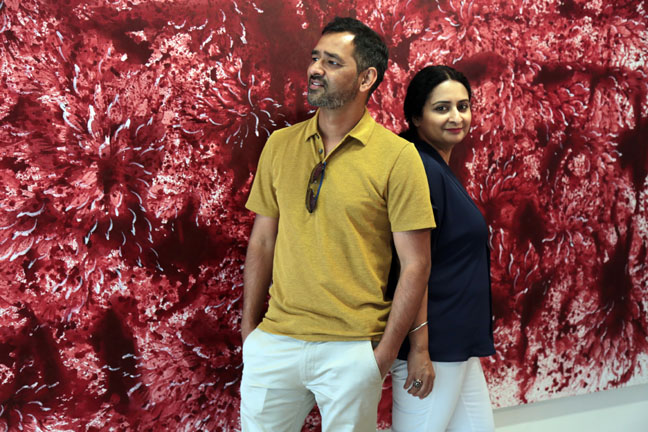 Aisha Khalid and Imran Qureshi, a married artist couple from Pakistan are exhibiting together at Nature Morte from 16 April to 30 May 2015. Having a strong propensity to convey contemporary socio-political and cultural issues plaguing the Indian sub-continent through their work, this artist duo's creations have evolved from traditional miniature painting to encompass larger pieces and myriad medium, including paintings, installations and even videos in Imran's case.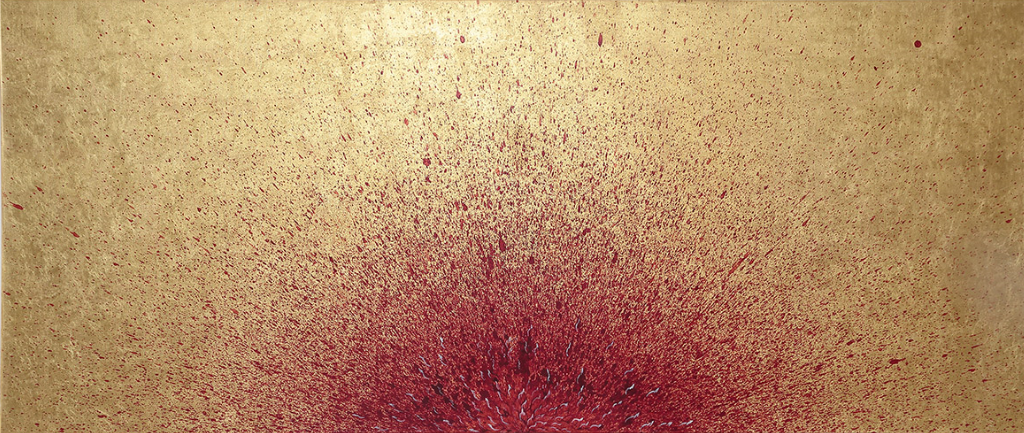 Imran Qureshi, This leprous brightness, 2015, acrylic paint and gold leaf on canvas, 36 x 84"
Imran's work in this exhibition is part of a series that he started in 2010 following a devastating terrorist attack in a busy marketplace in Lahore. The liberal use of various shades of scarlet, simulating a bloodbath offset by the delicacy of finely painted petals against gold backgrounds are a visual delight and evoke a sense of 'calm after the storm'.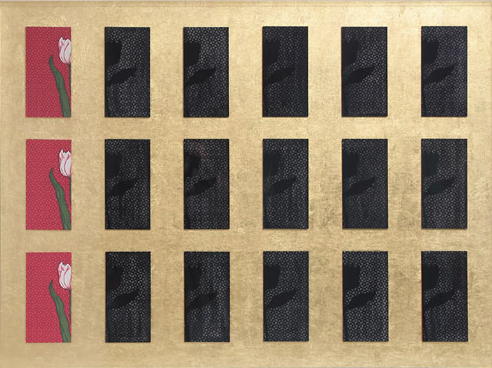 Aisha Khalid, All is gray when the black is washed away, 2015, Gouache on paper board, gold leaf, Framed size 33 x 44 x 4"
Aisha commenced work on the paintings displayed in the exhibition after the heart-wrenching massacre of 150 innocent school children Peshawar. The outcome is simply overwhelming and soul-stirring as the tulips and roses in her paintings are never shown as a complete single piece; each one is interrupted, distorted, truncated, condensed, to reveal how beauty is often brutally crushed in the sweep of waves of mindless violence, taking in its stride innocent victims, whose lives are simply annihilated mid-way, akin to those children, who were caught completely unawares. The geometric detailing and recurring patterns juxtaposed with botanical flora lend Aisha's artworks their unique juxtaposition of beauty amidst despair and hopelessness.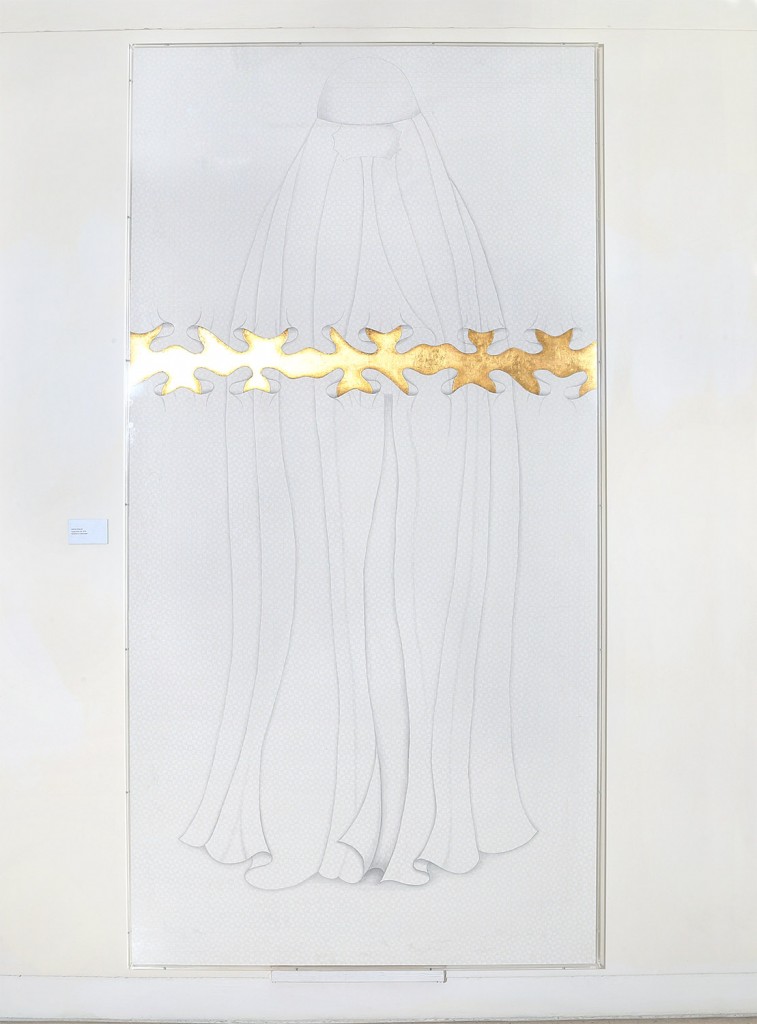 Aisha Khalid, Larger than Life, 2012, Gouache on wasli paper, Framed size 92 x 47"
On witnessing their language of expression I was extremely overwhelmed by the raw energy of some of their work. For instance, in Aisha's Larger than Life 92-by-47-inch canvas, what appears is a stenciled outline of a woman in a burqa set against a stark white background in gold. The bleakness of the colorless backdrop juxtaposed with striking hues of gold makes the work so powerful and striking. For me it seemed to be a depiction of the sad plight of oppression of Muslim women all over the word and the dictats of Islam making them mandatorily don the burqa, stifling much of their body and face, literally and metaphorically.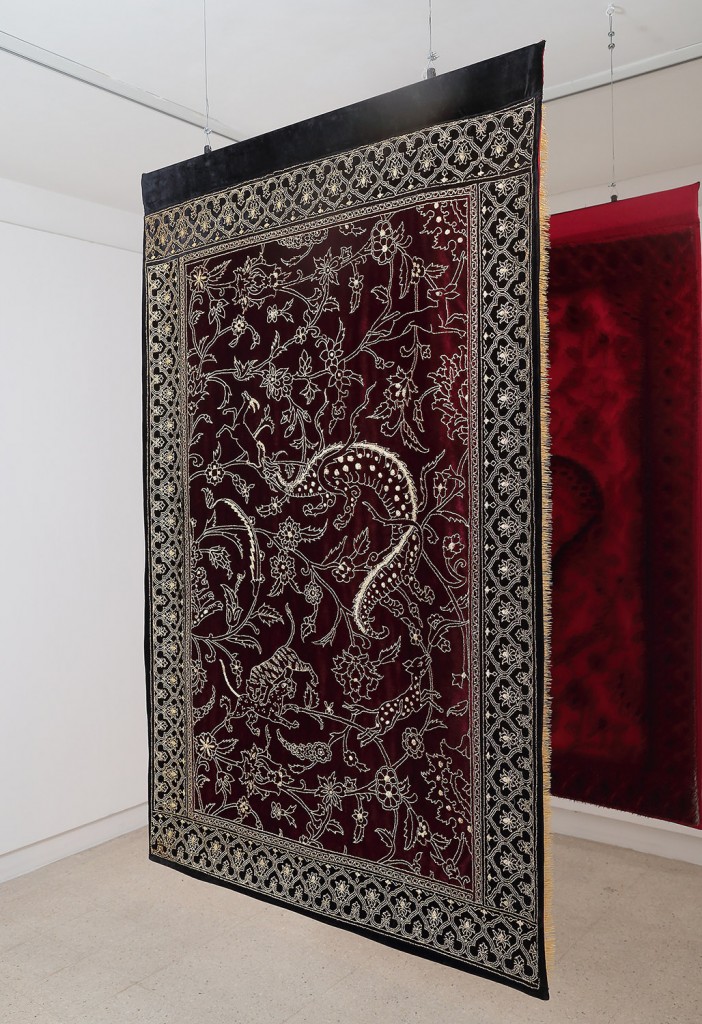 Comparing it to the twin carpet tapestries of In Two Forms and With Two Faces: With One Soul, Thou and I, the sudden burst of colour on one side of the installation with dragons and tigers motifs embroidered, suddenly in a washed-out military fatigue version of the same image on the other side are the artist's manner of expressing the passage of time and how it cruelly erodes beauty slowly and gradually. With contradictions, paradoxes and brutal quirks of fate an essential part of Aisha's life in Pakistan, she says, "How beauty, tradition and all those beautiful colours change with time, how they convert into something else due to violence" is depicted through both sides of the carpet. And besides, her flowers, depicted in myriad states of distress and anguish are her protest against the brutal Peshawar school killings, again, very painful to view and yet so evocative.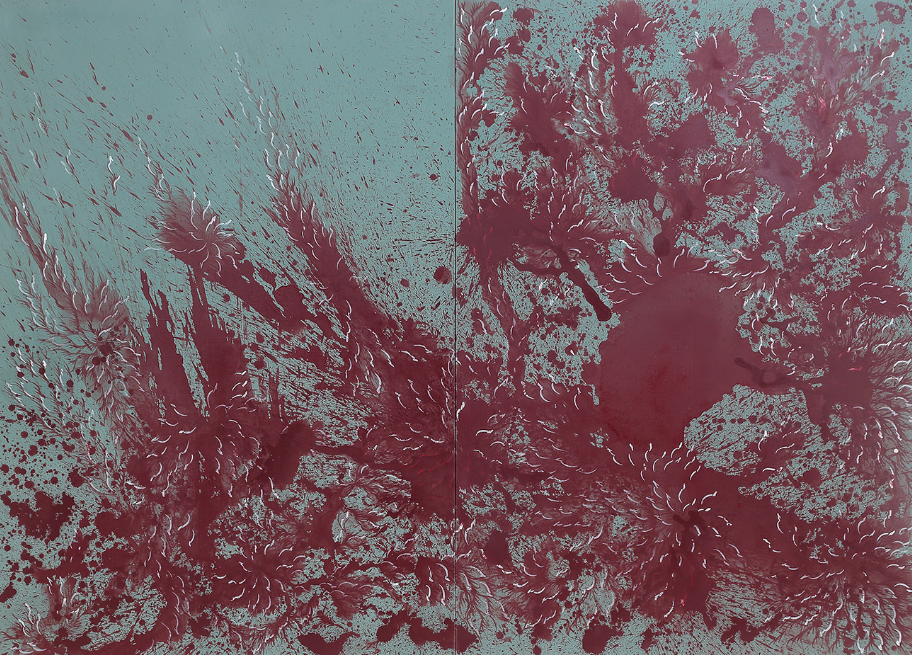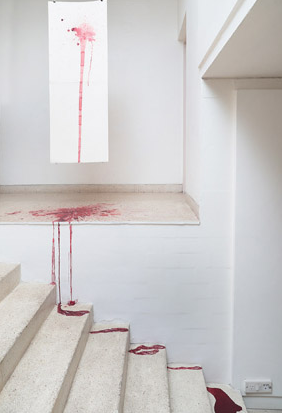 Kitschy as it may sound but the first thought that came to my mind on witnessing Imran Qureshi's art was '50 shades of red' as the striking use of red paint that simulates blood, is extremely powerful as a technique but also quite disturbing. Imran says, "The colour red depicts hurt for me, but at the same time, when I paint [red] foliage, it just transforms into something else. They work together." Thus, the usage of scarlet as little dots of foliage against different dusky green or grayish backdrops as in the Midnight Garden diptych, actually appear as "germs of hope" (as the artist calls them), all standing for the persistency of the life force, against all odds, strongly mirroring how Pakistan's common man is courageous enough to pick up the pieces and start moving on with life despite being surrounded by a sense of danger and insecurity at all times.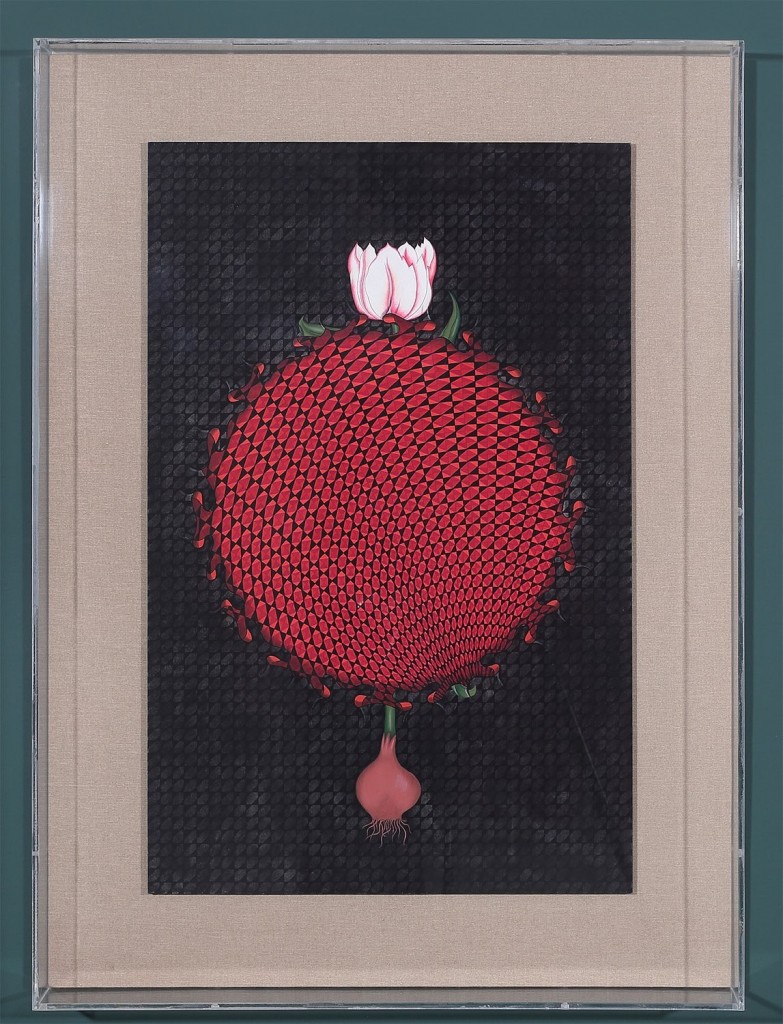 Aisha Khalid, All is gray when the black is washed away, 2015, Gouache on paper board, framed size 38 x 28 x 4"
All is Grey when the Black is Washed also offers a ray of hope in the form of a lotus blooming despite a bloodied globe and You are my Love and my life's enemy too offers an interesting paradox of those who are closely associated with terrorists or extremists either as family or through other social connections and the red simply depicts both a bloodbath and hues of love. Particularly striking was Imran's video of a delicately floating gold leaf which gives both a sense of extreme beauty as well as fragility at the same time.
Both Aisha Khalid and Imran Qureshi are regarded amongst some of the most interesting contemporary artists or new-age miniaturists in Pakistan today who have successfully revived the centuries-old tradition of miniature painting and are showing their work all over the world. What imparts their work with a certain edge is the fact that they use it as a medium to offer a commentary on the ugly face of terrorism and intimidation rearing itself all across the globe and causing much pain and devastation in its wake. The strength of their work articulates itself vibrantly through each of their creations, rendering them as very important artist voices in the contemporary art world.
Aisha Khalid and Imran Qureshi Show in collaboration with Corvi-Mora, London is running from 16 April to 30 May 2015 at the Nature Morte Gallery.