Georgia O'Keeffe: Poetry in Art
 Written by Monica Arora
Men put me down as the best woman painter…
…I think I'm one of the best painters.
Thus spake Georgia O'Keeffe, the feisty, abstract expressionist artist, of the 20th century, from the Americas.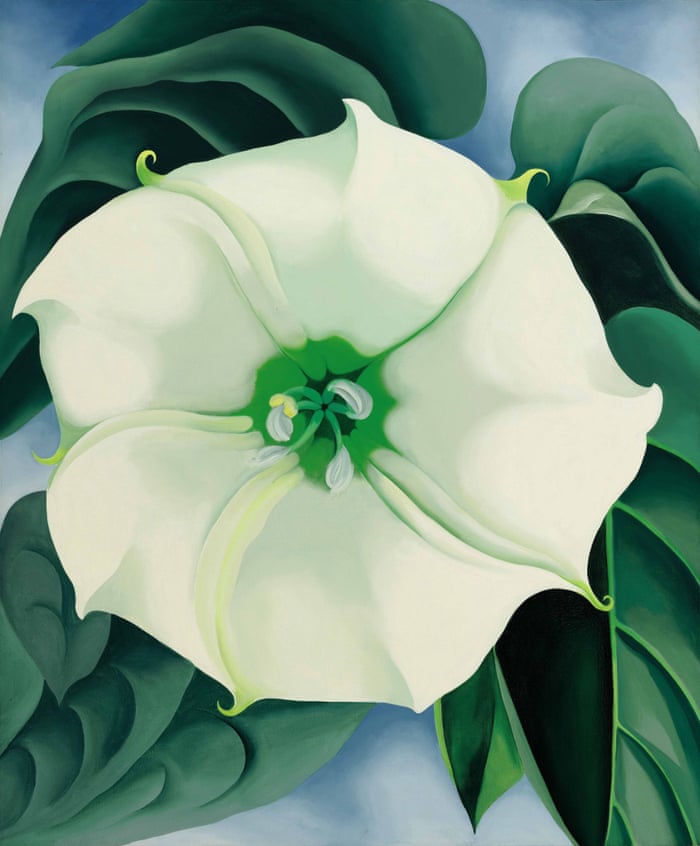 Georgia O'Keeffe Jimson Weed/White Flower No. 1 1932
Crystal Bridges Museum of American Art, Arkansas USA © 2016 Georgia O'Keeffe Museum/DACS, London. Photograph by Edward C. Robison III
From 6 July to 30 October 2016, the Tate Museum in London will present an exhibition of 100 iconic paintings of Georgia O'Keeffe, best known for her work Jimson Weed/White Flower No. 1 1932, the most expensive painting by a female artist ever sold at an auction.
Distinguished by her paintings that are easily discernible for their magnified flowers, animal skulls, and New Mexico desert landscapes, her quotes are as sought after as her art. The artist gained much name and fame for her unfussy and unembellished minimalist paintings of the canyons and plains charaterising the southwestern geographical beauty of the Mexican terrain. She attained iconic status in the early 20th century for her pathbreaking and inspiring work.
Georgia O'Keeffe Oriental Poppies 1927 (The Collection of the Frederick R. Weisman Art Museum at the University of Minnesota, Minneapolis © 2016 Georgia O'Keeffe Museum/DACS, London)
Developed by American painters, typically in New York in the 1940s and 1950s, post World War II, Abstract expressionism refers to new forms of abstract art whose highlight were typically bold brushstrokes drawn by artists spontaneously. Jackson Pollock, Mark Rothko and Willem de Kooning were the early abstract expressionists to be followed by the likes of Georgia O'Keeffe and Gorky, wherein painting was being viewed as real "freedom of expression" following the aftermath of the World War, and the artists were painting "for the sake of painting" and not to conform to any social, religious or political affiliations. This was modernistic and liberated art.
Black Mesa Landscape, New Mexico / Out Back of Marie's II 1930
Georgia O'Keeffe Museum (Santa Fe, USA). Gift of The Burnett Foundation
© Georgia O'Keeffe Museum/DACS, London
Her bold lines, especially in her lucid paintings featuring the barren landscapes lend an almost lyrical and meditative quality to her work whilst her flower paintings are full of linear and clear strokes. The paintings where she has painted close ups of the cow's skull or extreme details of calla lilies gained much critical acclaim and appreciation for her, catapulting her to one of the most renowned artists of her era.
Working Title/Artist: Black Iris
Department: Modern Art
Working Date: 1926
www.metmuseum.org
"I decided that if I could paint that flower in a huge scale, you could not ignore its beauty." Georgia O'Keeffe
Drawn by natural beauty such as the stark desert light or the snow-capped peaks or floating clouds as viewed from an aircraft, her work deploys clear colouring and extremely bold patterns. Some of her flowers, for example the Black Iris (1926) is so detailed in its structure that it appears almost abstract.
Amongst her most unusual creations is the mural Sky above Clouds (1965), 7.3 m wide, which has been inspired by a series of aircraft flights.
The clarity of her strokes and the firmness of her vision is amply evident from her huge ouevre wherein she has not restricted herself whether in her inspiration or on her canvas, where the reassured paintings do all the talking.
Working Title / Artist Cows Skull Red, White, and Blue
Making her debut a century ago, in 1916, O'Keeffe was immediately recognised as a trailblazing artist, while today her legacy as an American art icon and a pioneer of twentieth-century art is widely recognised. So far, no works by the artist have been on display in UK public collections and this exhibition is thus, a rare opportunity for art afficionados to see the beauty and skill of her remarkable paintings outside the US.
"Sun-bleached bones were most wonderful against the blue – that blue that will always be there as it is now after all man's destruction is finished." Georgia O'Keeffe
Some awe-inspiring quotes from the awesome artist:
To create one's own world, in any of the arts, takes courage.
I said to myself, I have things in my head that are not like what anyone has taught me — shapes and ideas so near to me — so natural to my way of being and thinking that it hasn't occurred to me to put them down. I decided to start anew, to strip away what I had been taught.
When you take a flower in your hand and really look at it, it's your world for the moment. I want to give that world to someone else. Most people in the city rush around so, they have no time to look at a flower. I want them to see it whether they want to or not.
I think I am one of the few who gives our country any voice of its own.
Reference Links
http://www.tate.org.uk/whats-on/tate-modern/exhibition/georgia-okeeffe
http://www.arthistoryarchive.com/arthistory/modern/Georgia-OKeeffe.html