Five Indian Contemporary Artists Engaging in Political Art 
Living in the largest democratic country, all the news channels are peppered with programs concerning voting, candidacy and election campaigns. Everywhere the streets are abuzz with discussions on politics.
Artsome selects five Contemporary Indian artists whose art revolves around themes relating to politics, government and the nation. 
1. Tushar Joag 
A public interventionist artist, Tushar Joag feels art is useless if it is not political. Born in Mumbai, Joag's artistic practice deals explicitly with pressing socio-political issues in the country. While maintaining his activist ventures side by side, he has managed to aestheticise politics through his unique artistic voice. 
Tushar Joag, The Enlightening Army Of The Empire, 2008, installation comprising 16 figures, Perspex, plastic, brass, mild steel, wood, electric bulbs, wire and mixed media, Figure size: approximately, 72.04 x 19.29 x 24".
2. Amar Kanwar
Amar Kanwar is a documentary filmmaker who through his works, narrates the dissent of the common man against the repressive governmental policies inflicted on people under totalitarian regimes. His artworks are not overtly vocal in their anti-governmental stance, but subtly hint towards various human rights injustices through innovative ways.
The Listening Bench at "The Sovereign Forest + Other Stories" at Yorkshire Sculpture Park, 2013. 
3. Reena Saini Kallat
Exploration of loss and violence lies behind most of Reena Saini Kallat's projects. She uses mixed media artworks to re-examine people and their interaction with the public space that they occupy. The failure of the bureaucracy to attend to the public, to alleviate suffering and loss adequately and also the system's inability to account for loss of identity are some of the subjects she is concerned with. 
Reena Saini Kallat, Synonym, 2009, acrylic paint, rubber stamps, plexiglass, 60 x 45". Image courtesy: The Artist.
She uses rubber stamps to make portraits of people who went missing due to natural calamities or during riots, etc.
4. Shilpa Gupta
An artist who experiments extensively with new media, Shilpa Gupta likes to blur the boundary between artist, artwork and viewer. Her interactive art explores the political and cultural world around her by relying heavily on the reactions of the people who view them. Several of her works are concerned with national issues such as borders, security and surveillance.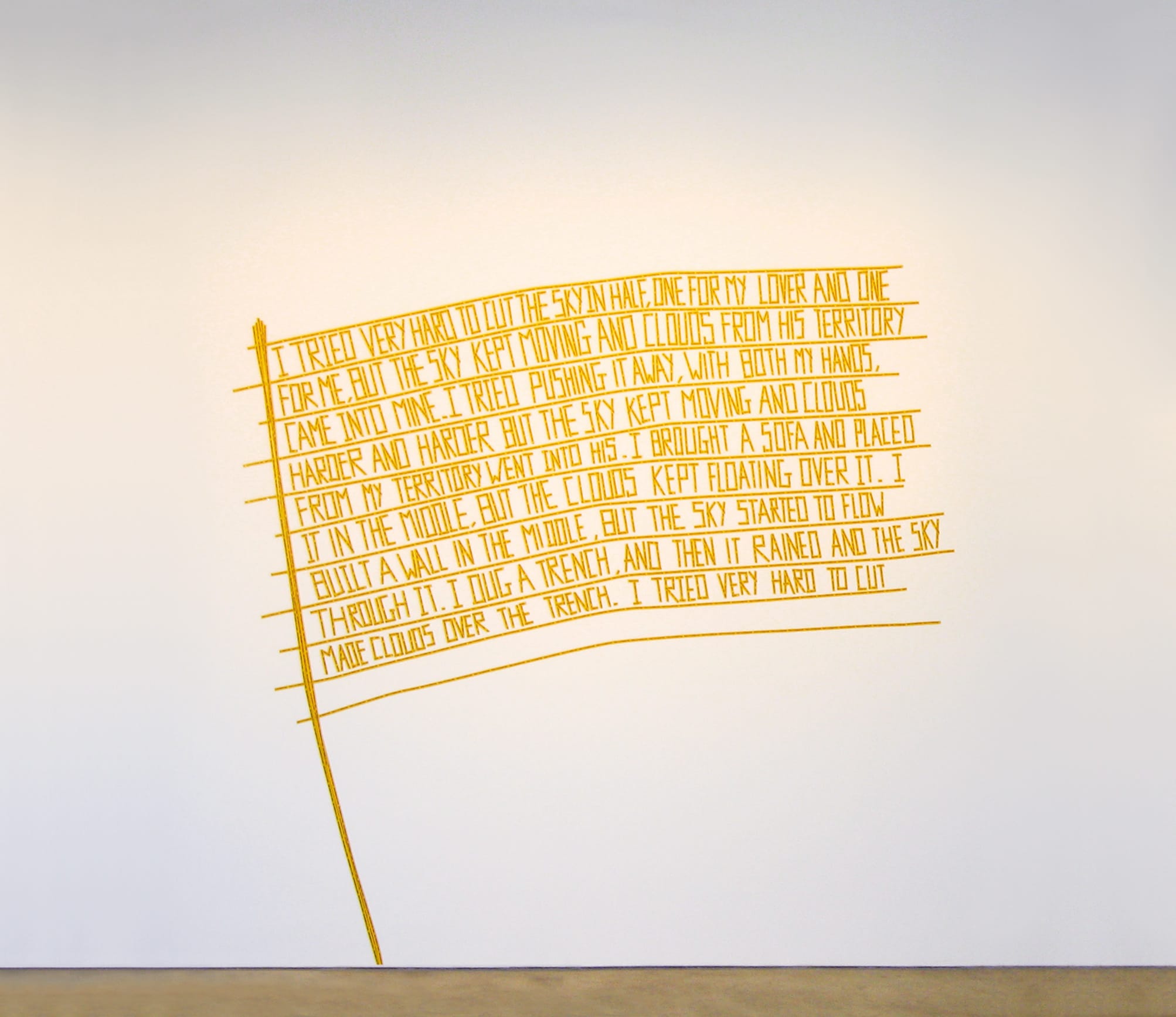 Shilpa Gupta, There is No Border Here, 2006. 
5. TV Santhosh
TV Santhosh is a prominent contemporary artist who derives inspiration for his images from newspapers and magazines. The myriad political and social agendas appearing in the papers everyday provides him with a fertile ground to sieve images and transform them into something unrecognisable. He plays with techniques like Solarisation to create a discourse pertaining to violence and war.
TV Santhosh, Blood and Spit, 2009.