Five Contemporary Indian Artists Who Have a Signature Style
"An artist who does not use his imagination is a mechanic." – Robert Henri
Artists are known to be quirky, unconventional, and individualistic. The very purpose of creation is to develop your own vocabulary, and to express it through a unique language. Most artists experiment with colour combinations in a different medium and compositional arrangement. However only a few artists are able to figure out what makes their artwork special and consciously implement it into every piece they do, creating a unique motif or symbol which will be identified with them, in the future. That is not to say, these artists do not have other symbols. They may even be working on other subjects simultaneously. But it is the presence of one recurrent symbol which makes their work stand out, and gains them fame and notoriety. Artsome presents 5 such Indian artists who have developed a unique signature style.
1.   Subodh Gupta: Utensils
Subodh Gupta is the quintessential post-modern artist. He experiments with both themes and symbols in his art. But what stands out is his use of bartans ( utensils). His work, ranging from the trademark shiny-silver utensils to the latest sculpture of a large, ever-silver banyan tree sprouting vessels are laden with the politics of identity, nostalgia, and location. "Everything comes back to my mother. She was a wonderful cook and I would love to spend time in the kitchen with her. I was fascinated by the ritual and the ceremony of the kitchen space, how certain vessels were used for certain occasions…" says Subodh Gupta. Subodh's motif stems from personal motivations, which do not make his work any less lofty in its principles. Something that comes from the heart often finds sustenance in work. His art follows his personal trajectory, and inspiration can often be found in the most mundane of places. However there is a need to consciously transmute experience, to reach out – and Subodh exemplifies this tradition.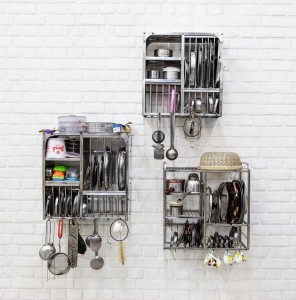 2. Bharti Kher: Bindis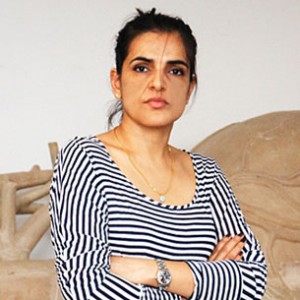 Bharti Kher is mostly known for her colossal sculptures, but works in a variety of mediums. Her most significant trademark is the use of the traditional Indian bindi which she uses in her works of all mediums. The bindis for Bharti are potent symbols conveying profound philosophical associations, indicating the third eye (unique vision) of a woman; and also as a medium the artist has developed an appetite for. Even when stripped off their existential value, bindis possess strength to survive as an aesthetic entity. Bharti first encountered this simple forehead decoration when she visited the markets of Delhi and saw the sperm shaped bindis that women wore so boldly. She then soon began to internalise them in her artistic vocabulary. In Squaring the Circle, 2007, Bharti created a visual field of concentric circles with colourful bindis as the medium. The ambiguity of this material works in tandem with what Bharti wants from her audience – a questioning mind.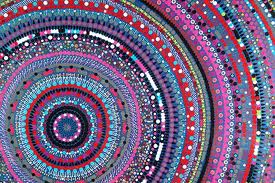 3. Anita Dube: Eyes
Anita Dube, initially trained as an art historian and critic, creates photographs, sculptures and installations based on concepts ranging from social memory and history to mythology and related phenomena.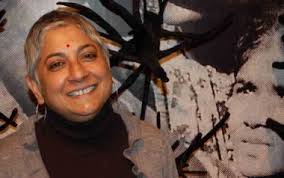 Anita Dube uses the symbol of eyes as an aesthetic symbol. Eyes in her works have two implications – they allude to the omniscient third eye or the female pubis, all bearing a mythologised impression of Hindu goddesses. Not only that, at times they assume a larger significance, something akin to a naked impression, the site of all awareness, real or imaginary.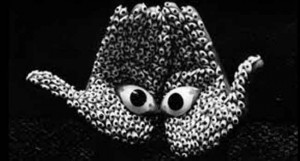 4. Reena Saini Kallat: stamps
Reena Saini Kallat is a young artist who has already firmly established her practice – spanning painting, photography, video, sculpture and installation, often incorporating multiple mediums into a single work.
One of the recurrent motifs in her work is the rubber stamp, used as an object and an imprint, signifying the bureaucratic apparatus, which both confirms and obscures identities.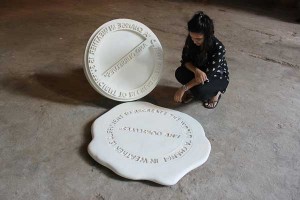 5.  Shilpa Gupta: Mikes
Shilpa Gupta is an artist who is here to stay. Young, dynamic, agit-prop art – she has it all. Her art is of the luminous kind, the kind that stays under your skin; it has been generating a sort of exalted interest in the West. It has found favor among curators looking at artists from countries that have recently come under the global spotlight. Shilpa fits the bill perfectly – she is attractive in a sort of ethereal way, belongs to the millennial generation, and is here to stay.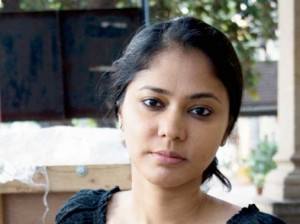 Her recent works, such as the amorphous blob of mikes titled Singing Cloud that plays religious calls interspersed with a song about freedom,  marked by the use of subtle imagery to address universal themes of globalization, terrorism, surveillance or repression. Recurrent is, of course, the political symbol of mikes, which call to attention issues of speaking out against global injustice. and facilitating initiatives which are a blend of unique style and global statement. As curator and critic Nancy Adajania points out in the preface to a 2010 book on Gupta published by Prestel, she belongs to "India's new generation of international artists" whose work is "trans-cultural in its address, even when inflected with a regional specificity".