Contemporary Poster Exhibition at Japan Foundation
Written by Kanika Makhija
Shigeo Fukuda, 1988
Still little known, Japan foundation in Delhi is an organization set up in India solely to promote and spread Japanese culture. The Japanese language course, library, film screening and various other workshops and exhibitions explore different aspects of their culture and invite us to learn more about the foreign land. Their recent exhibit at the Japan Foundation on Contemporary Japanese Posters is first installation of the collection of 15 Japanese posters artist who worked between the years 1980 and 1990. It was the time of economic boom also known as the period of Bubble Economy when the signs of globalization became visible and various enterprises invested a lot of money in advertising and publicity. These posters reflect the new found freedom among poster artist due to the expanse of business and experiments with the design.  Poster art has been equivalent to contemporary art in context of drawing out the true advanced spirit of the time. In Japan, poster art has always strongly maintained the artistic element and has gone beyond as the medium of conveyance of information. A certain kind of self-consciousness and self-determination was sensed among the poster artist due to the cultural transformation which became particularly remarkable during 1960s and 1970s. And during the 1980s, the Japanese poster became ever more artistic than before. Posters that are meant for the masses are also meant to be approved by the masses. These poster artists were trying out new trends in design and printing that their style became highly individualistic. It was 1980s that the enterprises truly began to accept these new trends. The masses too came to accept these highly stimulating images.
Printing as a technique has been consumed and is utilized to its full potential in other areas of visual media. Amidst the recent increase in diverse mediums for printing and otherwise image making, poster making as a technique and an art form remains uniquely committed to printing. Even though its position as a choice of media is going down amongst the long list of other medias, artists still holds tightly to its value as a visual expression despite the medium choice. The arrival of color electronic prepress systems surpassed the traditional dark rooms and table light processes around 1980s, poster artist experimented with these printing techniques which are now commonly known and still largely used for poster making, book printing, newspapers etc such as offset, screen printing and letterpress. The process was mastered my 1990s, which lead to the highly graphic and visually powerful posters.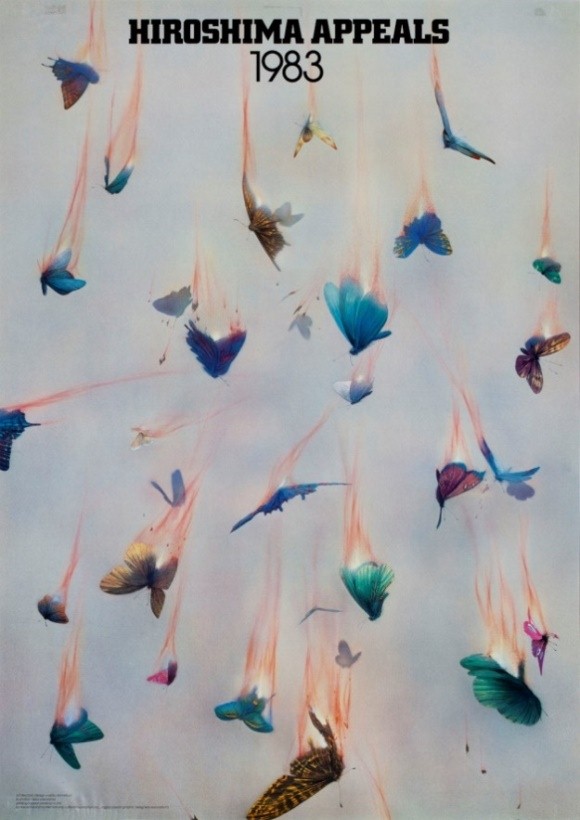 Hiroshima Appeals, 1983, Yusaku Kamekura
The fifteen poster artists introduced in this exhibition have been chosen for their strong consciousness of the poster as social art. Yusaku Kamekaru (born in 1915) is a pioneer who was instrumental in setting the Japanese poster in its proper direction. His clear, geometric and solid sense of composition was extremely unusual in the Japanese design world when he got his start. He has maintained this strong sense of composition down to present, which places him as the cornerstone of Japan's poster world. Then Japan's poster history was painted in broadly diverse and brilliant hues by the second generation of poster artists including Kiyoshi Awazu and Kazumasa Nagai who were born in 1929. In the context of social relevance, Awazu's work is particularly remarkable due to his expansion of graphism beyond the poster to include spaces and environments as well. Nagai introduced the abstract forms of art into the world of the poster. His recent works that show a trend toward the use of Japanese traditional forma are also of great interest. One the other hand, Ikko Tanaka has always use traditional Japanese subjects. But he never fails to enhance them with a fresh interpretation, expressing new emotions in the context of old forms. Other representatives of this second generation of poster artists are Makota Nakamura, who is a brilliant art director; Mitsuo Katsui who works with a thorough going clear sense of form; Shigeo Fukuda, who is known for his surprising ideas; and Masayoshi Nakajog who has a firm grasp of the concepts of graphism.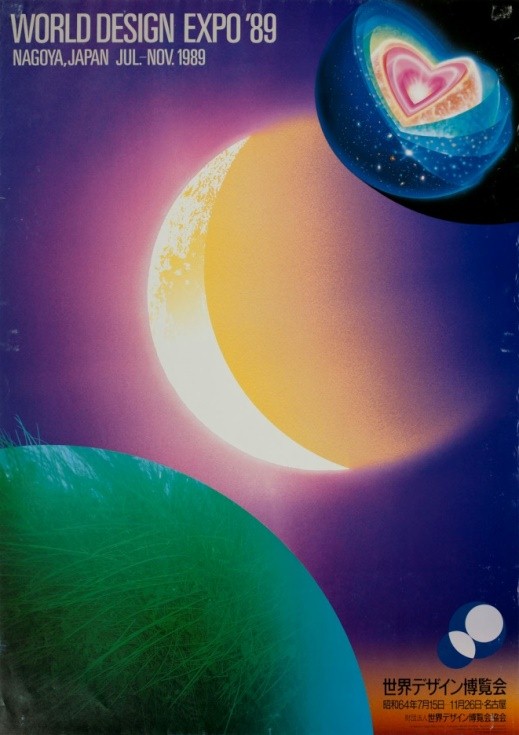 World Design Expo'89, 1987 by Mitsuo Katsui
The standard bearer of the third generation is Tadanori Yoko (born in 1936). Yoko made his debut as an unusual graphic illustrator, creating sensation in a world of design. In recent years, he has metamorphosed himself into a true artist, in which capacity; he continues to produce amazingly intense images. Keisuke Nagatomo is an individualistic illustrator overflowing with contemporary sensitivity; and the works of Shin Matsunaga are filled with a similar sense of release expressed throuh lucid  forms and colors. Koichi Sato summarizes Japanese moods in high precision forms; and Yukimasa Okumura focuses his attention on the unique Japanese sense of space to the extent that he has placed it into the realm of graphic jargon. And the inclusion of Masatoshi Toda (born in 1948), who came up with an increasingly stronger concept for each new work, and Makota Saito (born in 1952), who goes after unexpected photogenic effects, gives one the distinct feeling that there is truly a broad range of vitality in the Japanese world of posters today.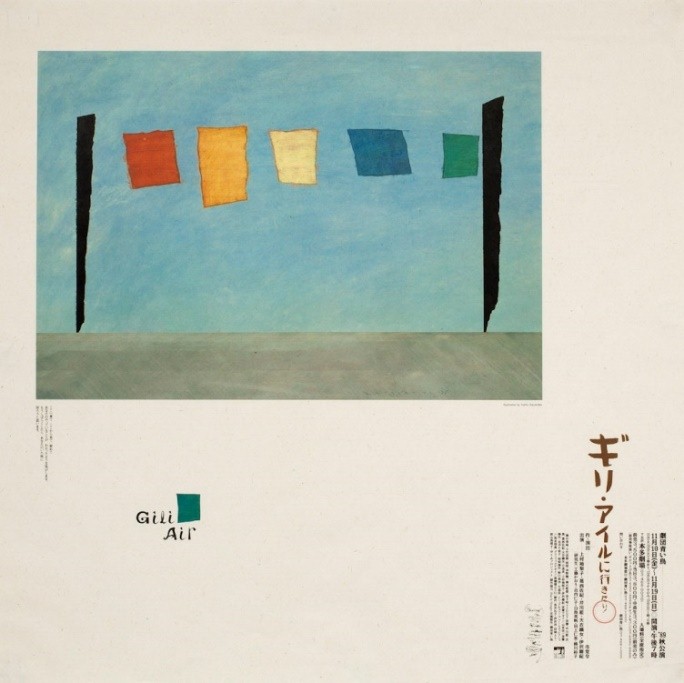 Gli Air,1989, by Keisuko Nagamato
Catch the first installment of the exhibition which is on till 4th June 2016 that showcases the works of artists Yusaku Kamekura, Kiyoshi Awazu, Kazumasa Nagai, Mitsuo Katsui, Shigeo Fukuda, Masayoshi Nakajo, Keisuke Nagatomo and Shin Matsunaga from the first and second generation of artists. The second part of the exhibition will be on from 10th June 2016 to 1st July 2016 of the other seven poster artists.