Celestial Beings' by Sidharth
Written by Hemavathy Guha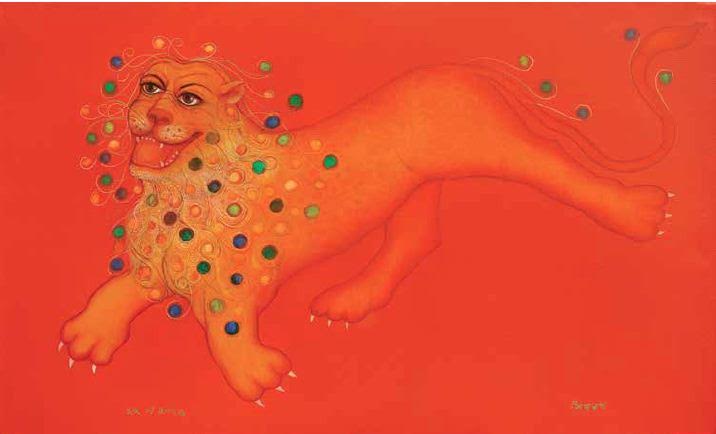 As human beings, all of us experience surreal happenings at some point or the other in our life. We might be stranded in a lonely stretch of the road at night and just when we are wondering how to come out of this situation without endangering ourselves or in a sane mind, there comes a good Samaritan who helps you to reach home or a safer haven and vanishes also. Or maybe we see a strange apparition somewhere. While ordinary people tend to forget it as time passes by or even take it as mere coincidence, some people especially artists like Sidharth choose to depict such ethereal happenings and encounters on the canvas with paint and brushes.
Sidharth, the well-known Delhi based artist, did not end his learning processes merely after acquiring a diploma from the college of art, Chandigarh, but enriched his formal education by learning fresco painting techniques from local artisans in Punjab, the richly coloured Thangka paintings from Tibetan monks in Dharamshala, and techniques of Madhubani and Kashmiri paper mache crafts from master crafts persons. He also learnt glass blowing techniques in Sweden.
In the current exhibition titled 'celestial beings' on at the Art District XIII Gallery, one can see paintings on canvas, charcoal drawing on brown paper and several effortless pen and ink drawings on paper. He considers many of the little things we see on the earth like an ant, a grasshopper, a monkey and every other thing as 'celestial being'. Sidharth, as many us who have been familiar  with his works for a long time, know that he makes his own colours using natural pigments which being one of the reasons for the unusual glow we come across in his paintings. In this exhibition too, all the canvas paintings have been executed with silver/gold leaf and mineral pigments and the effect is quite striking .There are also paintings on paper with tempera colours.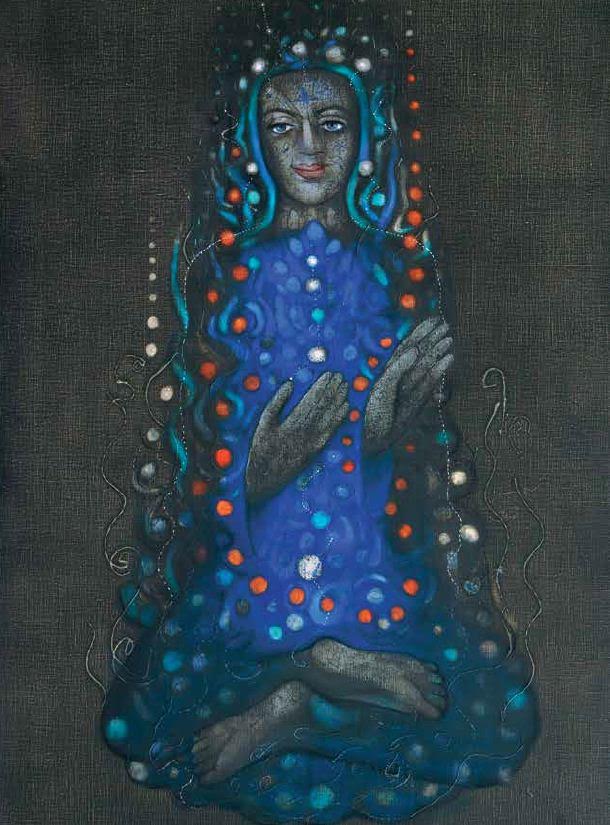 The theme for most of his paintings has been taken from his real life experiences while trekking in the Himalayas and while meditating inside a cave or beside a spring. For instance, in the painting titled 'Kaali', Sidharth translates his efforts and experiences of overcoming fear while meditating in a cave in the mountains. The painting done in blue, grey and specs of white and orange depicts a figure in a meditating pose. The face and the eyes exude an inner calm and the garment sits lightly around the body forming a contour. The textured grey pigment in the background adds a serene look.
The painting titled 'shiny lion' also portrays one such encounter during one of his meditation trips. Here the lion, instead of being the fearful as we all know is more playful and rendered in hues of orange and gold leaf. Sidharth always manages to blur the distance or difference between the figure in the foreground and the space in the background with minimal variations which we can see in many of his paintings. The painting titled 'ants' in gold/silver leaf and mineral pigments relates to a childhood experience and conversation he had with his father when he was told to 'share' things in life with others as elders normally say. Done in yellow ochre and very light brown with dots in orange and viridian green, the ant is larger than its own size. Only the artist knows the reason for painting it in such a manner!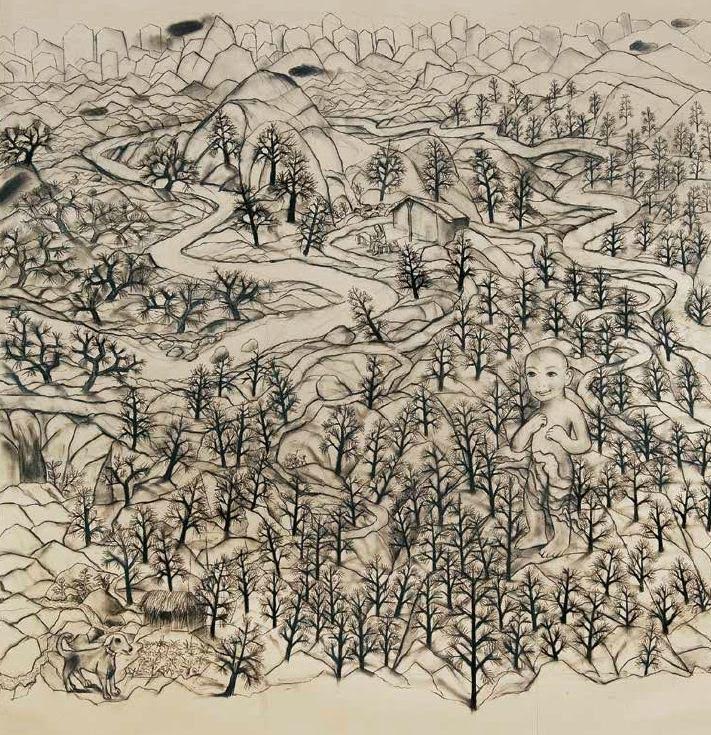 The drawing in charcoal titled 'hillbilly hobbledy' on brown paper is a unique piece and brings out his skill of drawing and sense of perspective which is missing in other works. This painting too depicts his experience in understanding the meaning of death while trekking in the Roopkund lake region. The lake is supposed to take at least the life of one person as trekkers have belied for a long time.
One of the best and important painting in this exhibition, I would say, is the one titled 'samsara'. Here, he relates his encounter with a sex worker while sitting on the seaside in Mumbai and later on while walking back. In this painting, the female figure is beautifully depicted in grey tone, the garment with numerous little stories within it in gold, and the background again in grey tone . The figure and the background merge so much into one another that if you see the figure, you do not see the garment and if you see the garment, you miss the figure. Sidharth's skill and ability in drawing and painting and his indepth knowledge of pigments is brought out very well in this work.
The tempera on paper deal with environment and forest life and are quite humorous like  'the turtle' and the' pink eared elephant' and the bird in delight'. The many small drawings on paper are quite verve with a lot of force and the curvy- wavy lines give a spontaneity to the drawings.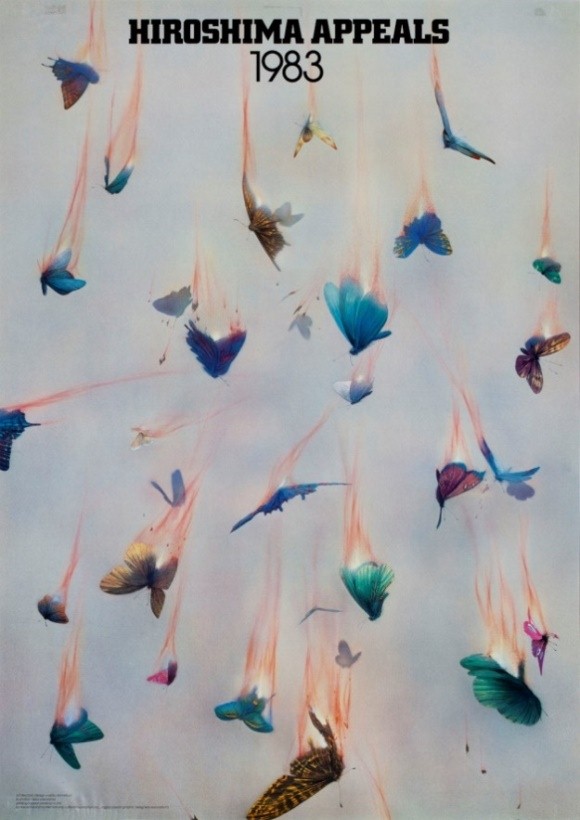 The show in Lado Sarai, New Delhi  was on till 8th December 2016