Amrita Sher-Gill and Arpana Caur: A Tale of Two Women Artists: (Sikh Art 2)
Written by Monica Arora
The most prominent name amongst Sikh artists is that of Amrita Sher-gill born to a Punjabi Sikh father and a Hungarian Jewish mother in 1913. Such is the finesse and quality of her work that she was also referred to as the Frida Kahlo of India. She has many first to her credit, primarily being a very important woman painter of 20th century India of being the 'most expensive' woman painter of India! She was a true trend setter and independent-minded woman painter of her times.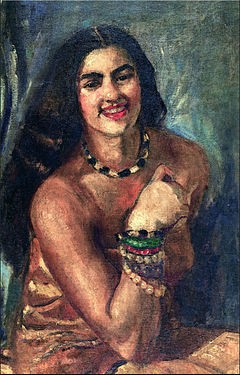 Born in Budapest, Hungary to Umrao Singh Sher-gill Majithia, a Sikh aristocrat and scholar and Marie Antoniette Gottesmann, a Jewish opera singer she spent her childhood in Budapest with her younger sister Indira Sundaram. Her mother came to India as a companion of Princess Bamba Sutherland the granddaughter of Maharaja Ranjit Singh in 1921.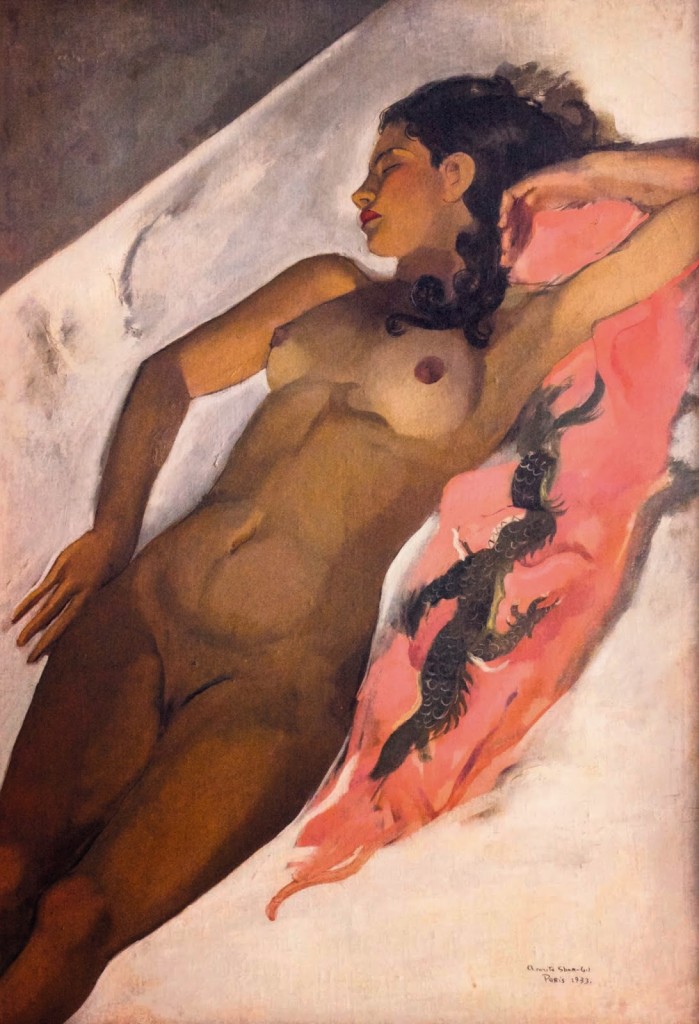 Sleeping woman, 1933
A trip to Paris at the age of sixteen to train as a painter first at the Grande Chaumiere under Pierre Vaillant and Lucien Simon and later at École des Beaux-Arts were her introduction to art. In 1932, she completed her Young Girls, which led to her being selected as an Associate of the Grand Salon in Paris in 1933, making her the youngest and only Asian to have won the honour.
Longing to connect to her Indian roots, she returned in 1935 to Simla and had an affair with English journalist Malcolm Muggeridge, and even painted a casual portrait of her new muse the painting now with the National Gallery in New Delhi.
South Indian Villagers Going to Market, 1937
She visited South India and created the famous South Indian trilogy of paintings Bride's Toilet, Brahmacharis, and South Indian Villagers Going to Market . By now the transformation in her work was complete and she had found her 'artistic mission' which was, according to her, to express the life of Indian people through her canvas. A few years later when she went to live at her paternal family's home in in Gorakhpur, Uttar Pradesh, this marked the beginning of her second phase of painting that has been so impactful that artists and critics drew parallels in her work with those of maestros such as Rabindranath Tagore and Jamini Roy of the Bengal school of art. She painted her most renowned works, the Village Scene, In the Ladies' Enclosure and Siesta depicting the slow-paced and leisurely pace of rural India. Siesta and In the Ladies' Enclosure is an example of the miniature school of painting while Village Scene reflects influences of the Pahari school of painting.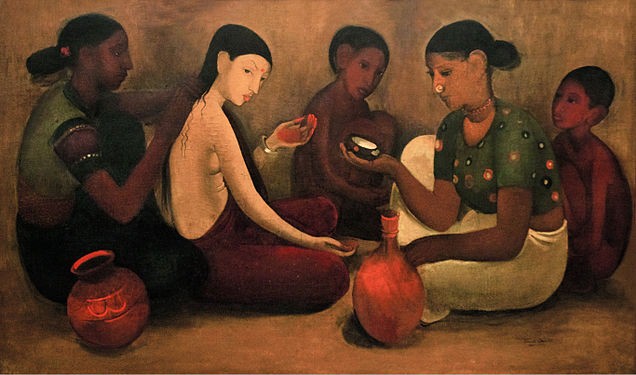 Bride's Toilet, 1937
Her travels across India made her empathise with the plight of common people who are reflected often in her works in all their fine colours and intricate details. In Lahore, she founded a major cultural and artistic centre being far ahead of her times and her affairs with both men and women became much fodder for gossip particularly around the Mall in Lahore, where her studio was situated on the top floor of her house. Interestingly, her work Two Women is thought to be a painting of herself and her lover Marie Louise. She passed away just days before the opening of her first major solo show in Lahore in 1941 after a brief illness.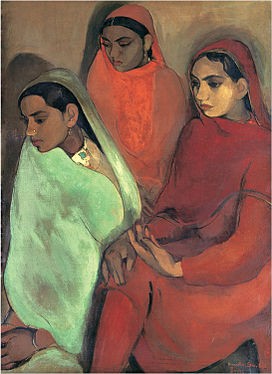 Group of Three Girls, 1935
Interestingly in a role reversal of sorts, she was literally the muse for Javed Siddiqi's record-shattering Urdu play 'Tumhari Amrita' (1992), starring the phenomenal Shabana Azmi and Farooq Shaikh, whose innumerable renditions have mesmerized audiences all over the globe. Aurora Zogoiby, a character in Salman Rushdie's 1995 novel 'The Moor's Last Sigh,' was also inspired by the legendary Shergil. She was the original mover and shaker in the truest sense…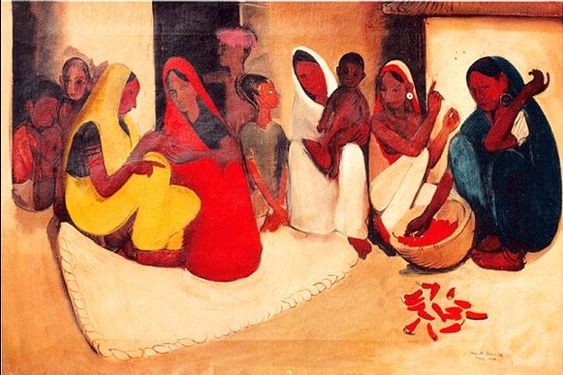 Village Scene, 1938
Feisty, unique and one of her kind artist, amongst contemporary Sikh artists, perhaps, the most important name is that of Delhi-based artist Arpana Caur. Born in 1954 and exhibiting since 1974, she has displayed her creations not just all over India but also across the globe in galleries of London, Berlin, Amsterdam, Singapore, Munich, New York and in Stockholm and Copenhagen National Museum. Her distinguished works are part of the collections of Museums of Modern Art in Delhi, Mumbai, Dusseldorf, Singapore, Bradford, MOCA LA, Peabody Boston, Asian Art Museum San Fransisco and Victoria and Albert Museum London.
Immersion Emergence, Nanak triptych, Sikh Arts Foundation
In a interview conducted around the artist's 60th birthday in 2015,  when asked about strong feminist overtones in her work, Caur stated that she prefers to be labelled "a humanist and not just a feminist".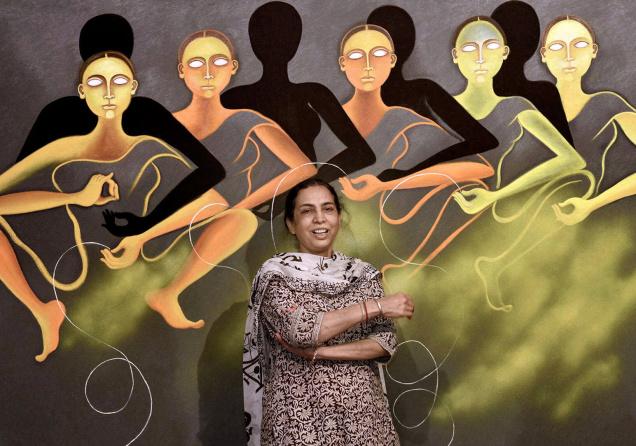 The large-eyed women full of anguish in her paintings could be the widows of Vrindavan, a simple housewife burdened by housework or even those wives or sisters or mothers at the receiving end of the carnage of the 1984 Sikh riots.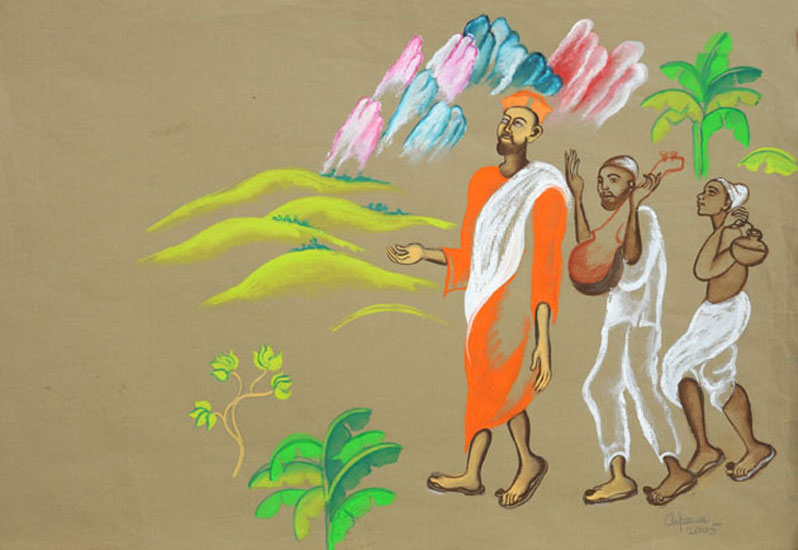 Guru Nanak, the founder of Sikhism, depicted here with his followers Bala and Mardana
A huge advocate of humanism and an artist with a propensity for social causes, Arpana's influences came from her mother's writings Padmashri Ajeet Cour is an award winning novelist, besides Punjabi folk literature, the Pahari miniature tradition and Indian folk-art motifs.
Tree of Suffering Oil on Canvas Size 4″ x 6″, 2006
Besides being an environmentalist and deeply affected by nature and its beauty, Arpana is also an extremely spiritually inclined painter and Guru Nanak, Kabir, Buddha and even Mahavira are often found in her creations. The peace, tranquility and purity of her spirit seem to be articulated through these paintings. She says that she was "hugely inspired" by artist Amrita Sher-gill in her early years and adds, "My art might be abstract figuration, it might talk about contemporary issues but my form of expression, the imagery and style, is very Indian."
Sohni – Love Beyond Measure-40in x70in-(101.6cm x 177.8cm)-Oil on Canvas-2014