A Study of Fruits in 20th Century Art
Did you know that 20th century artists continued to paint still lifes of food even after photography became more popular as a medium? Artsome explores paintings across five of the '-Isms ' that you can sink your teeth into! Figuratively, of course. Notice the differences in the brush strokes, frames and pictorial compositions in each movement as well as how the fruits become more and more abstract as we move from Impressionism to Surrealism.
1. Impressionism: 
When it comes to fruit painting, one painting that comes top of mind is the famous oil painting 'Still Life with Basket and Six Oranges'. Painted in the year 1888 by the great Dutch artist 
Vincent van Gogh
, it highlights his experimentation with 
colours
. This kind of 
still life
 oil paintings is very common in visual art.
Vincent Van Gogh, Still Life with Basket and Six Oranges, 1888, oil on canvas. Private Collection.
When it comes to paintings many artists like Pierre-Auguste Renoir have depicted art fruits. His every works as an Impressionist artist highlight real-life in sparkling 
colour
 and light.
Pierre-Auguste Renoir, Still Life with Apples and Oranges, 1897, oil on canvas. Private collection.
This still-life painting by Gauguin reveals the artist's natural technical skill with brush and canvas. The subject matter is also standard Impressionist fare and is a clear indicator of Gauguin's early influencers, which included Monet, Pissarro and Renoir.
Paul Gauguin, Still Life with Oranges, 1881, oil on canvas, 33 x 46 cm. Collection: Musee des Beaux-Arts, Rennes, France.
2. Post-Impressionism: 
This is a part of a series of six still 
lives
 produced in Cézanne's Parisian studio. It portrays Apples and Oranges in an earthenware dish and a jug decorated with a floral motif. This fruit painting combines modernity and sumptuous beauty and is the most important still life produced by the artist
Paul Cezanne, Apples and Oranges, 1900, oil on canvas, 74 x 93 cm.
Henri Rousseau never went to any school, and was a self-made painter was completely untrained in any established art techniques. Rousseau's painting style was very naïve, unlike that of any other primitive painter. He made many trips to the botanical gardens, perused illustrated books, and observed closely studied 
taxidermised
 animals. 
Henri Rousseau, Still Life with Fruit and Teapot, oil on canvas.
3. Cubism
Pablo Picasso, Still Life with Lemon and Oranges, 1936, oil on canvas, 54 x 65 cm.
This oil on canvas printing used quite dark tones with cool secondary 
colours
, as the dark browns and greens. To brighten 
the painting, on items like a jug, he used white 
colour
 to show the light reflection. The painting is very cluttered, with a lot of objects cramped together. The shapes are rounded however lines and detail in them make them look quite sharp and angular.
Georges Braque, Guitar, Fruit and Pitcher, 1927, oil on canvas, 73.7 x 91.5 cm, Private Collection.
4. Pointillism
Henri Matisse, Still Life, oil on canvas. 
Henri-Edmond Cross, Still Life with Bottle of Wind, 1904, oil on canvas, Private Collection.
5. Surrealism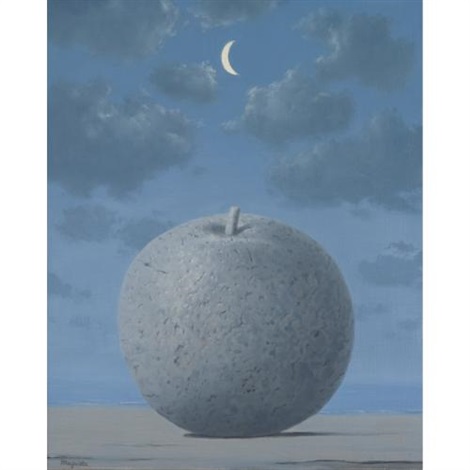 Rene Magritte, Souvenir de voyage (stone apple), 1963, oil on canvas, 81 x 100 cm, Menil Collection, Houston, Texas, USA.
Salvador Dali, Eucharistic Still Life, 1952, oil on canvas, Private Collection.
Image source: www.wikipaintings.com