11 must-see Artworks on Gandhi Jayanti
This Gandhi Jayanti we at Artsome put together a few artworks from artists all over the world for you to enjoy. Mahatma Gandhi needs no introduction but there are times when we Indians forget the simplest of lessons of humanity and love taught us by him. Let's have a look at artists who have been inspired by Gandhi philosophically and artistically and see the brilliant combination of art and history.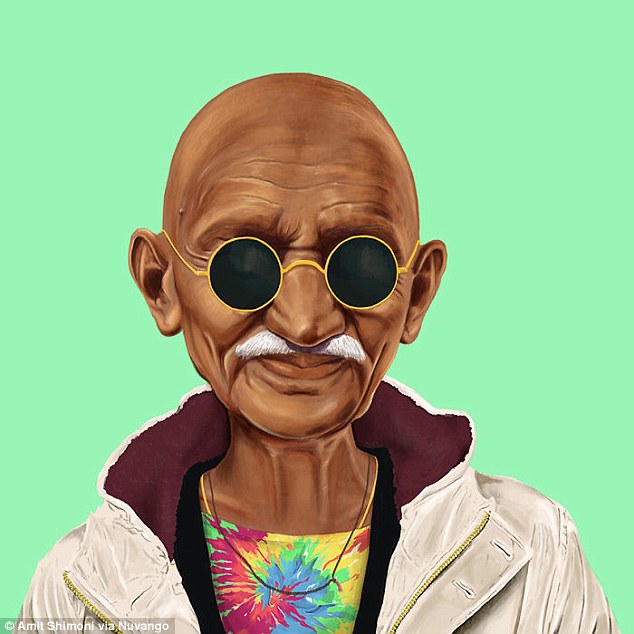 Israeli artist Amit Shimoni takes a fresh take on world leaders. He re-imagines them as hispsters. His series Hipstory, combines modern-day hipster culture with history. In this portrait, Gandhi wears a tye-die shirt with the sixties style shades, which reflects his peaceful stance and message of love.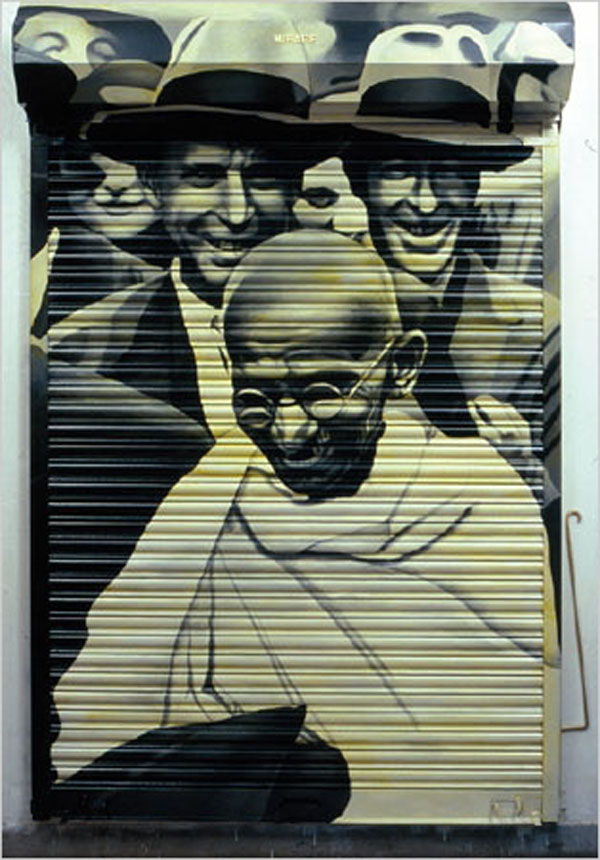 Atul Dodiya shares his geographical roots with Gandhi as he belongs to the Kathiawar region in Gujarat. Like all Indians, Dodiya grew up on tales about Gandhi. This translated on an entire series that the artist dedicated to the life and times of Gandhi. In his signature style of painting on shutters, Dodiya paints Gandhi combining history and modern art movement.
This sculpture was done by Devi Prasad Roy Chowdhury, the first Indian sculptor to use bronze as a medium. The sculpture can be spotted in front of the President's House in the capital. It is a beautiful sculpture in black of 11 figures representing the Dandi March Gandhi undertook in opposition to the Salt Tax levied by the colonial government.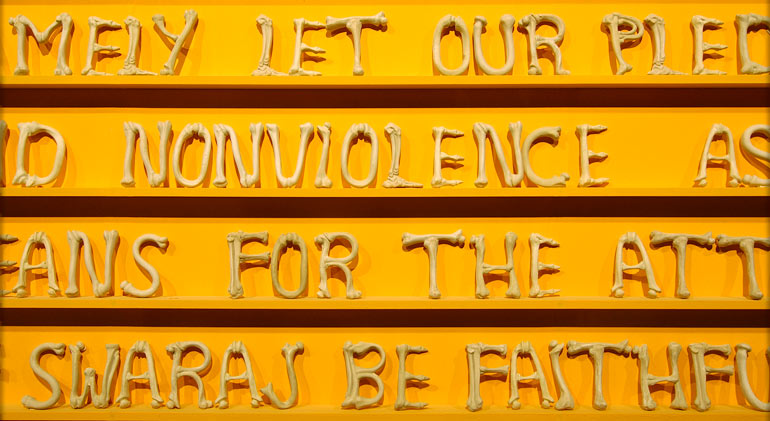 This 2007 installation by Jitish Kallat, Public Notice 2, is based on a speech Gandhi gave on the eve of the Dandi March on 11th March 1930 at the evening prayer held on the Sabarmati sands at Ahmedabad. He retains the grammatical errors and the inadvertent misuse of language while excluding any punctuation.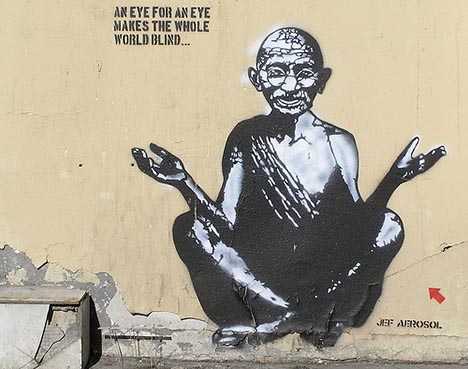 French artist Jef Aerosol's stencil portraits can be spotted in cities across the world, from Paris to Peking, for their boldness and vibrancy. An early pioneer of street art, his iconic portraits of famous people create a moment in time and display his early influences. This particular graffiti of Gandhi can be found in London.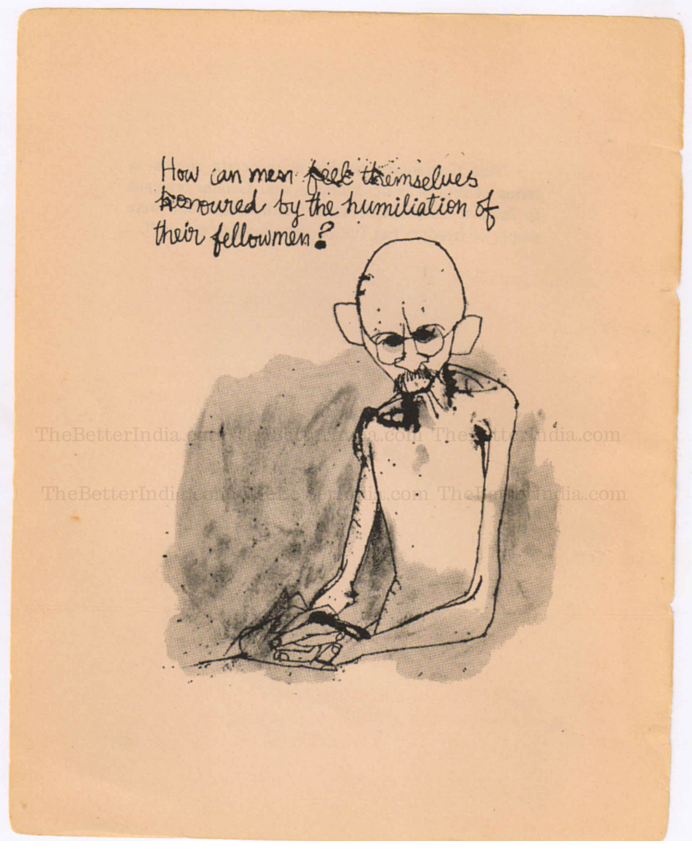 Mickey Patel was an Indian cartoonist and illustrator of books and magazines as well as a painter and designer. This belongs to a rare collection of sketches on Gandhi by the artist as he combines the great man and the wise words uttered by him.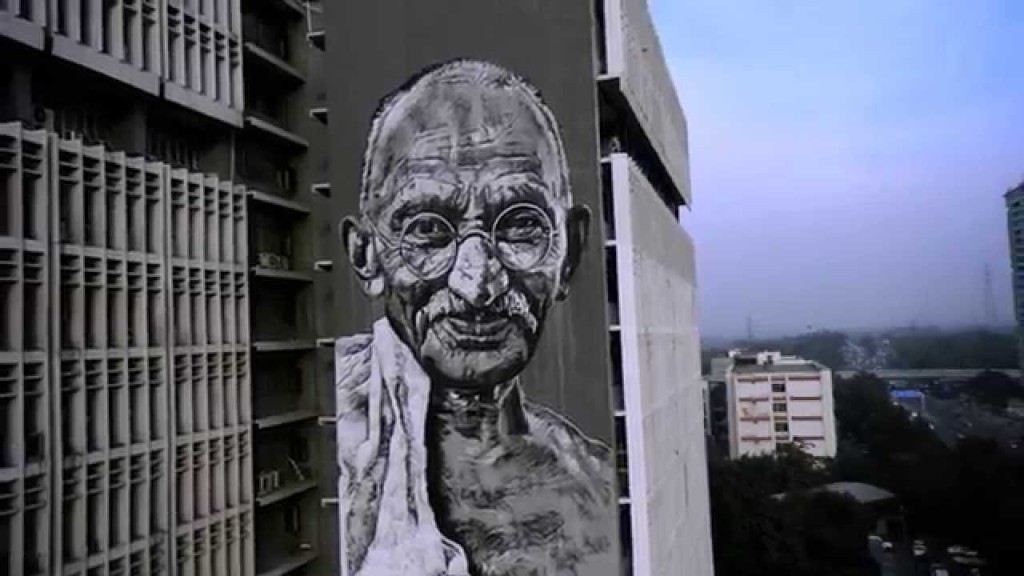 This mural by German artist Hendrik Beikirch on the Delhi Police Headquarters is a treat for all art lovers in the city. This largest-ever black and white mural of Gandhi was painted as part of the street art and graffiti festival in the capital in 2014.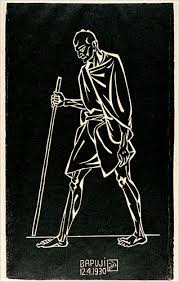 Nandlal Bose is considered as the father of Modern Indian Art who amalgamated patriotic emotions to his art. Patriotic sentiments and civil disobedience movement led him to create Mahatma Gandhi on his salt march.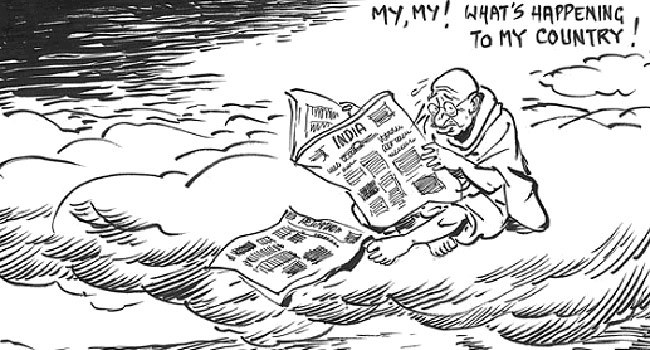 Cartoonist RK Laxman needs no introduction. His political cartoons have featured daily in The Times of India since the 1950s. He has conscientiously commented on the economic, social and political situation of the country. This particular showing Gandhi bemoaning the fate of his country appeared in his series "Somebody said it".
This Philip Jackson statue of Mahatma Gandhi is located in the Parliament Square in London. Standing 9 feet tall, cast in bronze, this sculpture is a fitting tribute to the friendship that has emerged between the two nations United Kingdom and India in the recent years and Gandhi being a symbol of that.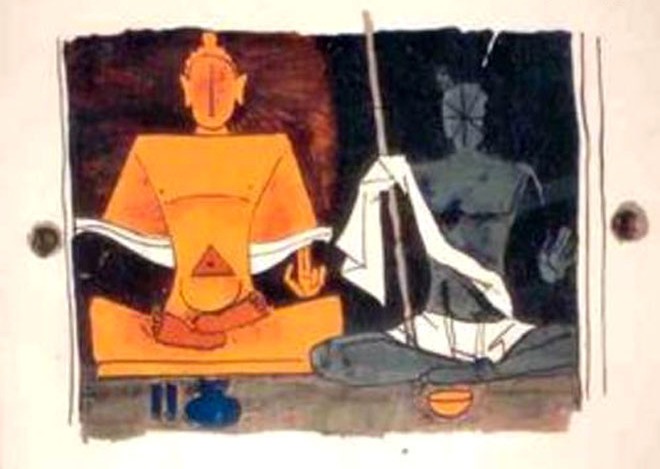 This painting by artist MF Husain places in a moment of reverence and tribute two men who preached non-violence and compassion: Buddha and Gandhi. The artist mainly worked in series and has re-created the great personalities of India like Mother Teresa and Gandhi. Husain's canvas plays an important role in creating a mythology of modern India.